The ability to share your Steam games library has been around for quite some time and is a great way to allow family and friends to share games between each other. This concept might sound a little risky or difficult to set up but it's actually the complete opposite and an official service offered by Steam. So what are you waiting for?
How to Increase Steam Download Speeds.
Expanding a little more on the introduction, Steam Family Library Sharing is an official Steam service that allows family members and their guests to play each other's games. Whilst playing shared games users can earn their own Steam achievements, with game progress saving to their own Steam cloud account. Basically, it grants all other users of a computer access to each other's games. There are some restrictions though, you can only allow Family Library Sharing on up to 5 accounts and 10 devices, which is quite generous in all honesty.
Note: Region restricted games will remain region locked regardless of their original purchase location.
Now you are probably wondering if Family Sharing will work for users that are not accessing Steam from the same household, computer or even geographic location. The answer is yes it does! However, it is a little more complicated and you will need to have a very trusting relationship with the person/persons you are sharing with. Before we show you how to share your library with friends, it's important to know exactly what you can and can't do, as well as what works and what doesn't.
Related Content: How to Create Your Own Custom Steam Client Skins. 
First up, the most important thing is that as the official owner of the game, you will always have priority access to it. This means that as soon as you log in and start a game another shared user is playing, they will receive a message letting them know they have 5 minutes to save and quit or purchase the game and continue playing.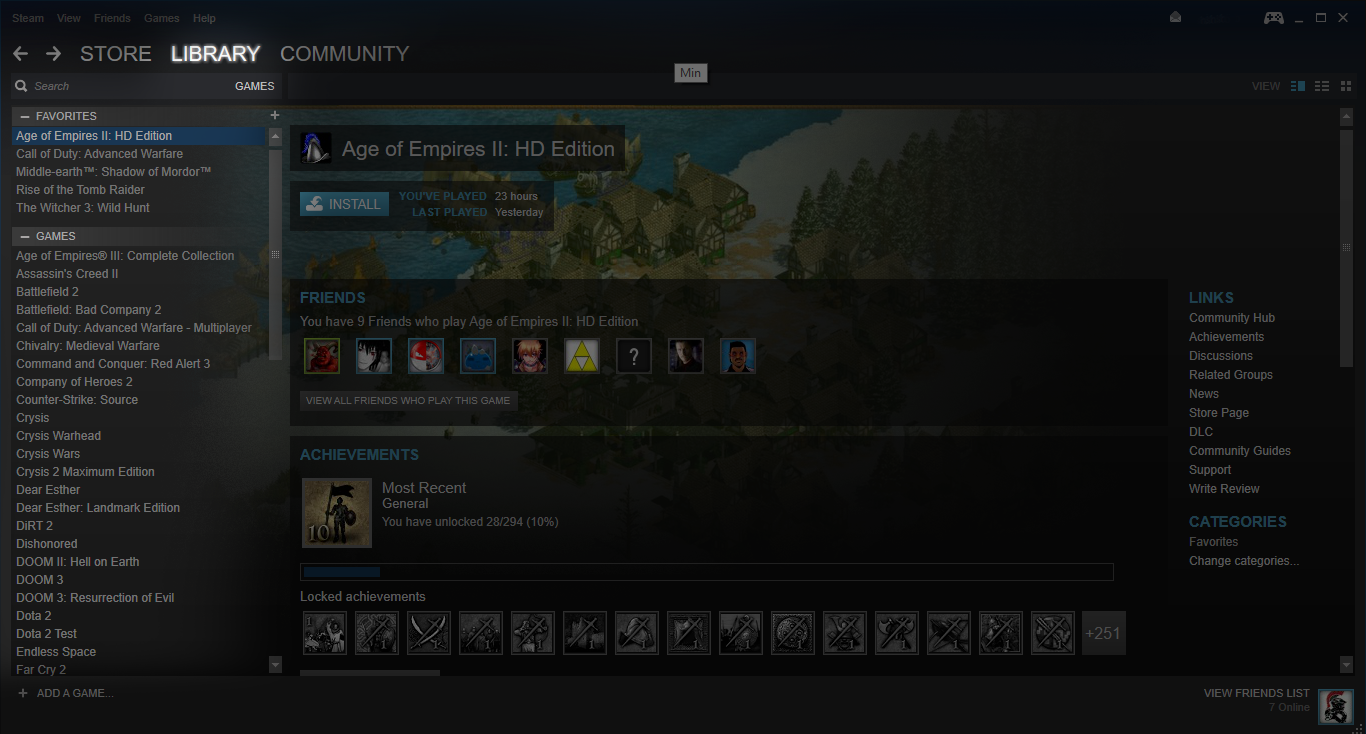 This brings us to the next question. Can two users share a library and both play at the same time?. The answer to this question is no. A shared library can only be accessed by one user at a time including the original owner, even if you decide to play different games. (playing games from your own libraries at the same time when account sharing is active is fine)
Note: Steam libraries are shared in their entirety, you can't just choose to share 1 or 2 games. There are also some games that cannot be shared for technical reasons, most commonly games that require an additional third-party key, account or a subscription in order to play, MMO's generally fit into this category. DLC content is also restricted, for example, if you both own a particular game but only one of you has the DLC, the DLC content won't be shared. However, if only one person has the game and all the DLC, the entire game and DLC will be shared.  
How to Share Your Steam Games Library With Friends and Family.
Sharing your Steam games is quite simple, first, log into your Steam account on the computer you'd like to share your games. Next, make sure you have Steam Guard enabled, this can be done from the steam client, simply go to Steam > Settings > Account and follow the process. For the final step go to Steam > Settings > Family, here you can choose users who have also logged into this computer to share your library with. Click the Authorize Library Sharing on this Computer box to share your content, then select the users you want to allow access.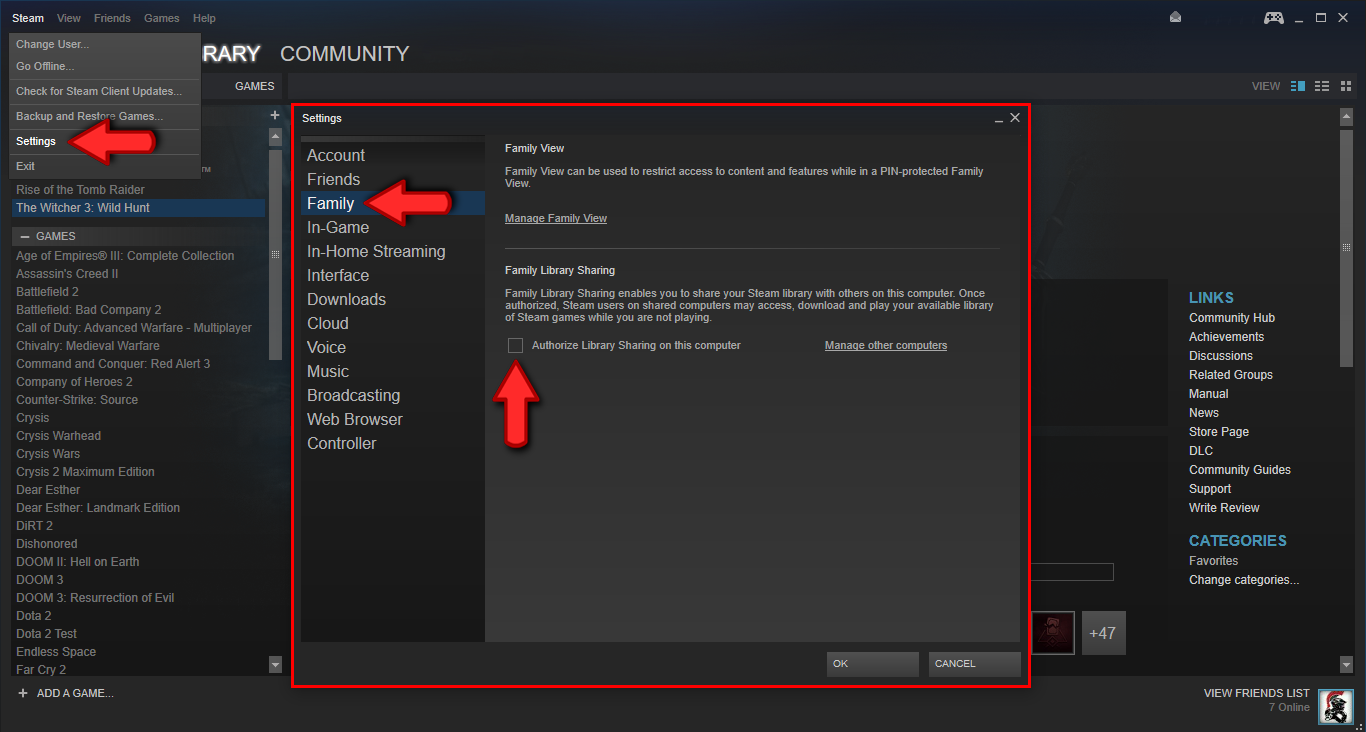 If you want to share your Steam library with someone at another location, things are a little different and you will need to trust the person you are sharing with. The steps are basically the same as above, however, you will need to give the person your account login details so they can sign in on their computer. (you will also need to give them the Steam Guard code when prompted, so they can finish the login process) Once they have successfully logged in, the process is exactly the same as above. If you are sharing with them, they can also share with you, simply sign in using their details and repeat the process.  
How to Play Shared Steam Games.
Again, make sure you have Steam Guard on your account, then go to your Steam Library. From your Library, you'll be able to see all the games owned by other Steam accounts that have logged onto the same computer. Now all you need to do is select a game and click Play to see which account owns the game and to request access to their Library. Once the Request is sent Steam will send the game's owner an email with a link that will allow you full access to the games. If they accept the links request, you are free to use their library.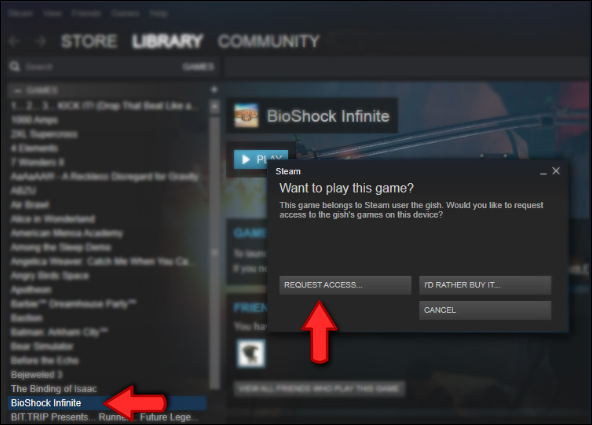 Note: Shared games will show as unavailable if the account owner is currently playing on another computer.
How to Stop Sharing and/or Remove a Previously Authorized Account.
To stop sharing your library at any stage, log into your Steam account using the Steam client. Go to Steam > Settings > Family, click Manage Other Computers and Deauthorize any computer or account you no longer wish to share your library with. Alternatively, you can remotely remove all access by signing into your account from the web and selecting Manage Family Library Sharing. Once on the page, click Revoke. 

Important Note: If any of the people you are sharing your library with gets caught cheating, your family sharing privileges will be revoked and your account will also be VAC banned. For more information regarding this, check Steam's official VAC ban section.