If you have recently updated to a new Xbox One console, this guide will show you how to transfer all your games and data to from your old console your new console. So you don't have to redownload all those massive files using your Internet connection.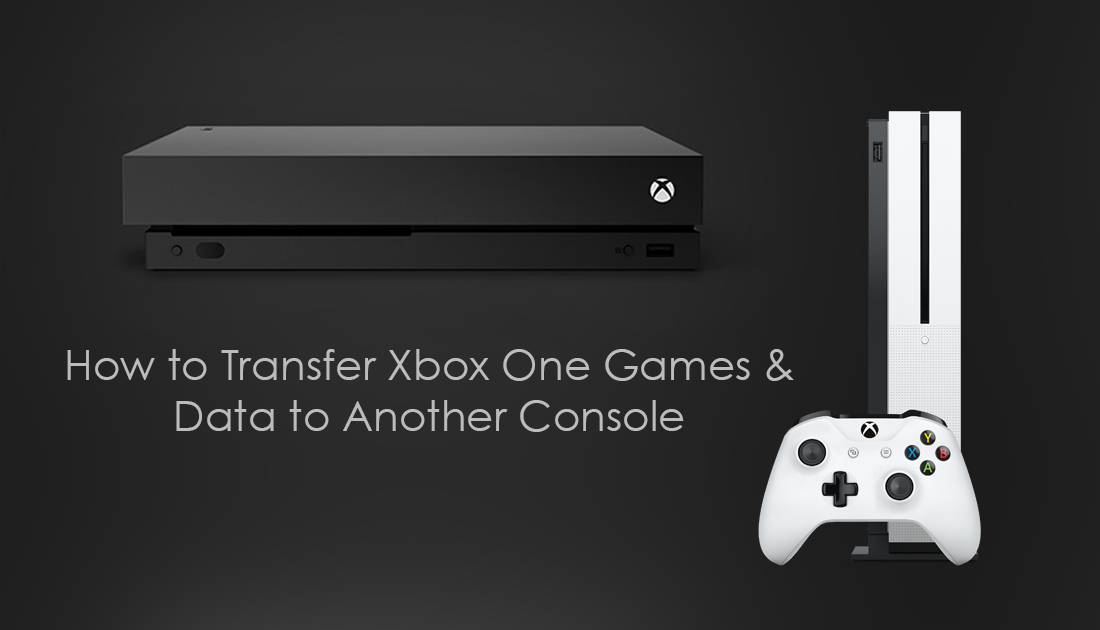 How to Start Xbox Games Downloading on Your Console Remotely. Have Games Ready to Play When You Get Home From Work.
If you intend to upgrade from your current Xbox One console to a new Xbox One X console in the near future, you can save yourself a ton of time by pre-downloading most of the patches on your current console then moving them to your new console. You even have the option to move any or all content from your old console to your new console without having to download everything from scratch. Below you will find 2 different ways to move content between Xbox One consoles.
How to Pre-Download Xbox One X Patches on Xbox One. (4K Game Content Mostly)
To start Downloading Xbox One X updates on your Xbox One console, you will need to do the following. First, press the Xbox Button to open the Sidebar, then scroll down and select Settings. Next, go to System > Backup and Transfer. On this screen, you will see an option to Download 4K game content, place a tick in this box then go back to the System menu.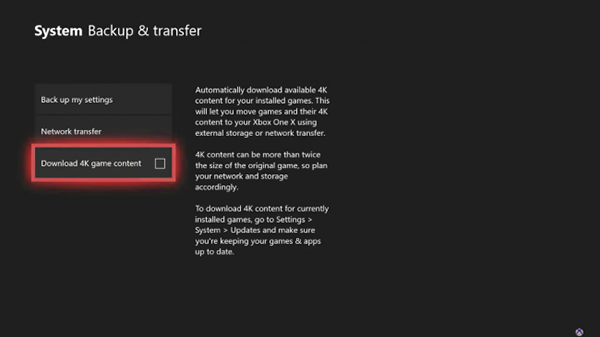 Here choose Updates and make sure Keep my games and apps up to date is active. Your console will now download all the extra content that was skipped.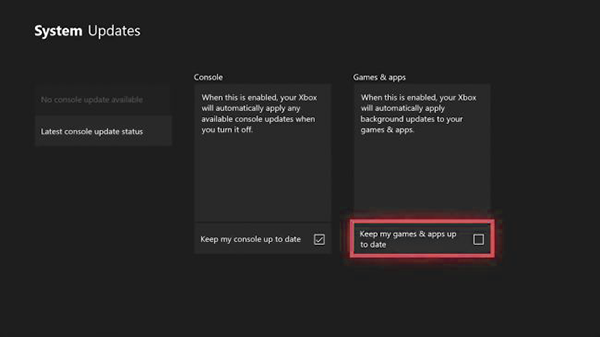 Note: Keep an eye on how much free space you have on your hard drive as there will be a lot of extra content being downloaded to accommodate Xbox One X's 4k gaming ability.
How to Transfer All your Data From Xbox One or One S to Xbox One X.
There are two different ways you can transfer all your content from an Xbox One or Xbox One S to Xbox One X.
Option 1: Transfer the content to an external hard drive.
Option 2: Transfer the content via a Network connection.
Both options are covered below, so pick the one that works best for you.
Transfer Xbox One/Xbox One S Content Via an External Drive.
To transfer content from one Xbox to another using this method, you will need to make sure you have an external hard drive with quite a lot of free space. (it will easily be over 200gb in most cases)
Note: Your console will format the drive, so make sure it doesn't have any important data on it.
Once you have your drive ready, connect it to your console and confirm the format prompt if it arises. Next, go to Settings > System > Storage. On the storage page, you will see your hard drive awaiting instruction, so choose Internal then Transfer. Now pick and choose the content you want to backup/move. If you have space, feel free to select All. (just remember Xbox One X has a limit of 1tb) When you're done, confirm with Copy Selected, If you choose Move Selected, the content will be deleted from your old console.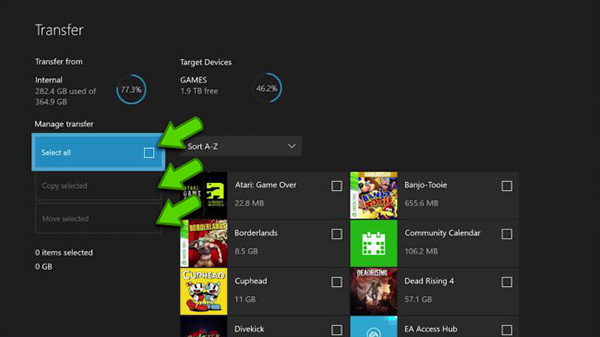 The next step is to copy all your console settings, so go Settings > System > Backup and Transfer, then select Backup to Device. To make sure your data doesn't get corrupted, make sure you shut down your console before removing the drive.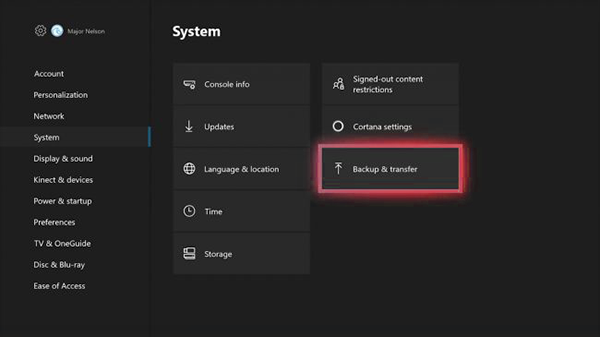 With these two steps out of the way, you can begin loading content onto your new console. To do this make sure your new device is connected correctly, plug in your external hard drive, then turn it on. As soon as the console boots, it will find the hard drive, now all you need to do is choose Load Settings and all the data will be copied to your new console.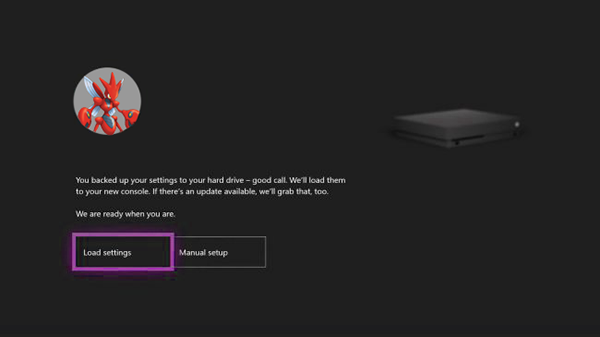 Note: There will still be a few small patches and updates that will download using your Internet connection.
Transfer Xbox One/Xbox One S Content Via a Local Network Connection.
If you don't have a free external hard drive you can copy the data from your old Xbox console to your new one using your local network connection. It's somewhat slower but works just as well. To transfer content over a local network you will need to make sure both consoles are connected to your network, either wired or wirelessly. Wired being the preferred quickest option.
To begin, turn on both consoles and go to Settings > System > Backup and Transfer on the source console. (your old console) From this menu, choose Network Transfer and tick the box that says Allow network transfer.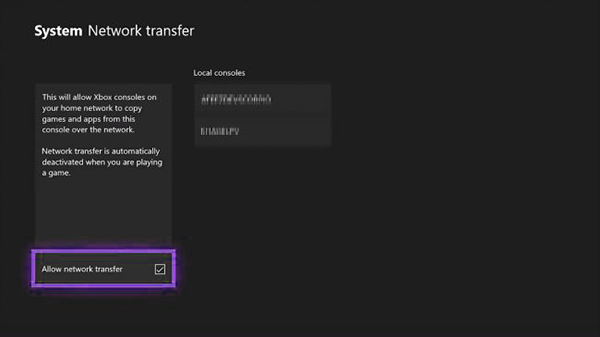 Now switch to your new console, finalize the initial startup process, then go to Settings > System > Backup and Transfer. If you followed the steps correctly on the source console, you will be able to see the console listed under the Local consoles heading. From here, simply select your old Xbox One console, and choose the content you want to import. All you have to do now is wait…