These days It seems like there is a new socialising app every day of the week. First, we had Facebook, Instagram, Snapchat and WhatsApp. Now there is a new up and comer on the market! Introducing "Yellow" A controversial new app that allows users to make Snapchat and Instagram friends in a Tinder-like fashion from anywhere in the world.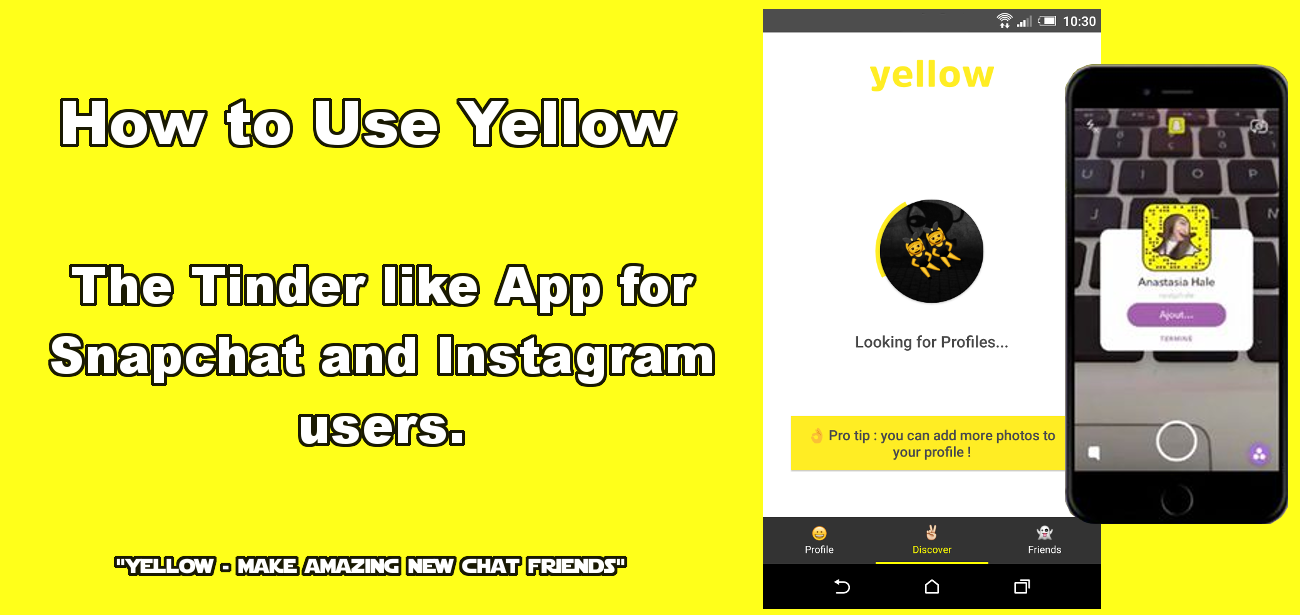 How to Use Instagrams Disappearing Messages & Video Plus Live Video.
Yellow is a very simple social app similar in design to Tinder, users are asked to describe themselves using emoticons and text features, something the current user base of both Instagram and Snapchat is very familiar with. Yellow uses location technology in the same manner as Tinder does, to find other users nearby, therefore in order to sign-up, one must Enable Location Settings on their device. Obviously, this brings risks for people sharing their location online recklessly or unaware.
Just like the interface on the hugely popular dating app Tinder, Yellow users must swipe right if they come across someone they find appealing and wish to make contact with, if they stumble across someone they are not so interested in and would rather not see again, they will be required to swipe left, the opposite direction. In the exact same way that Tinder works, if both users swipe right they are connected and their Snapchat names are automatically added to their new Yellow contacts list. As well as adding their new friends Snapchat name, they are also given the option to chat with each other inside Yellows own interface or take the conversation directly over to Snapchat.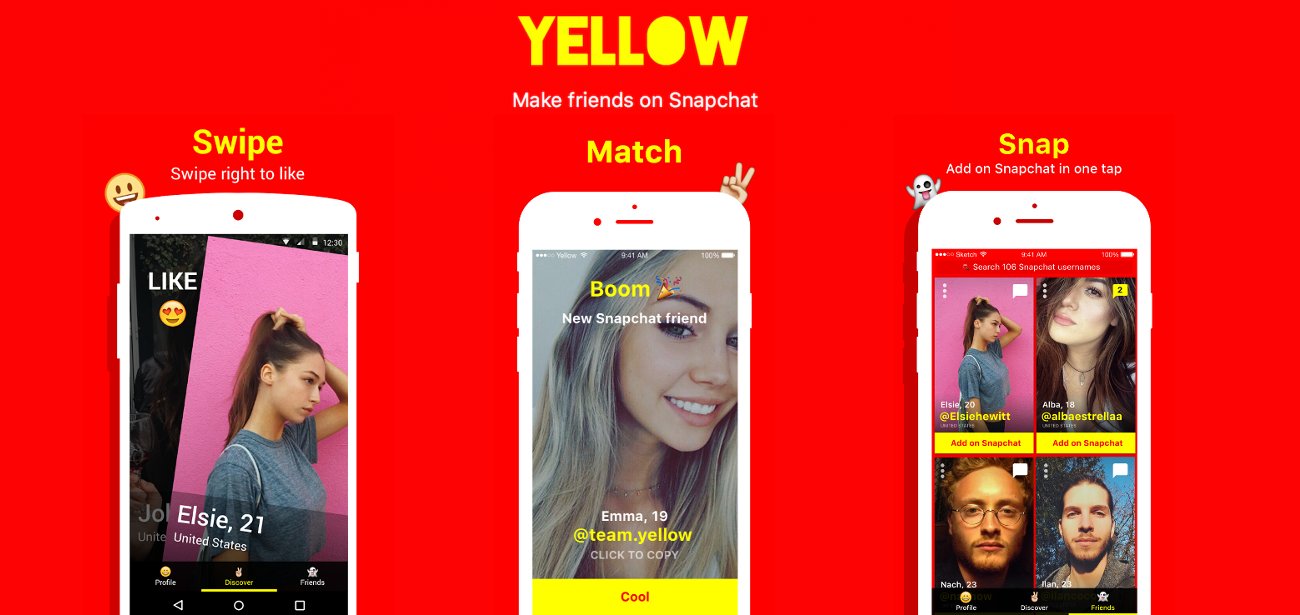 As with all new things, there is always some amount of controversy. In the same way that Tinder was so shocking when it was first released, Yellow has had its own problems. The thing that people are finding most concerning about Yellow is that it makes it far too easy for young people to connect with people they don't know on Snapchat and Instagram. This is quite true, in fact when first setting up the app, you will be presented with random users to swipe yay or nay to, from random places around the world, such as Australia, Mexico, Poland and the United States. However, it should be noted that Snapchat users currently already share other usernames amongst each other, regardless of if they actually know each other, so the concern seems somewhat pointless.
Setting Up and Using Yellow to Connect With Users on Snapchat and Instagram
You can find Yellow on both Google Play and the iOS App Store for download. Once you have downloaded the app, setup is the same as any of the other social apps. You will need to enter your mobile number, then enter a six-digit code that will be sent to you. When you have done this, you will be prompted to enter your name, birthday and your gender.
Note: Your birthdate is used to determine your age, the app has an age rating of 17+ on both the app stores, however, settings inside Yellow allow users under 17 to connect with people aged between 13-17. As with all social media apps including Tinder, it is super simple to enter an incorrect date of birth to gain access to the age bracket you want to be in.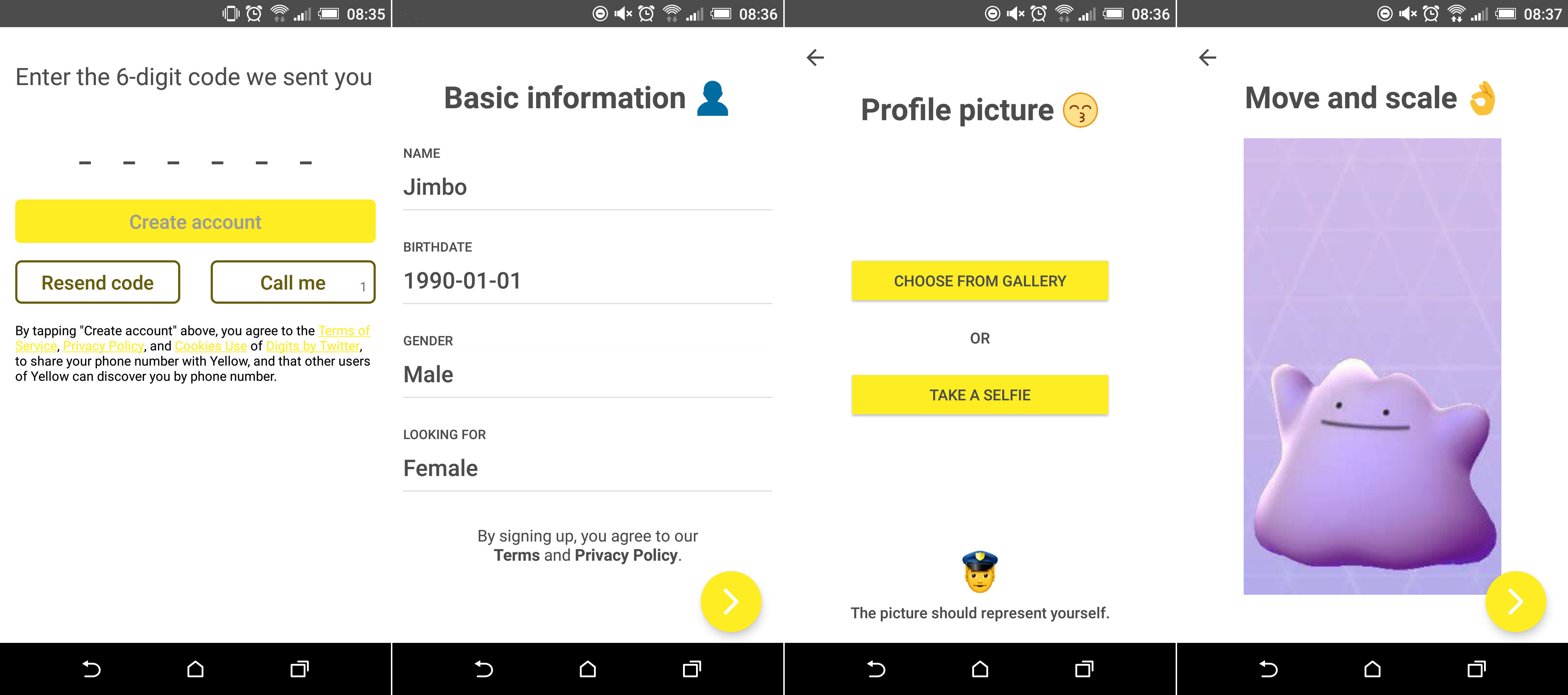 As well as these details, you are asked to set your search preferences, Male users, Female users, or both (Male and Female users) The next step is choosing a profile picture, here you can either take a selfie or use an image from your gallery. After setting up your profile, there is a quick little guide on how the app works. Swipe right if you like what you see, swipe left if you are not so happy with what you see. You might also be prompted to set the location in which you can see people from. This didn't display on initial startup for me, however, after about 5 times of opening and closing the app it appeared.
Using the Interface of Yellow
Yellow is nice and simple to use, at the bottom from left to right, there are 3 tabs the first being Profile. Here you can adjust the settings of your account, your name, profile picture and all your preferences, including the age range you wish to search within, from 18-98. You can also find Locations here, from your country first, all around the world and just your country, you can also disconnect your Instagram account from this menu if you change your mind.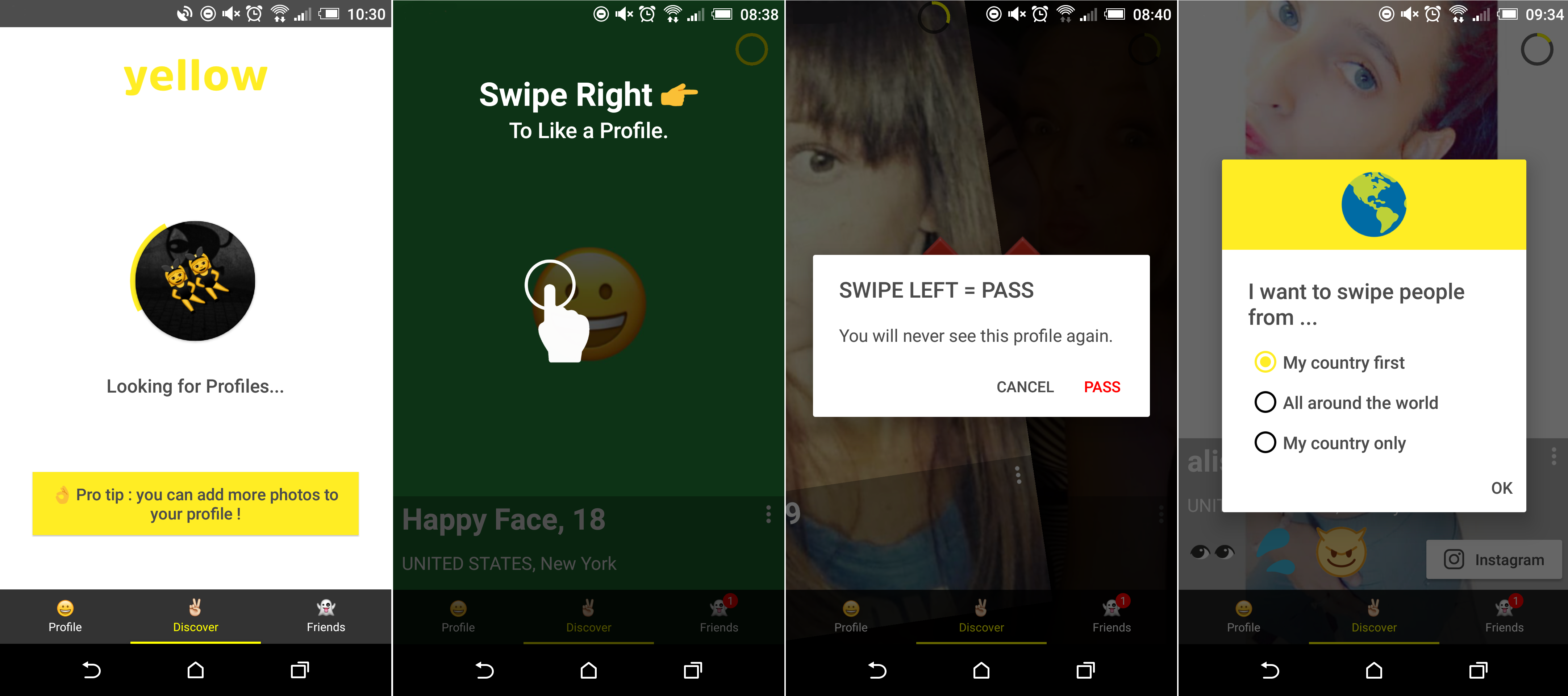 The second tab is the Discover tab, this is the main tab of Yellow, here is where you will do all the searching for friends, using the swipe system. As well as being able to swipe yes or no if the user being displayed has linked their Instagram account you can browse it as well as the pictures they have uploaded in Yellow. An option for reporting is also available here if you don't like what you see in a user's profile.
Tab 3 is the last tab and is where all your New Friends are stored. Here you can search the friends you have added and chat with them by tapping on their profile picture.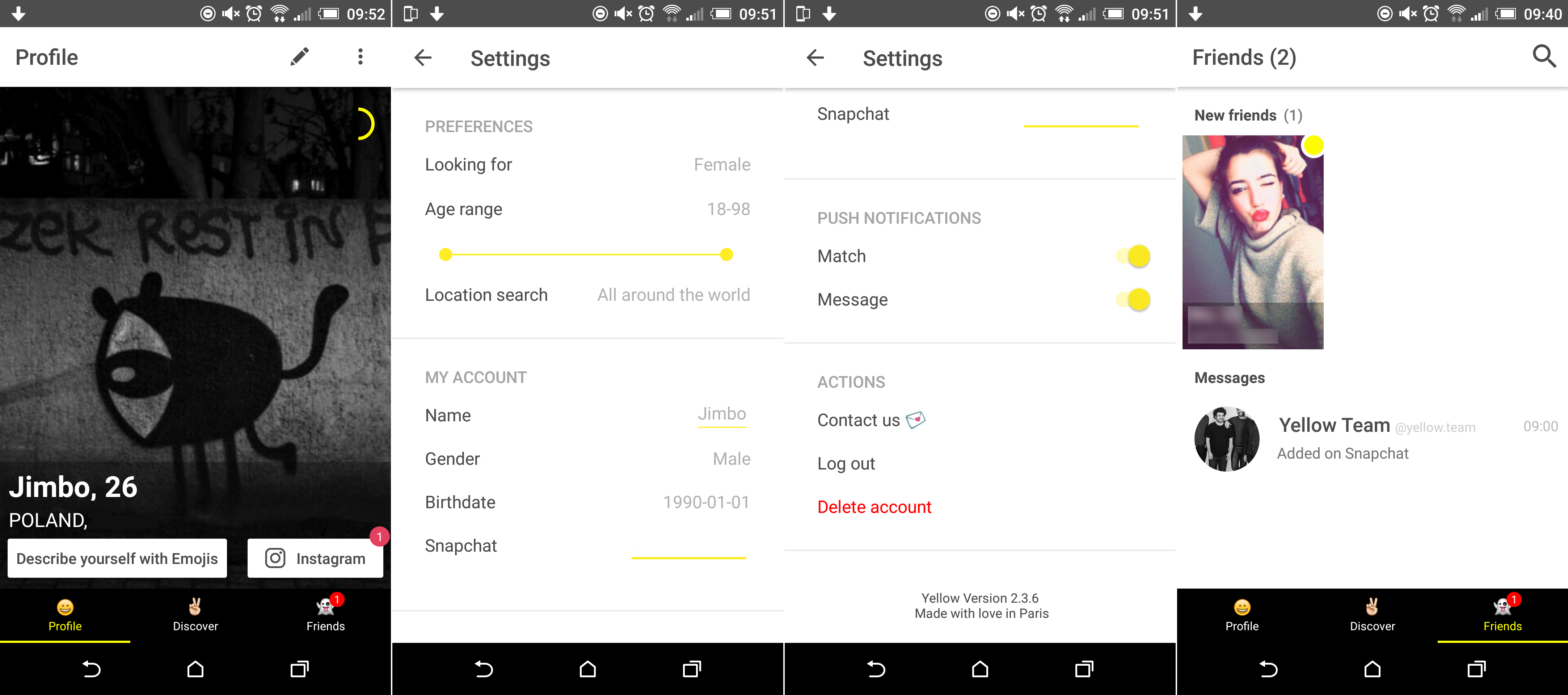 As with all apps on the app stores, there is a disclaimer. Yellow has Warnings about inappropriate content and is quite similar to all the other apps like Snapchat and includes the following:
• Infrequent/Mild Sexual Content and Nudity
• Frequent/Intense Mature/Suggestive Themes
• Infrequent/Mild Profanity or Crude Humour
• Infrequent/Mild Alcohol, Tobacco, or Drug Use or References