It's probably not all that often you find yourself with a broken mouse or broken left-click/right-click button on your computer or laptop. If you are stuck with some form of mouse malfunction or breakage, this guide will show you how to set up your keyboard number pad to work as a replacement.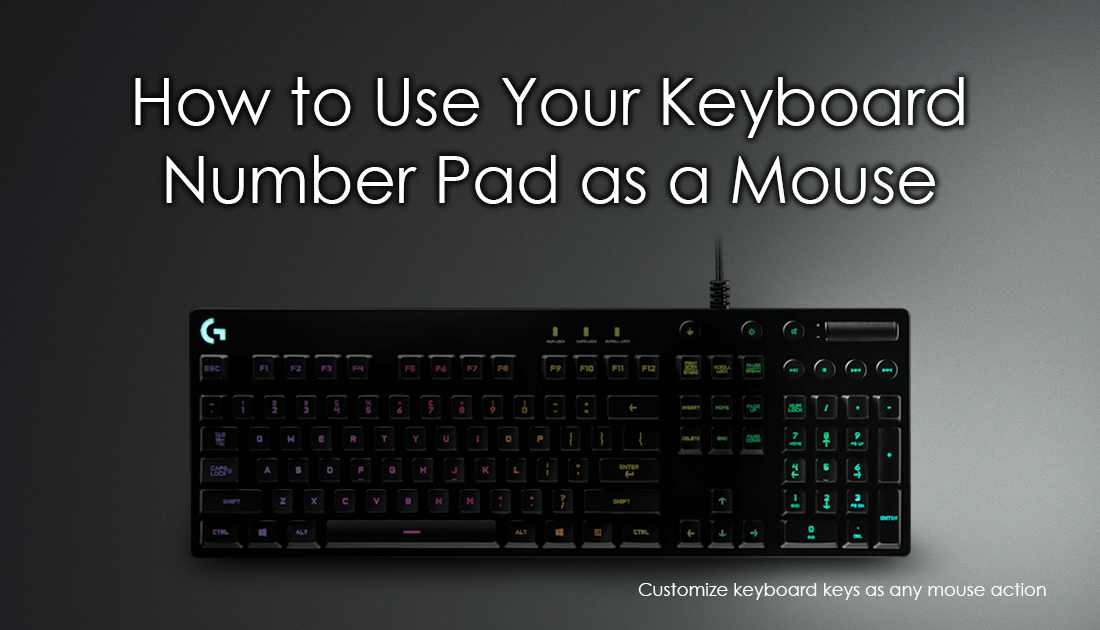 How to Change the Frequency Which Windows Automatically Empties the Recycle Bin.
Of all the weird tools, programs, apps and add-ons I have used and written about, this is one of the most unique and strange, yet ingeniously interesting and useful at the same time. Depending on your situation of course. Below you will find one of the best programs you can use to emulate all the functions of your mouse on your keyboard. Although using your keyboard as a mouse may seem a little clumsy, you may find some aspects extremely useful.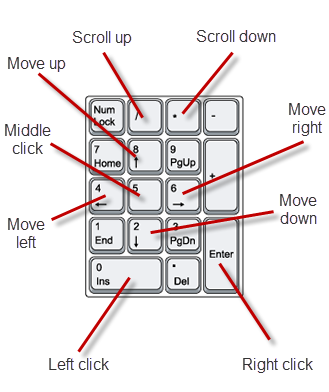 How to Convert Your Keyboard Number Pad Into a Mouse. (Emulate a Mouse)
To begin using your keyboard as a mouse, you will need to download a small program called NeatMouse. Once you have downloaded NeatMouse, there are two options available for using it. The first allows you to run it as a standard program, installing it as you would any other program. The second options allows you to run the program portably and doesn't require a standard installation. It doesn't matter which option you choose, the program works the same for each. Just keep in mind that if you choose option two, you will need to run it each time you start your computer.
When you have the program open in front of you, the first thing you are going to want to do is set an Activation Key. This will allow you to turn the feature on and off as you please, I find Scroll lock to be the best choice as it's hardly ever used. Once you have set your activation key, press it to activate the number pad on your keyboard. (Make sure you have Num Lock set so you can use the keys) By default, your Keyboard number pad will be set up as the below image shows. (7,9,1,3 will be used as diagonal options even though they aren't listed)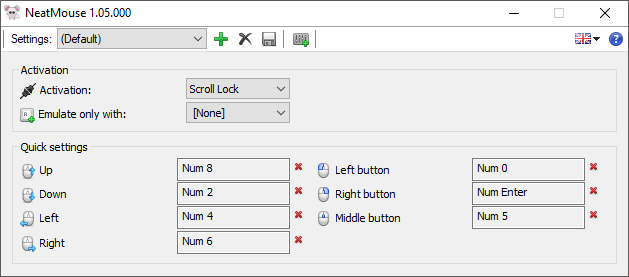 The standard layout is pretty much perfect and you probably won't need to change any of the options, however, if your keyboard doesn't have a number pad or your mouse doesn't have a middle mouse button or something is broken, you can customize the layout however you like. If you do make a change, you can use the Green Plus icon to save your new layout.
Note: Alternatively, if you don't want to use an activation key, you can use an Emulation Key by selecting one of the options in the Emulate Only With box. With an emulation key, you can activate the mouse functions by holding down this key. (You won't be able to use an emulation key and an activation key at the same time though)
Conclusion.
NeatMouse is certainly a very useful program, especially if you are in a spot of trouble and some of your mouse or touchpad functions are damaged or reduced. Although using the arrow keys to move the cursor around aren't the best, having the ability to assign keyboard keys to Left-Click, Right-Click and Middle Click is definitely useful. One of the most useful ways I've found to use NeatMouse is to replace the ` key (the key before number 1 on the number row) with the middle mouse click button when gaming. Pressing ` is far quicker than using the middle mouse button.