There are plenty of reasons you might want to check up on your Google Play paid Apps list. Maybe your wife or girlfriend is on your case about your spending and you need to prove to her she's spent way more money playing Candy Crush than you have playing Mobile Strike. Or perhaps you're just curious to see how many apps you have purchased since you started using Android. Whatever your reason, here are two quick ways to find out.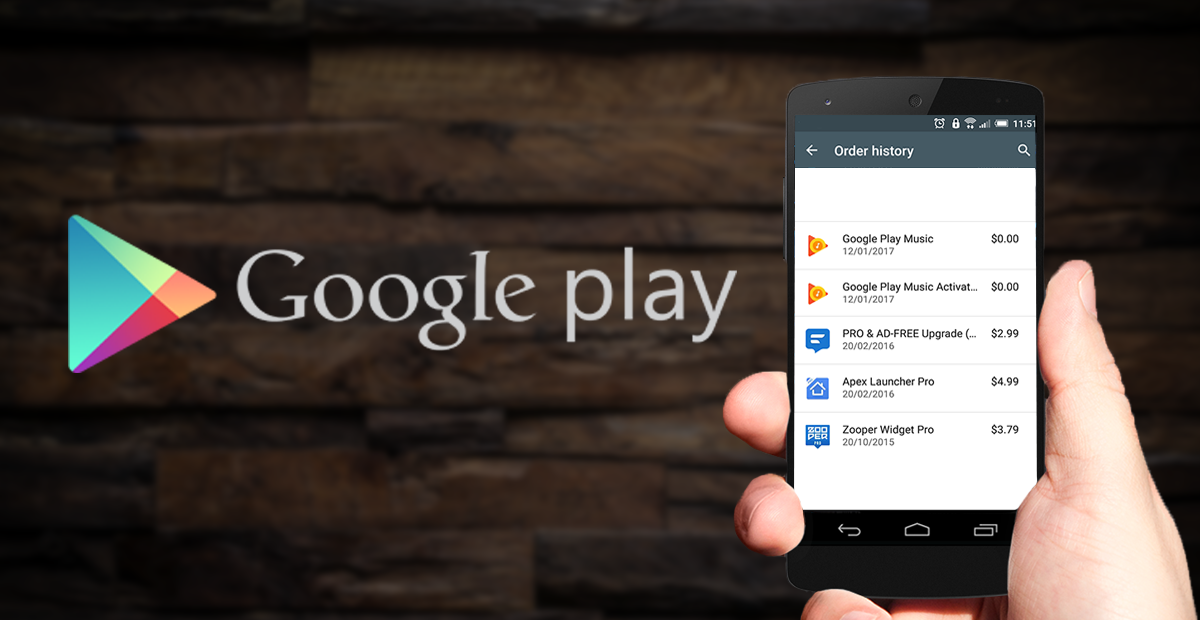 How to Clear the Cache and Cookies on Chrome, Firefox and Edge Browsers.
Both of the below methods will basically give you the same information. But, as we all like to have more than one option to choose from, you can decide for yourself which one you prefer and which one gives you precisely the information you require.
Option 1: From the Google Play Store. (Who'd have thought...)
Starting off with the most simple method, you can actually get this information from the Google Play Store without having to do anything crazy or download special apps. You just need to know where to look. To access your list of purchased apps you will need to do the following.
Log into your Play Store account, if you aren't already automatically signed in. Next, open the menu in the top left-hand corner using the Hamburger icon (3 horizontal lines) to the left of Google Search. From here scroll down and tap on Account to move onto the next screen.
Here you will see the following choices:
Payment Methods: Pretty self-explanatory, add, remove and make changes to your payment methods.
Subscriptions: Manage your subscriptions, such as the Play Music and Youtube Red. (not redtube)
Rewards: A place to find and claim your rewards, for example, the ones you receive for using the Google Opinion Rewards App. Note: This is only available in a select number of countries.
Order History: Another foolproof title that's self-explanatory, check your purchase history. 
As you will have probably guessed by now you will be tapping on the bottom option, Order History. Inside this menu, you should be able to see every single app you have purchased from this account. You will also notice that you can see in-app purchases too. For example, if you play Pokemon Go and have purchased any Pokecoins those transactions will be displayed here as well.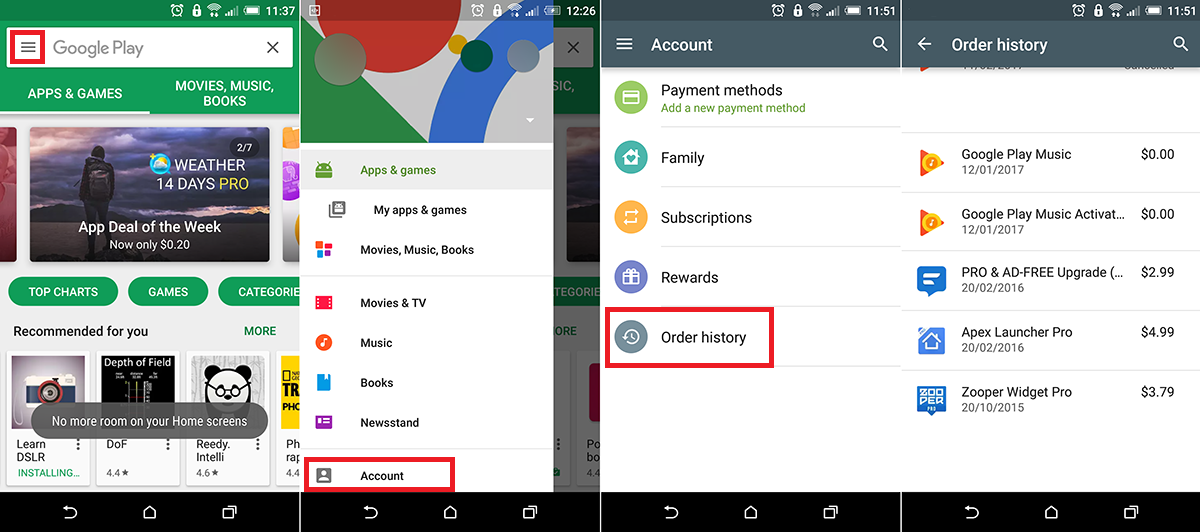 Option 2: Read on to Discover the Mystery that is Option 2...
After reading the above method you are probably wondering how can there be another option… Well, there is and it should come as no surprise... There is an app for this, It's called My Paid Apps.
Once you have downloaded it from the Play Store, it's super simple to use. Just allow the usual permissions and requests, then tap Refresh. This will load your entire list of purchases from Google Play, in the same manner as the above method does. The app also shows you some statistics regarding your account, such as how many items you have purchased, (so you don't have to count them all manually).
It also shows the Total Money you've spent and the average price of each item. After playing around with the app for a few minutes it does what it's supposed to very well, I'm quite surprised Google hasn't just bought it off the developer and implemented it into the Play Store.