The developers at Instagram are at it again, another of Snapchats super popular features has been cloned, tweaked and implemented. Interactive selfie filters/masks which you can use in real time for pics and videos are now live on Instagram. If you are a frequent Instagram user but can't find the new filters this guide will shed some much-needed light on the issue.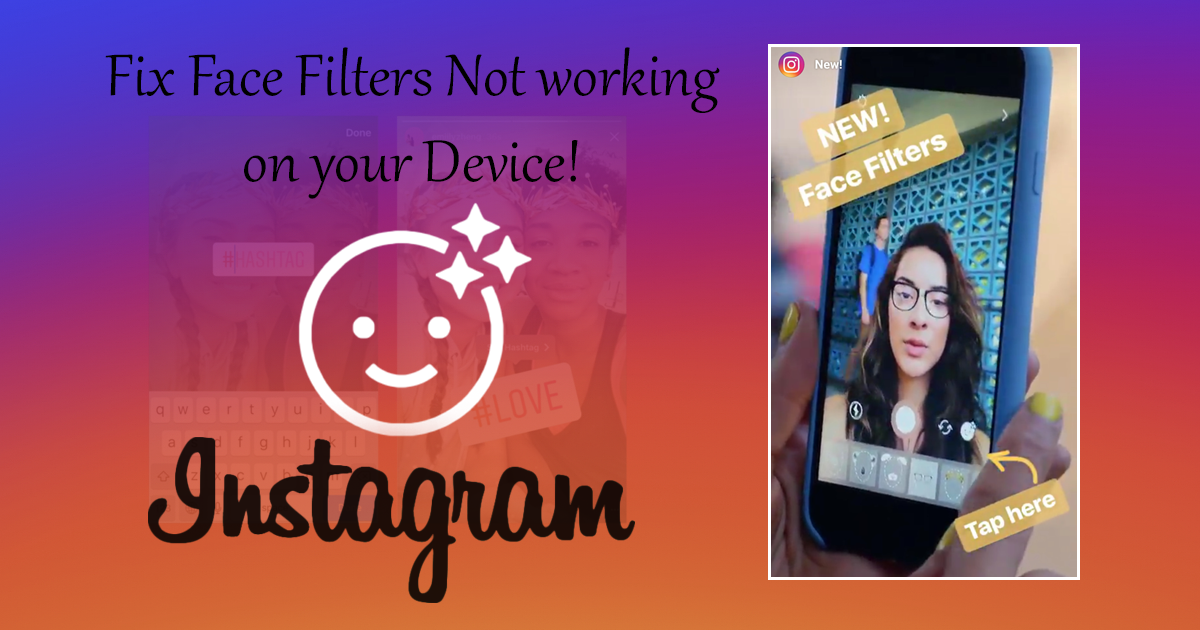 How to Download the Contents of Any Instagram Account Even if it's Private. (Photos and Videos)
As we mentioned above, Instagram has incorporated another of Snapchat's major features, face filters. Instagram's new masks are available worldwide with no country restrictions and are available on both iOS and Android devices. To get the ball rolling on the new feature Instagram have a total of 8 self-filters available that can be used for both pictures and videos. In time though this list will surely grow.
If you have been trying to figure out how to find and use these new face filters with no luck, you are not alone. Countless Instagram users around the world have been struggling to figure out why the filters don't work on their devices. Unfortunately, there are a couple of things you need to check first in order to find out if you can use these new Face Filters on your smartphone.
The first and simplest thing you need to do is make sure your Instagram app is up to date, face-filters were introduced in version 10.21.0 so if you are using an older version you won't have access to the filters. If you are already running Instagram version 10.21.0 or newer and can't find the selfie filters, below are a few reasons why.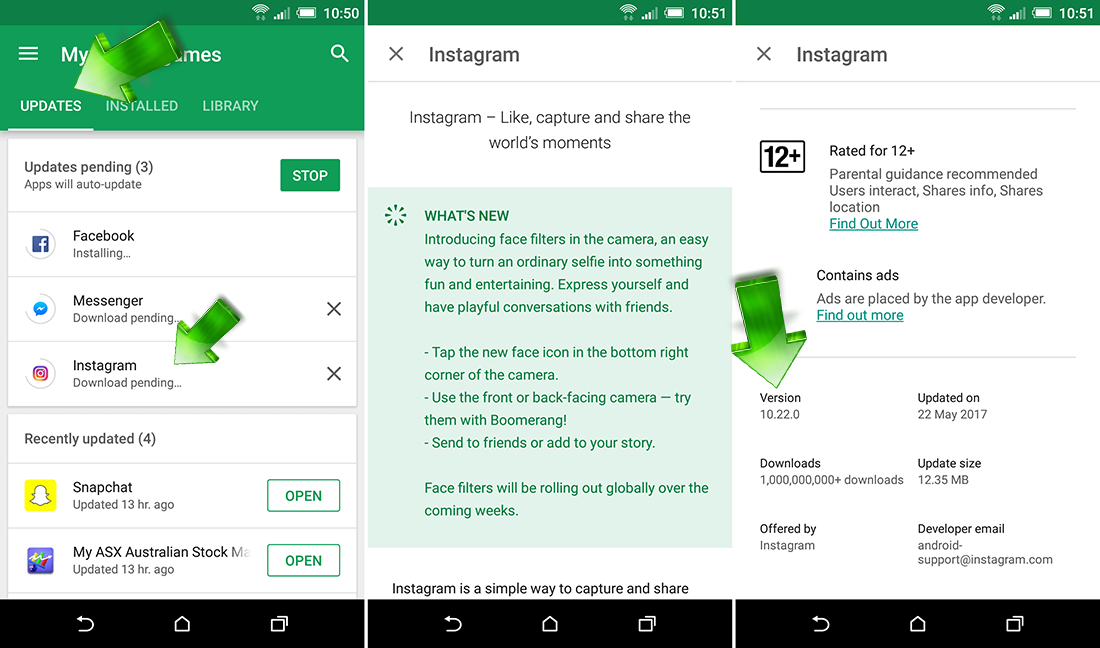 Why Can't I Use or Find  Instagram Face Filters on My Phone?
First, it's possible you are running an older version of Android or iOS that isn't compatible with the new filters. If your phone is running Android 4.0 or older, filters will not be available. So you will need to update to Android 5.0 or newer. Obviously, you are going to want to update the newest version possible for your device. Keep in mind though that depending on the age of your device, your manufacturer may have ended support for newer versions of Android.
Note: Some phones that are running Android 5.0 or newer may also be unable to use the new face filters as the hardware within the device doesn't meet the apps benchmarks. If this is the case the only way to use the filters is to upgrade to a new device. A list of compatible and incompatible devices is listed further down.  
It is a similar situation for iOS device users. If you are using an iPhone 4s or older the new filters will not be available/work on your phone, even if you are running the most updated version of iOS. On the other hand, if you are using a device newer than a 4s the filters won't work unless you update to iOS version 9.3.5 or newer.  
How to Update to a Newer Version of Android.
To check if your Android device can be updated to a new version of Android the process is quite easy.
First open your phone's Settings app, then scroll to the very bottom of the list. Here you will see an option called About, tap this menu once to enter it.
Somewhere inside this menu, you should see an option called Software Updates (or something similar depending on your device's manufacturer) tap Software Updates once to get your device to check for possible updates.
If an update is available for your device it will ask you if you wish to update. Keep in mind that updates are usually quite big so you may want to use a WiFi connection.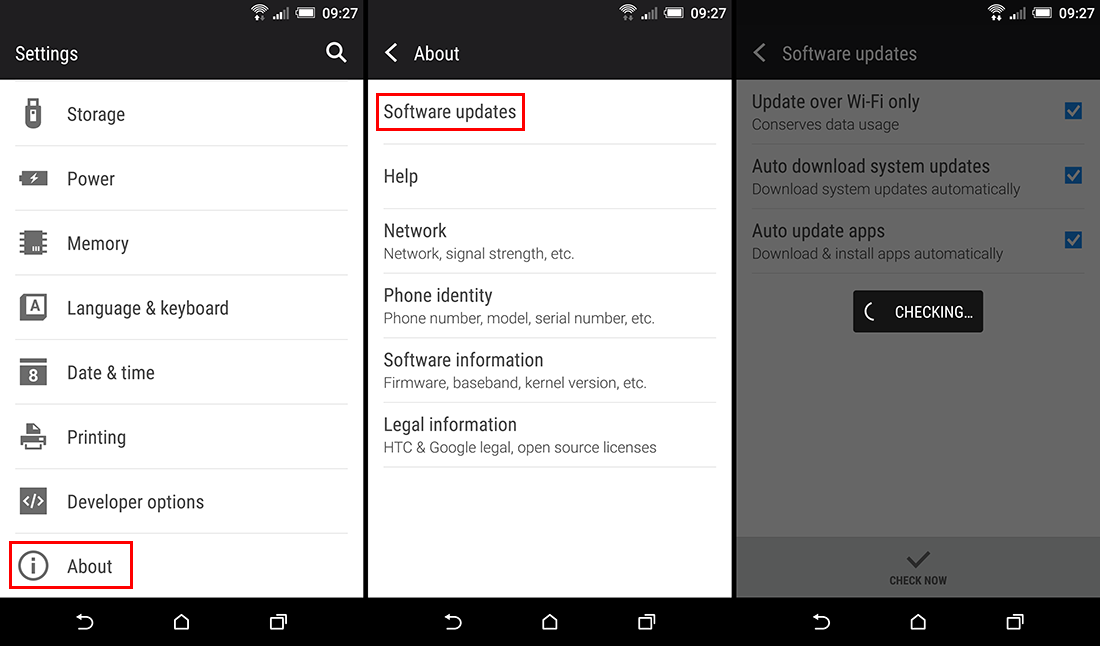 How to Update to a Newer Version of iOS.
To update your iOS device to a new version you will need to follow the below steps.
To start, if your device is below 50% battery it is best to connect it to a power source, then connect to the internet by either WiFi or Data connection. (keep in mind it will use a lot of data and take a fair amount of time to update)
Next, tap Settings > General > Software Update, then tap Download and Install.
Note: If a message pop up asks to temporarily remove apps to make space, tap Continue or Cancel. Later, iOS will reinstall any apps it removed.
To update, tap Install if you are asked for it, enter your passcode.
Now all you have to do is wait for your phone to update to the newest iOS version.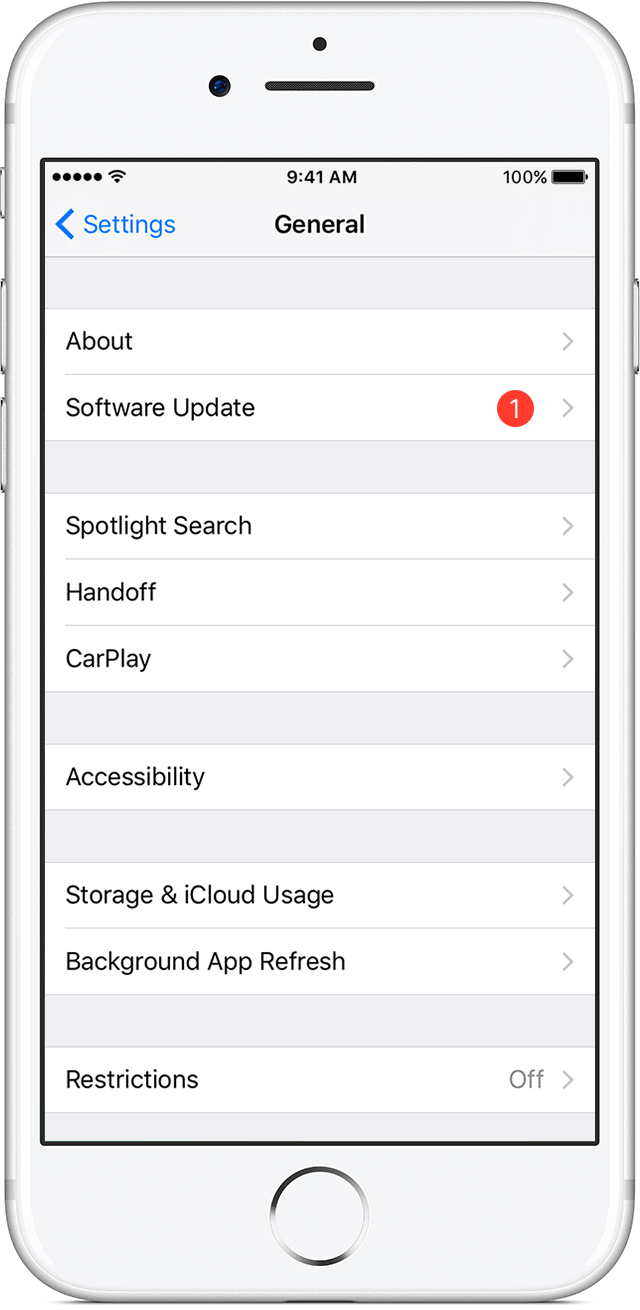 How to Find and use the New Instagram Face Filters.
Once you have updated your Instagram App and your Phone is running a compatible version of Android or iOS you can start using the new Filters.
First, open Instagram and Swipe Right to open the camera. Here you will notice to the far right at the bottom near the shutter there is an icon in the shape of a face, tap this.
This will automatically activate Instagram Self-Effects/Face Filters. At the bottom of the screen, a carousel will show with the 8 masks/selfie-effects. Now just select the front or rear camera.
When you have selected a camera to use, you will have to focus on your face or the face of another person. With the person displayed on the screen select one of the carousel filters. You can now check the effect on the image of your face on the screen of your phone. You can move and gesture to see how the effect adapts to the gestures of your face.
When you are all set, press the shutter once to take a Selfie picture or hold down the shutter button to record a video. Both the photo and the video will be taken using the Instagram mask you selected. Once the pic or vid is taken, you can customize it by adding emoticons, text or even drawing on them.
Once everything is ready you only have to click on the next button to proceed to the publication in the section.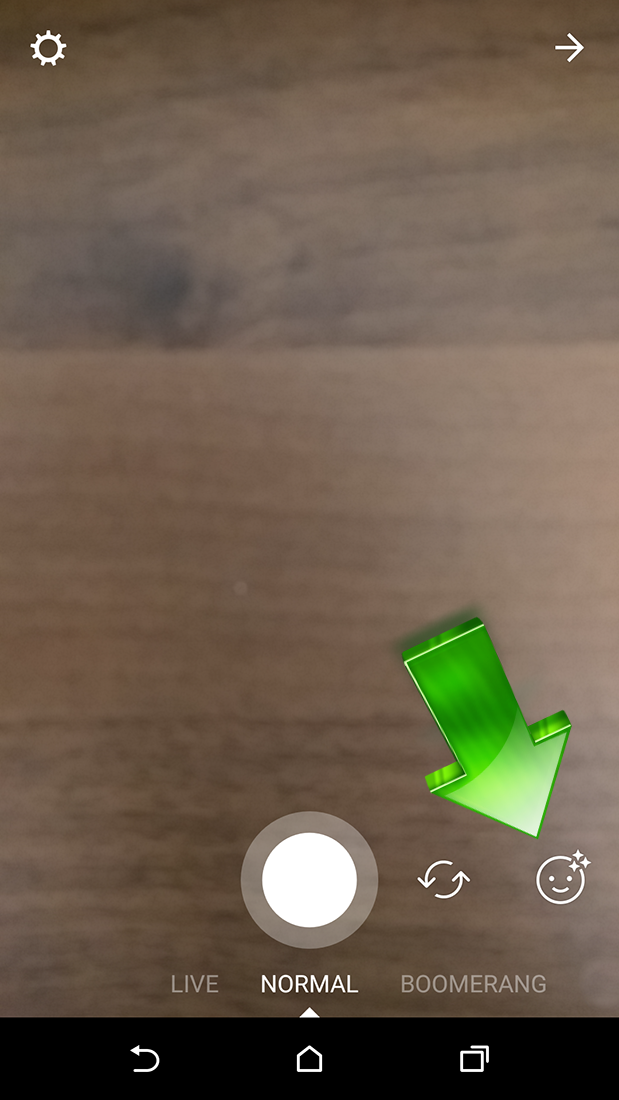 Instagram Selfie Filter/Masks Phone Compatibility Lists.
Non-Compatible Android Devices.

Alcatel OneTouch Idol 3

Alcatel One Touch pop c5

Alcatel One Touch c7

Alcatel One Touch pop c9

Alcatel OneTouch Fierce

Archos 40b Titanium

Huawei P7

Huawei P8

Huawei Y550

Huawei G730

HTC Desire 820

LG G4 Stylus H635

M4 SS4020

Moto X (el del año 2015)

Moto G 1ª generación

Samsung Galaxy Ace Style

Samsung Galaxy Core

Samsung Galaxy Grand

Samsung Galaxy J7

Samsung Galaxi S2

Samsung Galaxy S3

Samsung Galaxy S3 Mini

Samsung Galaxy S4

Samsung Galaxy S5

Samsung Galaxy S5 Mini

Samsung Galaxy Tab S 10.5

Samsung Galaxy Tab 3

Samsung Galaxy Tab 4

Sony Xperia M2

Lenovo A850

Lenovo S960

ZTE Blade L2

ZTE Blade V6

Compatible Android Devices.

Pixel

Pixel XL

HTC 10

HTC One (E9+)

HTC One

HTC M9

HTC M8

HTC M7

LG G3

LG G4

Moto G 4G

Moto G 2ª generación

Moto G 3ª Generation

Nexus 5

Nexus 6

Samsung Galaxy Note 3

Samsung Galaxy S6

Samsung Galaxy S7

Samsung Galaxy S8

Samsung Galaxy Alpha

Sony Xperia Z1

Sony Xperia Z3

Sony Xperia Z3+

Samsung Galaxy Alpha
Non-Compatible iOS Devices.

iPhone 3

iPhone 3S

iPod Touch 5G

iPhone 4

iPhone 4S 

Compatible iOS Devices.

iPhone 5

iPhone 5c

iPhone 5s

iPhone SE

iPhone 6

iPhone 6 Plus

iPhone 7

iPhone 7 Plus

iPad 4

iPad Air

iPad Air 2

iPad Pro

iPad Mini 2

iPad Mini 3

iPad Mini 4
If you have any questions or have found a device missing from the list that is compatible or non-compatible please let us know in the comments section and we will add it to the list.