If you have recently downloaded an app from the Microsoft Store on Windows 10 only to have it refuse to launch properly, instead, launching the Microsoft Store. This article will guide you through the only working solution while we wait for Microsoft to fix the problem officially.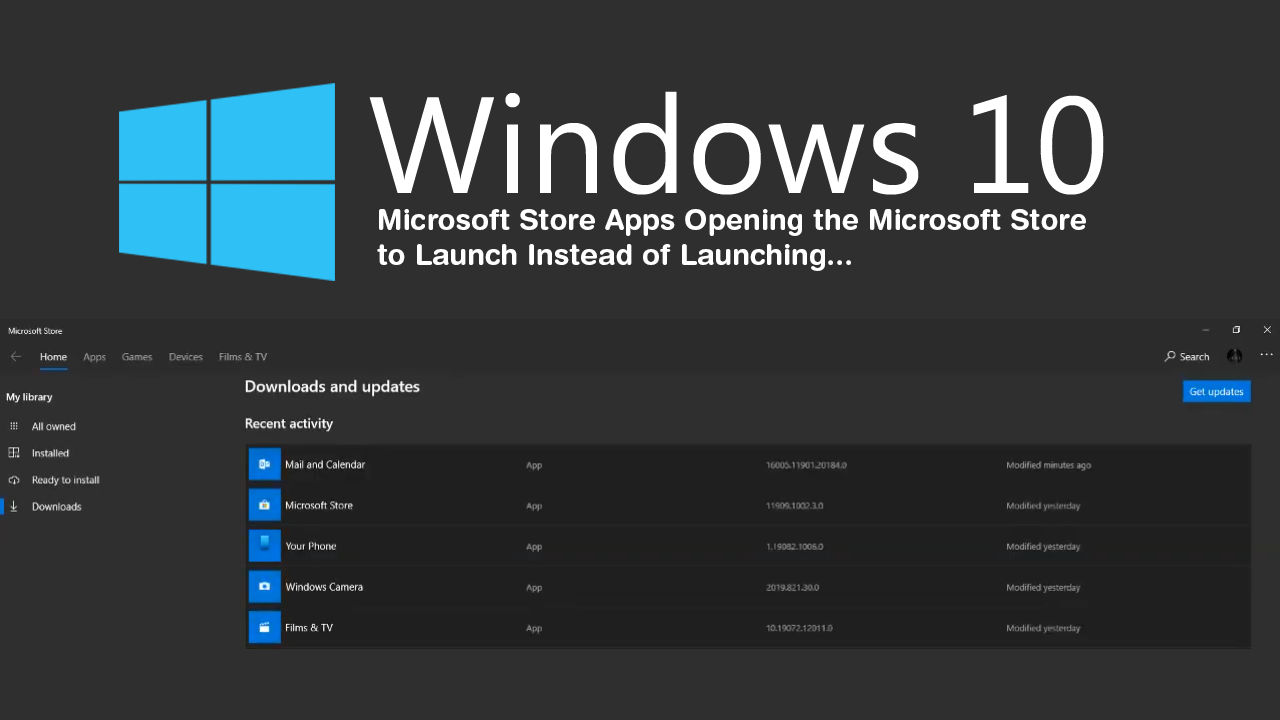 How to Fix Windows Backup Error 0x81000019, A Shadow Copy Could Not Be Created.
Although a lot of people generally avoid getting any content from the Microsoft Store for a number of different reasons, there are times when it is an unavoidable evil you have to use. For example reinstalling default apps like Mail, Calendar, Calculator, etc. Which brings us to the latest issue currently affecting the Microsoft Store. 
If you've recently had to reinstall an app from the Microsoft Store or have downloaded a new app from the Store and can't get it to launch properly you've stumbled across one of the most frustrating issues on Windows 10 we've seen for a long time.
The issue in question is causing a large range of apps downloaded and installed from the Microsoft Store to fail to launch directly, instead, launching the Microsoft Store and the app listing page, where apps can be downloaded and launched. You can view a short clip of the issue in action here.
Sadly at this stage, there isn't an official solution out there that works and most solutions on offer don't seem to do anything but waste your time. So it's best to avoid most suggestions that suggest making changes in the Windows registry. At least for now… The good news is that there is thankfully a workaround you can use that will allow you to launch selected apps without being directed to the Microsoft Store.  
Related: How to Fix Corsair VOID PRO WIRELESS Not Working After Updating ICUE to 3.19.120. (Corsair Wireless Headset Not Working After Update)
How Do You Stop Microsoft Store Apps and Default Apps Launching the Microsoft Store Not the Actual App?
As we mentioned above there isn't currently a solution for this issue so you'll need to use the only workaround currently on the market. And that is to stop using all the app shortcuts you have on your computer for that particular app. Accept the Taskbar shortcut. For some strange reason pinning any of the problem apps to the taskbar on Windows 10 seems to circumvent the issue. 
If you are trying to launch problem apps from the start menu, including those pinned to start or the search tool, they will all divert to the Microsoft Store. If you don't currently have a taskbar shortcut for the app in question, you can create one by simply right-clicking the icon in the start menu and selecting Pin to Taskbar. Once pinned to the taskbar any and all apps downloaded from the Mircosoft Store will launch properly again. 
On a Side Note…
If you are also having issues with the Print Screen function not working in specific apps and programs on Windows 10, make sure you check out the following article which will guide you through several potential fixes for the issue. 
How to Fix Print Screen Not Registering in Apps on Windows 10. (OneDrive Stopping Print Screen From Working)