If you still spend a fair amount of time accessing Facebook from the web version, rather than the mobile app. This article will show you how to block keywords from appearing in your timeline. If you don't want to see posts about a specific movie or tv show, coffee, alcohol, babies, etc, you'll be able to block them. 
Related: How to share Tweets to your Snapchat stories.
Although most people are now accessing Facebook from their mobile device using the official Facebook app. There are still people, like myself who prefer to access Facebook from the web for the simple fact we still have some control over how Facebook works and the content we see in our feeds. If it's been a while since you last logged into Facebook from a browser you'll notice that a lot has changed with the inclusion of dark mode and a range of other changes making Facebook seem far more minimalistic. 
Unfortunately, the algorithms that guide and sort Facebook feed content are still the same, if not worse and tend to prioritise the most irrelevant content in the most irrelevant order. Thankfully, there is a range of extensions that allow you to override Facebook's default everything. You can check out our in-depth guide on those tools here.
For this guide though, we'll be solely focusing on blocking keyword content rather than messing around with all of Facebook's other shortcomings. Blocking keywords will allow you to block/hide any posts that contain particular words. 
How do you block content on Facebook by filtering keywords?
Even though Facebook doesn't offer the ability to block content how you'd like, you can still add the option using extensions so head on over to the Chrome Web Store and add the following extension to your browser. This will work for Google Chrome, Microsoft Edge or any other Chromium-based browser. 
Facebook Purity Chrome Extension.
Once you have added FBP to your browser, you'll probably look at it and think, Woah! That's a lot of options! Luckily, the option we're looking for is on the main page, so you won't have to spend time searching for it. Simply enter all the keywords you'd like to filter out (block) in the main Text Filter box, then click the Save and close option below the text box.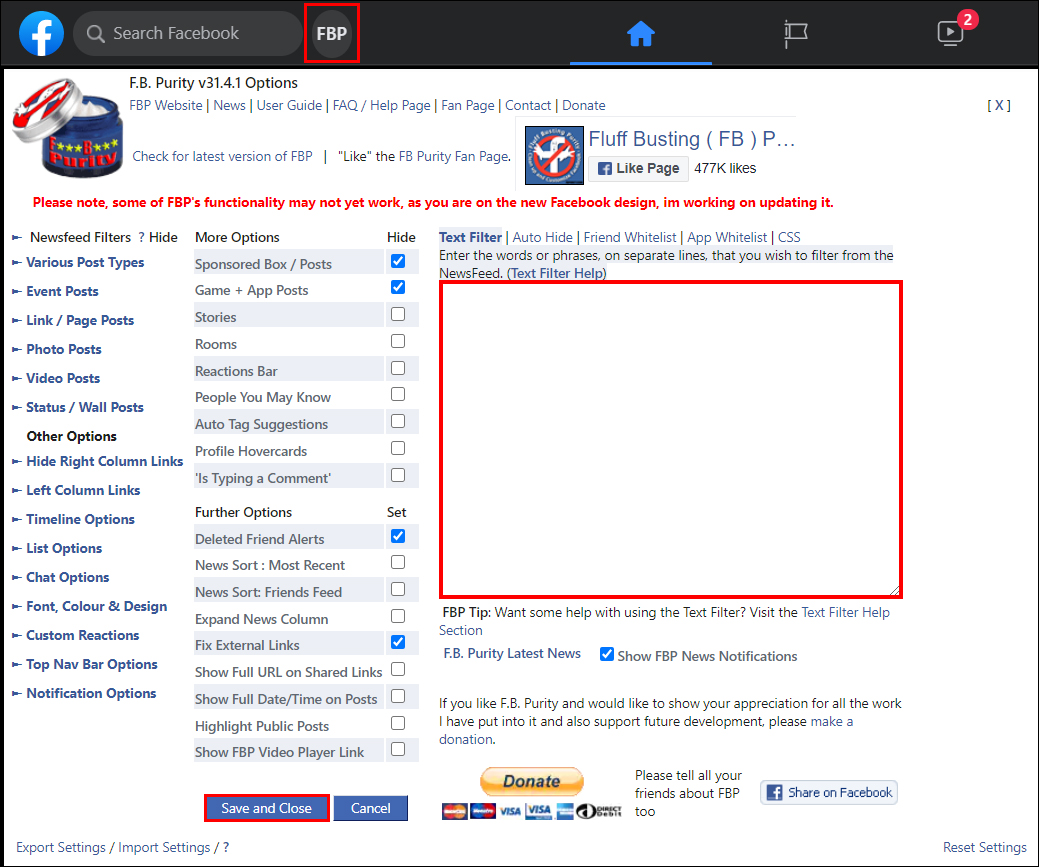 If you change your mind on the keywords you wish to block, you can return to the same location at any time to change your preferences. Just remember to click the Save and close option after you have made your changes.
Along the right-hand side of the FBP interface, you'll find a ton of other options for managing and blocking a range of different content on Facebook, if you have the time to explore these options and don't feel like reading our in-depth guide linked above, feel free to explore all the options at your disposal.
Just remember after customising your settings, you need to click the Save and close option at the bottom or you'll be straight back to square one, wondering why FBP isn't doing anything it promised. It's also important to note that occasionally FBP loses function when Facebook makes major changes to their interface, however things are fixed pretty quickly.