If you are a Windows 10 user and like to take advantage of Cortana, this guide will show you how to connect your Gmail account and other accounts like LinkedIn to Cortana. Linking these services will give you easy access to Google Calendar, Google Docs and of course Contacts and Gmail.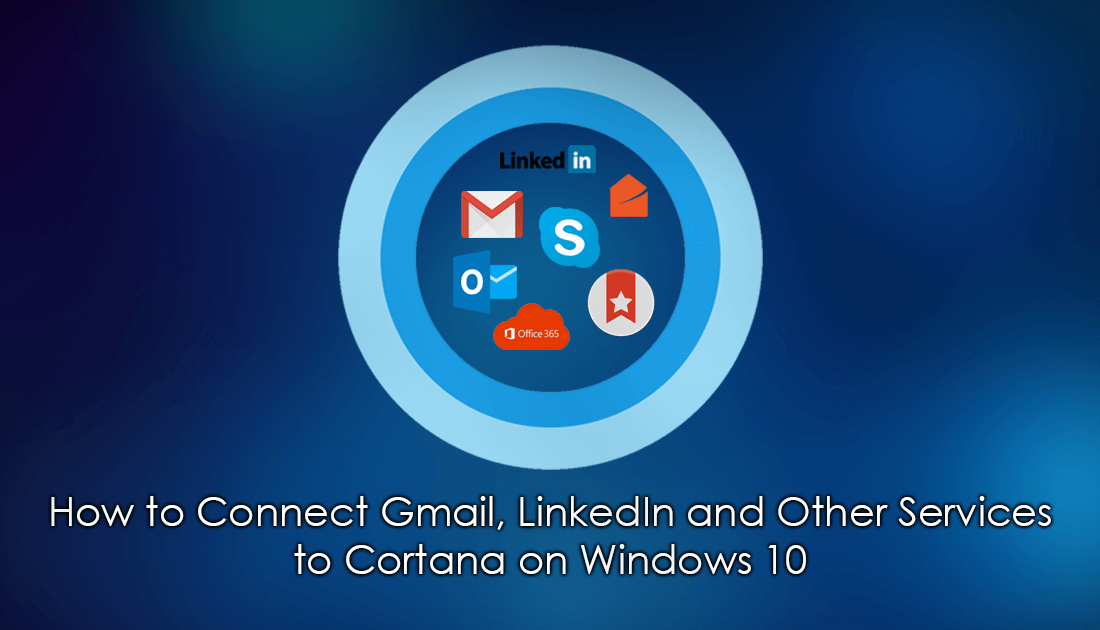 How to Customize Microsoft Launcher on Android. (Windows Android Launcher)
Cortana is one of the most controversial components of the Windows 10 operating system, with half the Windows user base wanting to completely remove her and the other half embracing her. If you are in the latter half and find Cortana useful, you'll be excited to know you can actually add plenty of extra services to her library. You can add Gmail, Dynamics CRM, Knowmail, LinkedIn, Office 365, Outlook, Skype, and Wunderlist. Once added, Cortana will be able to make use of the extra data from each service, especially calendar info such as dates, appointments, and meetings.
For example, if you have connected your LinkedIn account to Cortana, whenever Cortana reminds you of a meeting, appointment or upcoming date, you will also be able to view some information about the person you are meeting, including their LinkedIn profile photo, job title, and of course the company they work for. (you probably already know most of this, however, if it's a first time meeting it could be very useful) You'll also be able to look a little deeper and view their full LinkedIn profile. This is of course only one example and the more you use Cortana with linked services, the more cool features you'll discover.
How to Link Services Like Gmail, LinkedIn, Office etc to Cortana.
To link any of the above-listed services to Cortana, you will first need to ensure you are signed into Windows with a Microsoft account. You won't be able to access any of these features if you are using a local account. Once you have done so, the rest of the process is relatively simple.
First click on the Cortana icon next to the start menu, then access the Notebook (the book icon below the home icon) Next, click Connected Services, then Add a Service. From this list, pick the service you would like to link to Cortana, then follow the onscreen instructions that will allow you to sign into your account. When you have finished signing in, you can repeat the process for any other accounts you would like to add.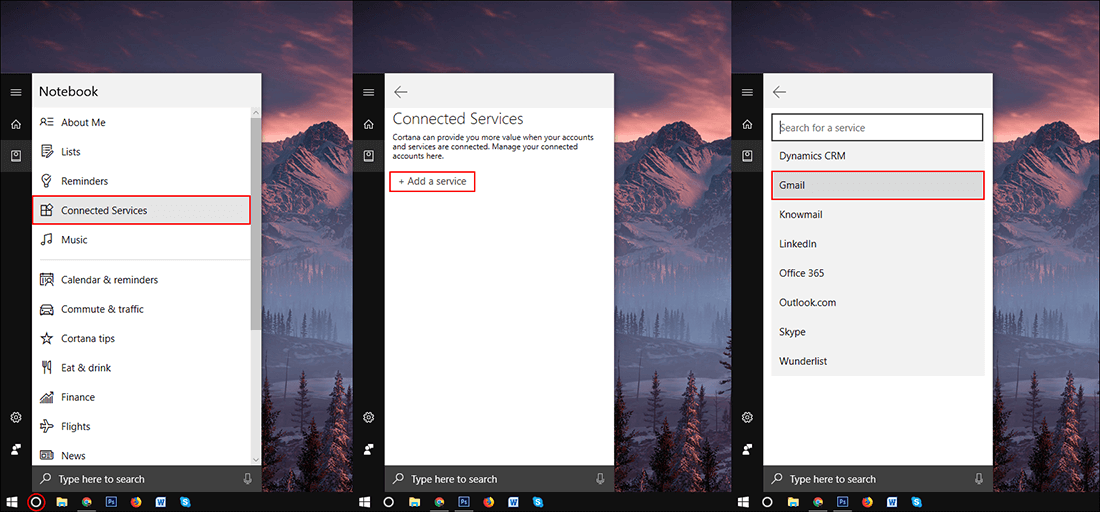 As soon as an account is successfully added, you will see the account type above the Add a Service option with On shown next to it. If at any stage you wish to remove/revoke Cortana's access to one of your accounts, all you have to do is venture back into the Notebook and click the On button. This will allow you to disconnect the service.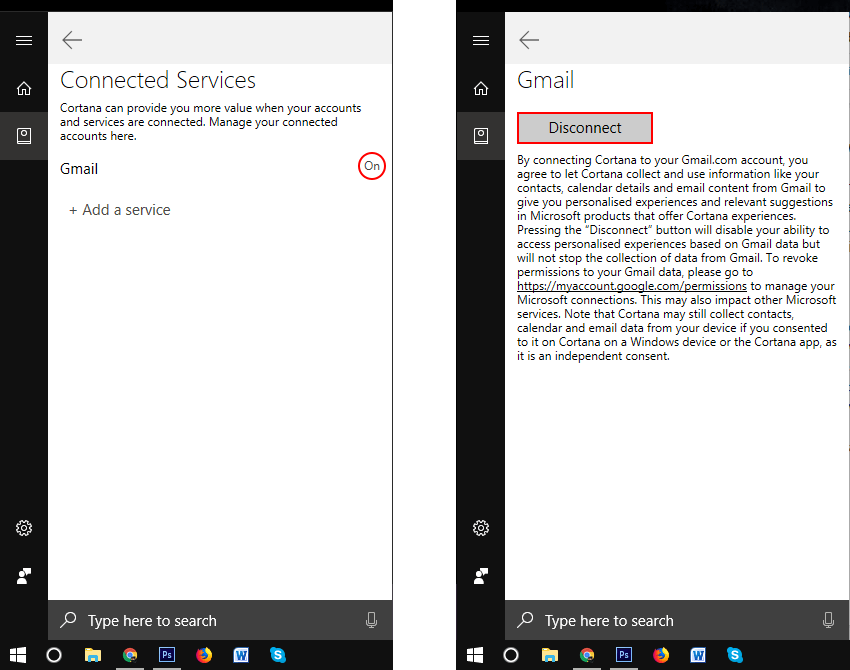 Alternatively, if you have linked your Gmail account, you can visit the Gmail App Access page and remove access.
https://myaccount.google.com/permissions?pli=1
.

When you get to the page, simply click on Windows, then Remove Access. While you are on the access page, check to see you don't still have any other old accounts or apps linked. If you do, you may as well remove those too. The fewer services that you have linked to your account the better.