If you are a fan of dark mode in apps and programs and on websites, this article will guide you through the process of enabling it on Microsoft Outlooks web version. A recently added Outlook feature of Microsoft's Outlook overhaul.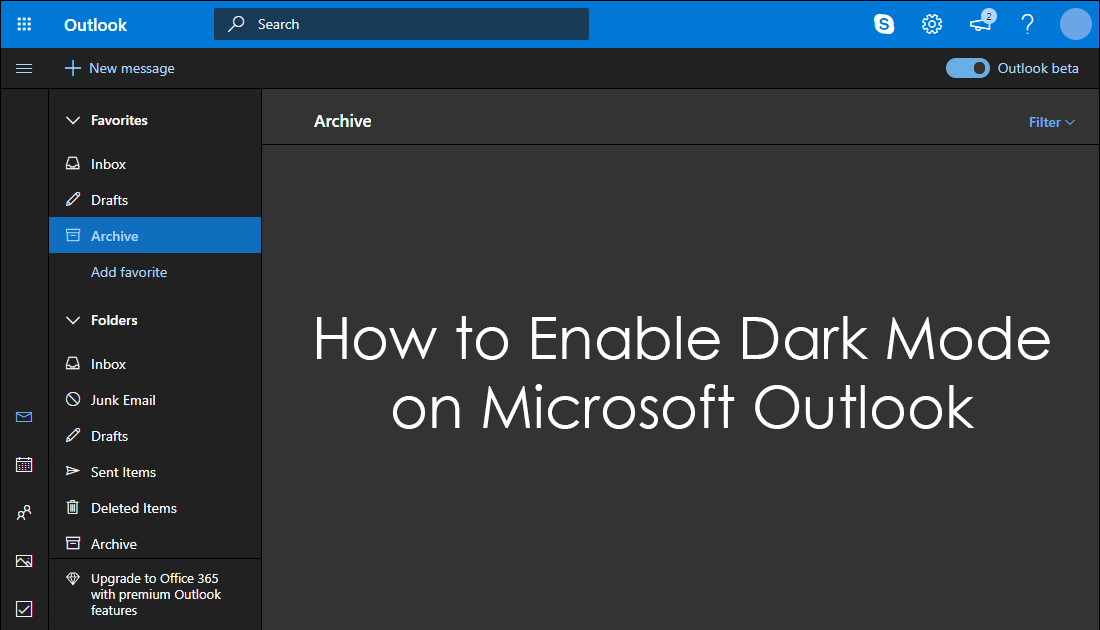 How to Disable Dark Mode in the YouTube Android Mobile App.
Over the last twelve months, Microsoft has spent a considerable amount of time upgrading the web version of their popular email platform Outlook. During these twelve months of development, quite a few new features and options have hit the service, with most offering greater access, security, and of course ease of use.
As well as feature implementation Microsoft has also given Outlook an entirely new material design layout, which has gradually been rolled out and is still partially in an opt-in or out beta phase. If you haven't started using the beta option yet, it's worth enabling and streamlines the entire email service, plus includes the long overdue dark mode option.
Although dark mode isn't anything new for a lot of apps, programs, and websites it is new to Outlook and a very welcome addition which can be enabled without much fuss from the main Outlook interface. So follow along as we guide you through the process.
Related: How to Enable Dark Mode in the Windows 10 Photos App.
How Do You Enable Dark Mode in Outlook?
Unlike a lot of Microsoft related products and services enabling dark mode for Outlook is super easy and can be done in only a few clicks, so let us begin. First, sign in to your account, either Outlook, Live or Hotmail, then make sure you have the Outlook Beta enabled. If you haven't enabled the beta, simply click Try the Beta in the top right-hand corner of the screen.

Once you have the Outlook beta layout enabled, you'll be able to turn on dark mode for Outlook. Next, click the Settings Cog in the top right-hand corner and flip the toggle next to Dark Mode. As soon as you flip the toggle, dark mode will be enabled and stay enabled until you manually disable it. The only thing you won't be able to use after enabling dark mode are custom themes, as dark mode overrides any themes settings you currently have set.

While you have the settings cog open, you may also wish to scroll down and disable the toggle next to Focused Inbox, which is an annoying email inbox filter system in Outlook Beta that causes more confusion anything. (Focused Inbox has nothing to do with dark mode though)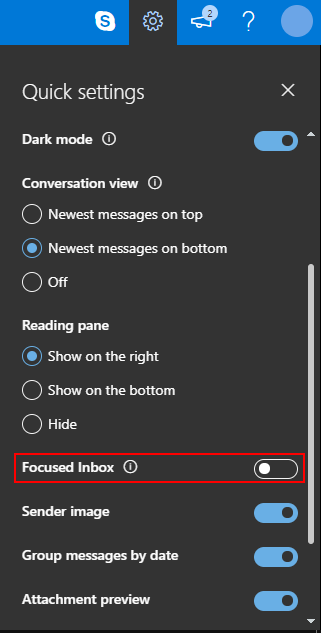 After you have made the changes, you can close the settings tab and take a look around the new Outlook layout. If you ever get an email that is hard to read in dark mode there is also a clever option that allows you to disable dark mode in the message you are reading or replying to. Simply click the small sun icon in the email and dark mode will be disabled temporarily.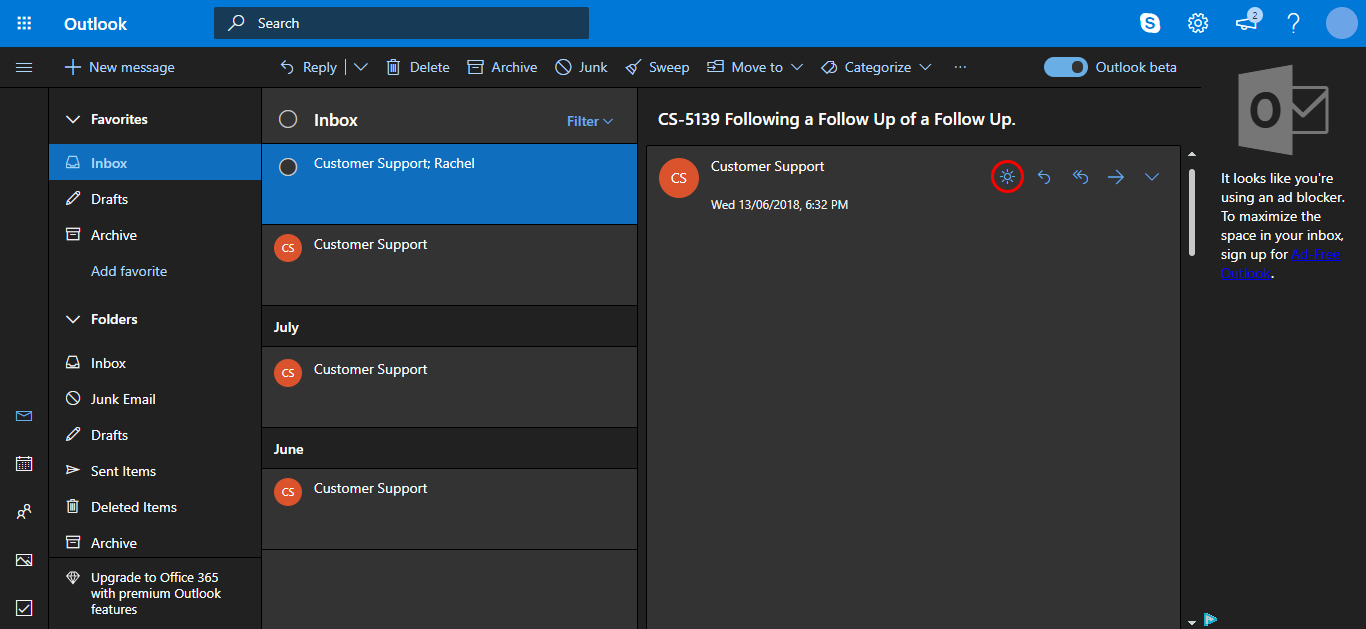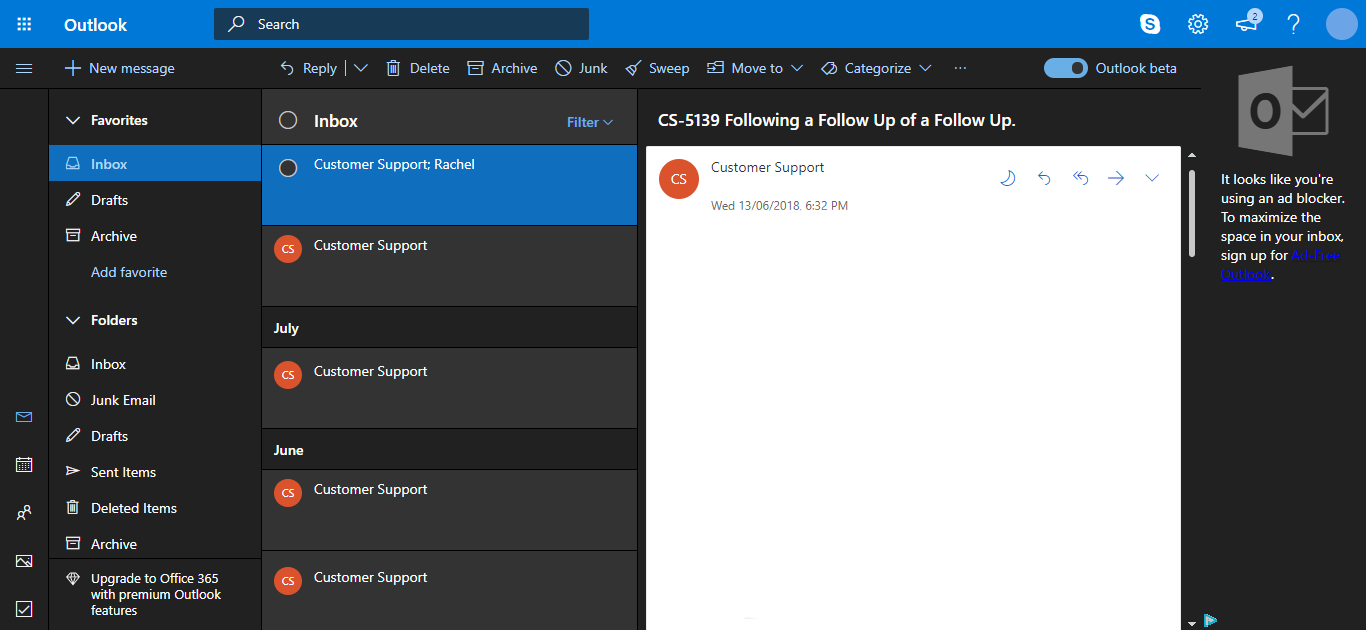 If you are a big fan of dark mode, you'll be happy to know that Microsoft is currently working on a full dark mode theme for Windows File Explorer, which is due to be released in the next major update later this year. (September is the best guess at the moment)   
Related: If you are using Microsoft Edge on your any of your Android devices, you may also like to know how to enable dark mode in Edge. How to enable Dark Mode in Microsoft Edge on Android.