How to Fix Asus Aura Sync Not Working After Updating to Windows 10 Version 1909.
Author

Publication date

16.11.2019

Ilość komentarzy
If you have recently had your Windows 10 PC update to the latest version (1909) and now can't use Aura Sync because it keeps going Not Responding (crashes). Follow along as this article explores the only known fixes for the issue causing Aura Sync to crash after updating Windows 10.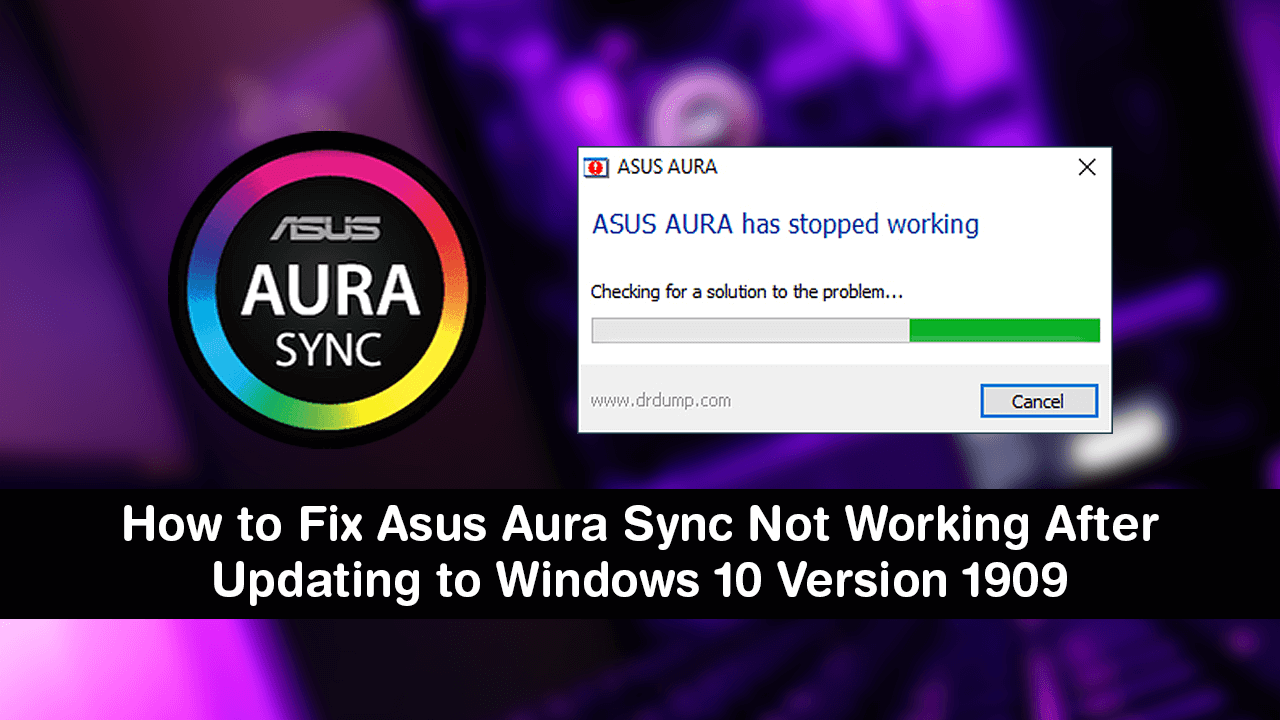 How to Stop the Photos App on Windows 10 Opening When Connecting Your Phone.
Asus Aura Sync is one of the most despised programs on the gaming PC market, followed closely by Corsair's ICUE. Ever since it's inception Aura Sync has been nothing but trouble, failing to sync RGB colour settings correctly, failing to launch, failing to remember RGB settings, more recently failing to get cleared to work with Easy Anti-Cheat… And even more recently, since the release of Windows 10 version 1909, failing to launch at all… 
Although the latest issue has more than likely been caused by Microsoft, Asus will be the ones who need to fix the issue on their end. However, until that happens, which will be a while, you're going to want to try the only known fix currently available. Sadly, this fix isn't a 100% remedy for the problem but does have a pretty good chance to fix Aura Sync on your machine. 
Related: How to Set YouTube History to Automatically Delete After a Certain Amount of Time.
How Do You Fix Aura Sync Crashing After Updating Windows 10 to Version 1909?
If you have already tried the usual fixes for Aura Sync issues:
Uninstall Aura Sync via standard Windows uninstall procedure
Reboot
Redownload the latest version
Extract the archive
Browse to the LightingService/aac subfolder
Run each and every executable in there one by one to uninstall each item
Clean registry
Reboot
Run the installer
Reboot
Pray
There is a little bit more to the process that you have missed, so make sure you follow along closely as we show you how to dig a little deeper. To begin, Uninstall Asus Aura Sync from your PC using the standard Windows 10 uninstallation method. Don't forget to also uninstall:
AURA Service
Patriot Viper RGB
GALAX GAMER RGB 
Once you have removed all of them, open Ccleaner (or another registry cleaner) and clean your Windows 10 registry. Now Restart your computer and reinstall Aura Sync. If you still have issues with Aura Sync Crashing on Windows 10 version 1909 after this process, you can try the next fix.
Fix Aura Sync Crashing After Updating Windows 10 (1909). Solution 2.
If the above solution hasn't worked for you, repeat all of the above steps shown, but this time skip the registry cleaning process. Then proceed to the following location, C:\Program Files(x86)\LightingService and delete the XML file that still remains. After you have done this, Restart your computer and reinstall Aura Sync. 
If nothing so far has worked, you may be stuck waiting for Asus to roll out an update for Aura Sync that stops it crashing on Windows 10 version 1909. With their current reputation for software rollouts and bug fixes… This will probably take a long, long time. In the meantime, if you do happen to find a working solution that isn't listed it here, we'd love to hear from you.