If you use Gmail for all your email requirements but can't all of a sudden because of the following error message:  'A server error occurred and your email was not sent. (#76997)'. This article will guide you through several different troubleshooting steps.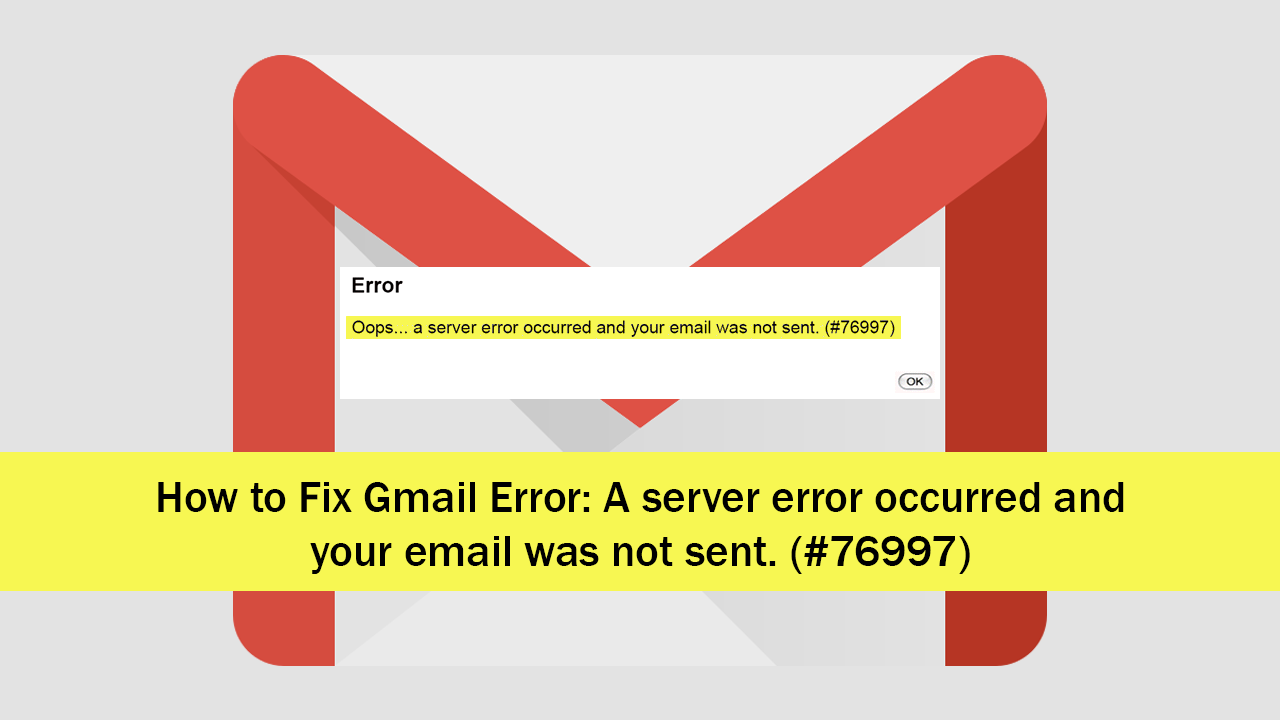 How to Stop LinkedIn Showing Someone You Viewed Their Profile.
Since Google and Microsoft began their web email client overhauls for both Gmail and Outlook, it's become quite hard to decide which is the better, more reliable email service. Admittedly both Gmail and Outlook do an exceptional job for free email services, however, Microsoft may have scored themselves a chance to pull ahead because of Gmail's recent spate off error messages.  
The particular error message in question states the following 'A server error occurred and your email was not sent. (#76997)' and prevents Gmail from sending and receiving mail correctly. For the record, it should be mentioned that this error message isn't always linked to Gmail and can occasionally be linked to your browser. As a result of this, you will need to try all of the solutions below in order to get rid of Gmail error (#76997), so let's begin.
Related: How to Troubleshoot Duplicate Firefox Entries in Volume Mixer on Windows 10. (Firefox Duplicating in Volume Mixer Windows 10)
How Do You Fix: 'A server error occurred and your email was not sent. (#76997)'?
The two main causes for this error message are usually corrupted browser data (Cookies/Cache) or a sign in bug/glitch. To begin, the quickest and easiest fix for error (#76997) is to sign out of your Gmail/Google account, then sign back in. However, rather than signing out from the single location you are in, you need to sign out from every location and all devices you have used (even if you only ever use one device)
To do this make sure you are signed into your Gmail account, then click the tiny Details option in the bottom right-hand corner of the main Gmail page.

Now in the new window that appears, click Sign out of all other Gmail web sessions.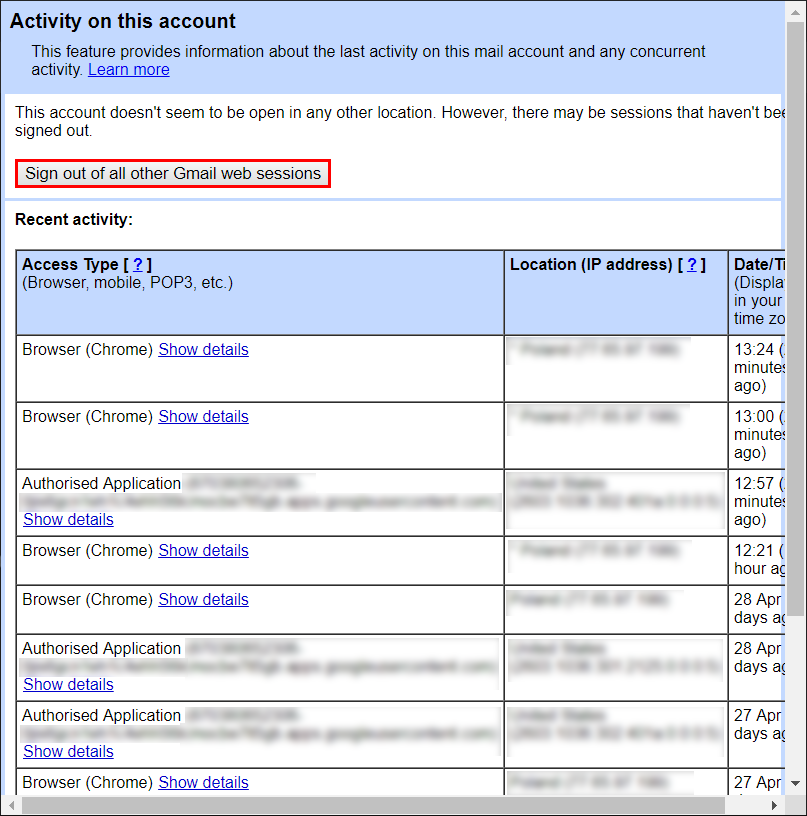 Once you have done this, you should also take the time to sign out of Gmail on all other devices you have used in the past. To do this, click your profile icon in the top right-hand corner then select Google Account. Next, select Security in the left-hand pane, then scroll down and click on Signing in with Google.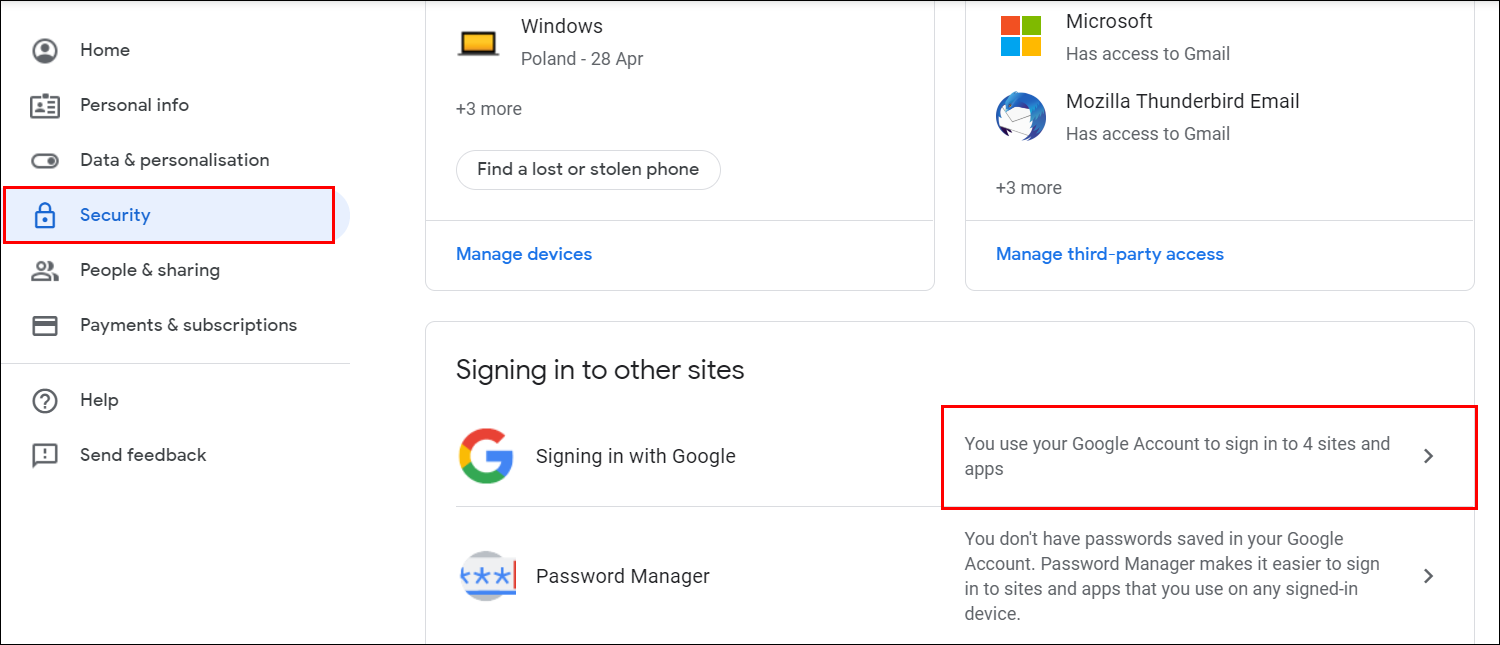 Now simply click on an entry and remove its access. After doing all of the above, you should be able to access Gmail without any issues moving forward and send messages.
Clear Your Browser Cookies and Cache. (Google Chrome, Mozilla Firefox, Microsoft Edge, etc)
If the above didn't work for you, you can try clearing your browser's cache and cookies. If you haven't done this before, check out the following guide which details the process for the most popular Internet browsers. How to Clear the Cache and Cookies on Chrome, Firefox, and Edge.
Note: Another strange but potential fix for Gmail error 'A server error occurred and your email was not sent. (#76997)' is to uninstall Google Earth if you have it installed on your device. Although this is a bit of a long shot, some people have found it successful in dealing with the error.