If you like to prowl around LinkedIn checking out user profiles and accounts but don't want anyone to see that you've looked at their LinkedIn account. This article will show you how to change your settings to prevent users from seeing that you've viewed their profile.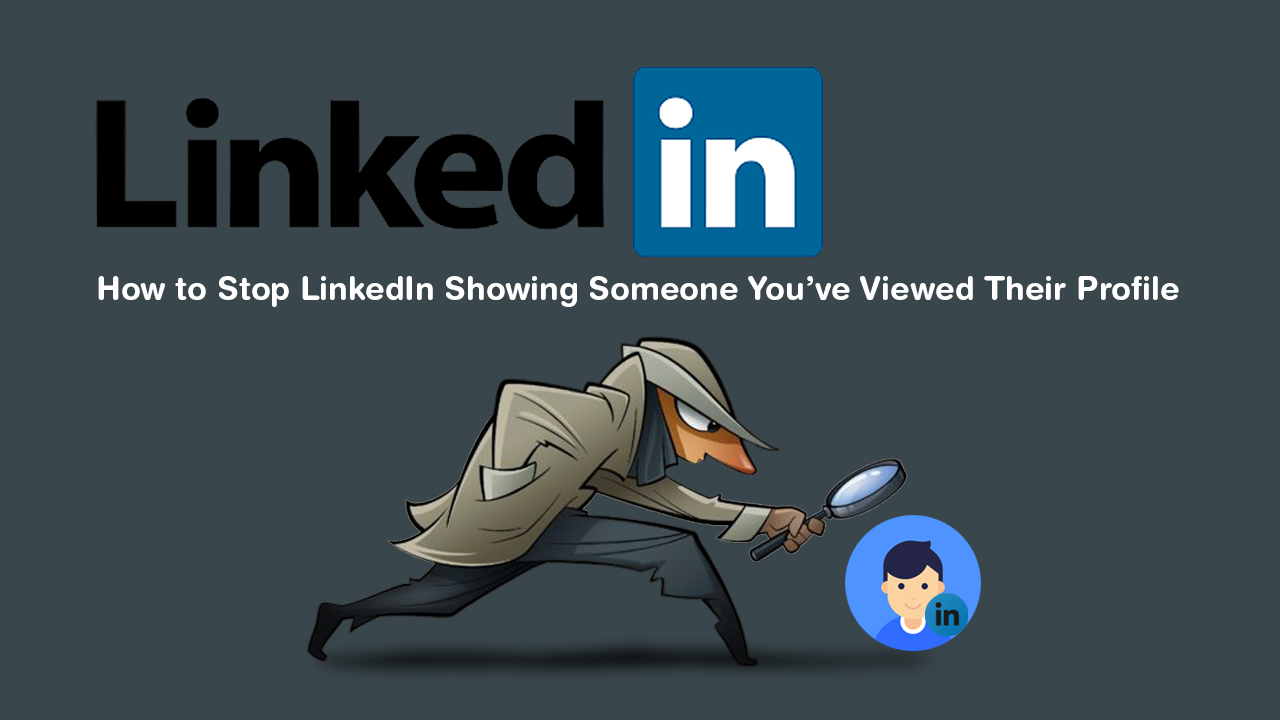 How to Fix System Restore, Windows Update, and Backup Error 0x80070013 on Windows 10.
LinkedIn is currently the biggest professional social media service on the Internet and provides a very valuable service for people looking to further their careers. Creating an account is quick and easy and allows you to search for jobs and put yourself out there for potential employers to contact you. As useful as LinkedIn can be though, there is one aspect users are a little intimidated by.
By default, LinkedIn notifies all users whenever their account has been viewed and unless you've changed your privacy settings will display your name alongside the view notification. In some instances, users you've viewed may even get an email notification saying you've viewed their profile.
Thankfully, if you aren't a fan of this system it is possible to disable the feature and browse LinkedIn privately. The only catch is that you won't be able to view the names of people who've viewed your own profile. The proverbial door swinging both ways as they say.
Related: How to Troubleshoot Duplicate Firefox Entries in Volume Mixer on Windows 10. (Firefox Duplicating in Volume Mixer Windows 10)
How Do You Browse LinkedIn Privately? Browse LinkedIn Profiles Without LinkedIn Users Knowing.
To make this change on LinkedIn you'll need to sign into your LinkedIn account, then do the following. Click your profile icon along the top bar, then select Settings & Privacy.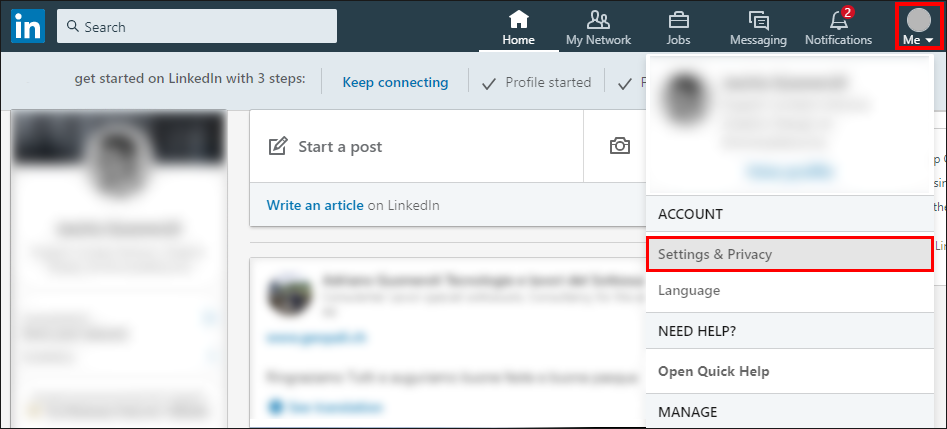 This will take you to a new page where you will need to click  "How others see your profile and network information". Next, stay on the Privacy tab (at the top), then scroll down and click Profile Viewing Options.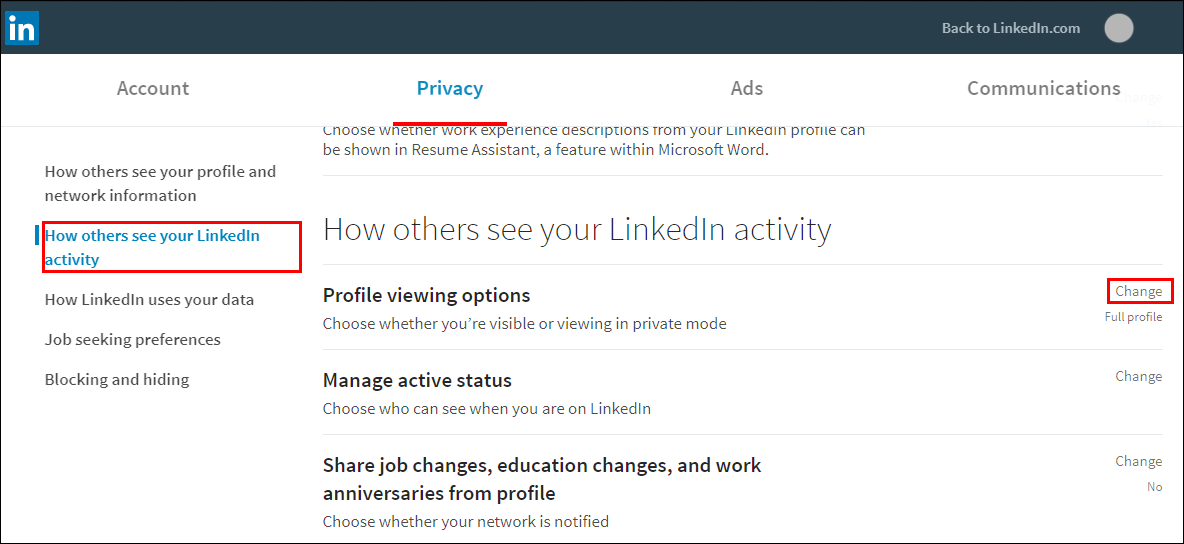 Inside this menu, select "Anonymous LinkedIn Member" for total privacy, or select your Private profile characteristics, to only show as an anonymous user.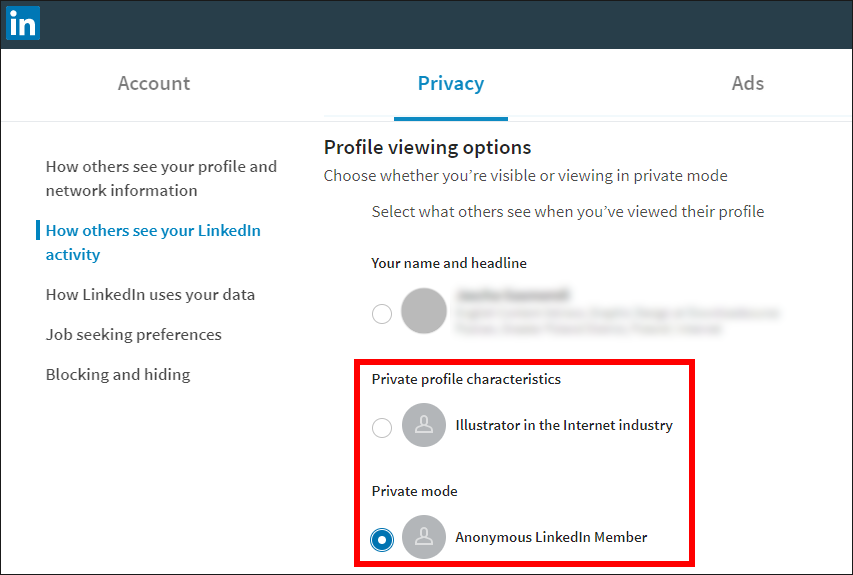 The only downside to making this change is that when you become anonymous to other people, they become anonymous to you. So LinkedIn will hide the names of people who view your profile as well. After you have made the change you can start browsing LinkedIn without worrying that your name is going to appear across every profile.
Related: How to Troubleshoot Duplicate Firefox Entries in Volume Mixer on Windows 10. (Firefox Duplicating in Volume Mixer Windows 10)
On a Side Note…
If you are currently in the process of tidying up your online presence, make sure you also check out the following article which lists several very useful steps for removing yourself from the Internet. Including how to properly delete all your social media accounts. Although it's near completely impossible to fully remove your online presence, this is a very good guide to starting the process.
How to Delete Yourself From the Internet. (Facebook, Instagram, LinkedIn, Twitter, Google, etc.