If you have recently updated Firefox to a newer version and are now having issues with Firefox showing in the Volume Mixer more than once (Generally 20 or more entries). This article will show you how to troubleshoot the problem and reduce the Firefox Volume Mixer to a single entry again.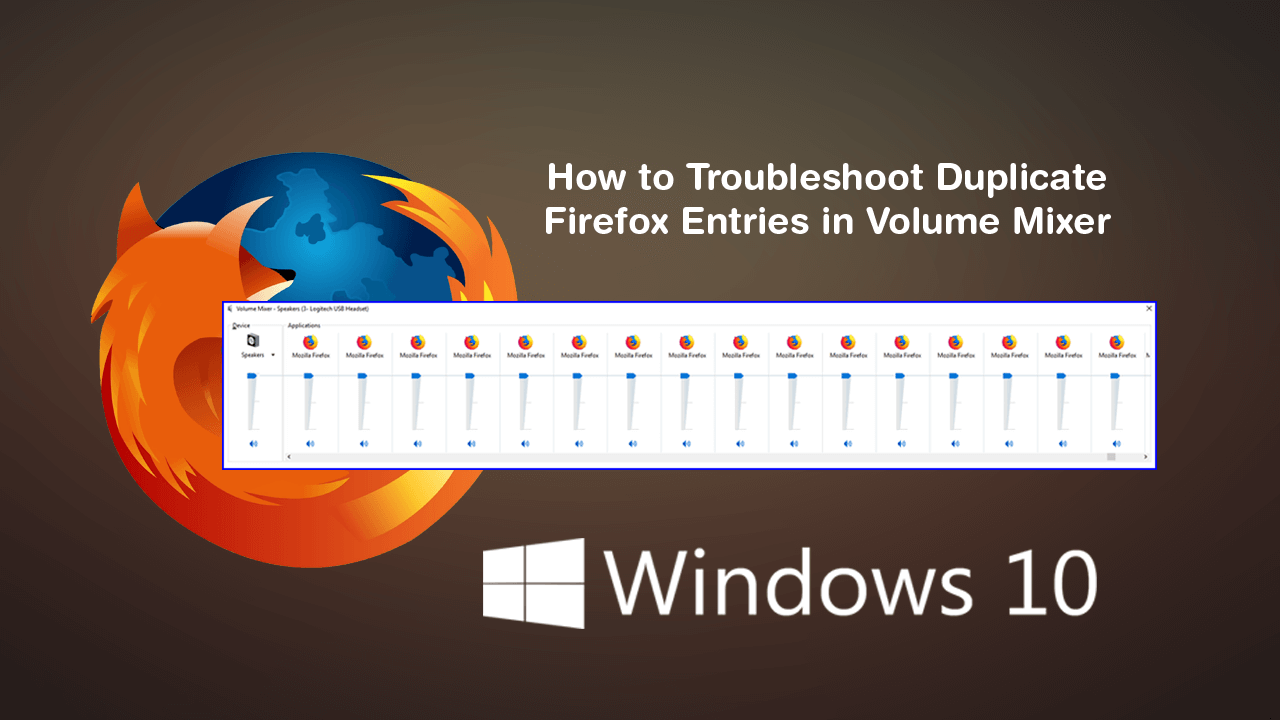 How to Make File Explorer Use the Same Column Layout For All Folders on Windows 10.
Back when Firefox version 60 released there was a major issue where Windows 10 would register all open Firefox tabs individually in the Volume Mixer causing the volume mixer to overload with Firefox entries. Although this isn't much of a big deal for users who don't generally have a lot of Firefox tabs open, it can be a nightmare for people who love to keep a plethora of tabs open and ready to use.
The issue was officially fixed shortly after the release of Firefox version 60, however, has recently started appearing again for a small group of users who have updated to Firefox version 66. Thankfully if you are trying to fix this issue there are a couple of things you can do, though there is no official fix yet and Mozilla is currently working on the bug.
Related: How to Stop Google Chrome Using Keyboard Media Keys. (Stop Chrome Taking Control of Media Keys)
How Do You Stop Firefox Showing Duplicate Entries in the Volume Mixer on Window 10?
Just like when this issue originally occurred in Firefox version 60, you can simply disable multi-process to prevent the duplicated occurring. To do this open Firefox into the main window, type about:config into the address bar, then press Enter. If this is your first time using about:config, you'll need to accept the warranty warning.
Next, search for browser.tabs.remote.autostart using the search bar below the address bar. When the browser.tabs.remote.autostart appears, double-click on it and change its value from true (on) to false (off). Once you have made the change, Restart your computer and check to see if the problem has been fixed. If it hasn't, you'll need to wait for the next Firefox update to fix the bug or try a workaround that will help with the issue should you not be willing to wait.

Firefox Showing multiple Entries in the Windows 10 Volume Mixer!?
If the above solution didn't work for you, the next best option is to use a popular Windows 10 sound management tool called EarTrumpet. If you haven't heard of it before EarTrumpet adds quite a few extra features to Windows 10, replacing the default sound mixer. If you want to use it to prevent Firefox from showing duplicate entries check out our comprehensive guide on Ear Trumpet here.

A Wild Card Solution…
If the above solutions have not worked and you don't want to use Ear Trumpet, you can try uninstalling and reinstalling Firefox on your computer. Although this isn't a guaranteed fixed, a reinstall is usually a good way to remove any program bugs or glitches. Just make sure that you also do a full system registry clean after uninstalling Firefox and before you reinstall Firefox. Ccleaner is always a decent tool to use if you don't already have a registry cleaner.