If you are using Windows 11 but are having some major issues with imfilter.sys blue screen error - ATTEMPTED_EXECUTE_OF_NOEXECUTE_MEMORY. This article will show you several different things you can do to solve the problem and get your Windows 11 device working again.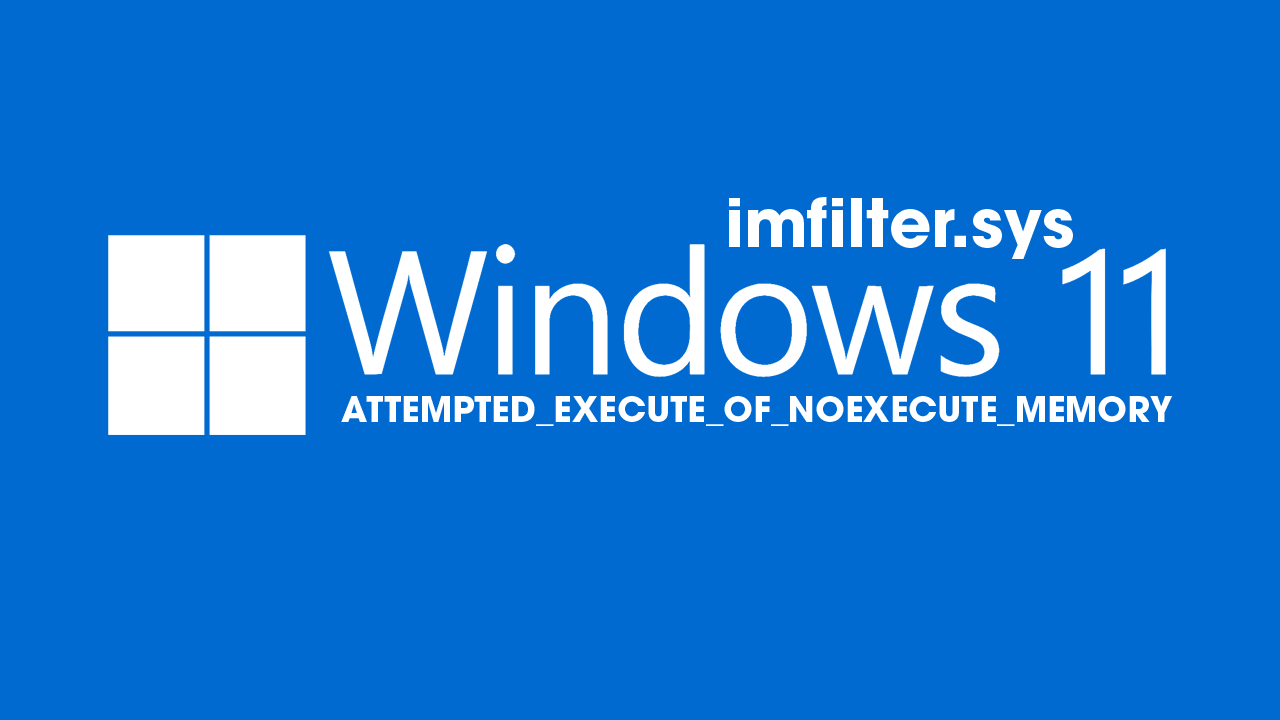 Related: How to get the most out of your Midjourney GPU minutes.
Blue screen errors are some of the most common and annoying errors on Windows operating systems and come in a range of different varieties. Some are easier to solve than others and aren't critical failures, while others are a complete nightmare to solve and sometimes impossible if the issue is a hardware one.
BSOD error imfilter.sys - ATTEMPTED_EXECUTE_OF_NOEXECUTE_MEMORY is somewhere in between annoying and really bad so there are quite a few things to work through before we can solve the problem or at least track down what is causing it Thankfully, it isn't usually hardware related so let's work through some potential solutions.
Note: If you are using Windows 11 on unsupported hardware it is possible that you have a hardware conflict. So we suggest going back to Windows 10 until you can upgrade to supported hardware configurations.
How do you fix ATTEMPTED_EXECUTE_OF_NOEXECUTE_MEMORY error imfilter.sys.
If you can't book into Windows normally try booting your device into Safe Mode. Once your computer boots into safe mode run through the solutions below. If you computer boots normally you can skip this step.
Run the SFC and DISM commands to fix corrupt system files.
There is obviously some kind of conflict in your system causing this problem so run the System File Checker tool to search for and fix any problems.
First type CMD into the Start menu then right-click Command Prompt and choose Run as administrator.
When you have Command Prompt open type the following command into Command Prompt and press Enter.
It may take some time to finish so go make yourself a beverage and wait. If any errors are found they should be repaired automatically. If it doesn't complete properly Restart your computer in Safe Mode and repeat the process. If the SFC tool returned an error message, open Command Prompt as Administrator, then enter the following commands in order.

DISM /Online /Cleanup-Image /CheckHealth
DISM /Online /Cleanup-Image /ScanHealth
DISM /Online /Cleanup-Image /RestoreHealth

Uninstall and Reinstall your graphics and audio drivers.
Once you have run the SFC and DISM commands it's a good idea to clean install your primary system drivers. Starting with your graphics and audio drivers.
How to uninstall bad drivers on Windows 11. Remove bad Windows 11 drivers.
Once you have done everything listed so far you shouldn't see imfilter.sys anymore. However, if you do it may be time to clean install Windows 11.
Reset your Windows 11 installation using Recovery Tools.
If nothing listed above has resolved the problem, you will have to reset your computer to a fresh installation. Although the Keep my files option is more convenient I'd personally make a backup of my files then choose the Remove everything option and select the Cloud download. This gives you the cleanest possible state to start from.
To do this open Settings > System > Recovery > Reset this PC.
Then choose the option that you wish to use.