If your Microsoft Surface device currently doesn't allow you to rotate your screen correctly, follow along as this guide takes you through several different troubleshooting steps you can use to fix this issue. More often than not, this issue is caused by a software issue or an incorrect setting.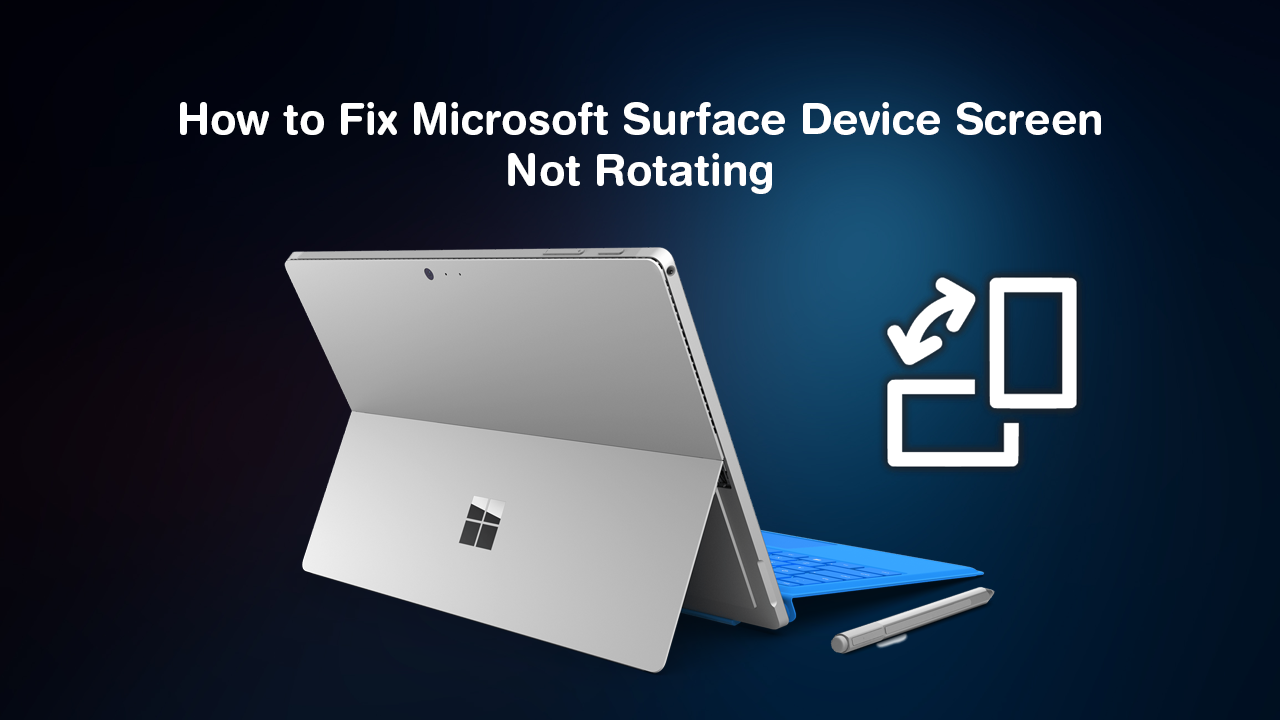 How to Fix Google Chrome and/or Microsoft Edge Chromium 'Aw, Snap! Something went wrong while displaying this webpage' When Endpoint Protection is Enabled.
Microsoft Surface devices have come a long way since they were first released and now work near flawlessly with Windows 10's current version. That said, there are still times when you may encounter some minor bugs with the touch screen actions or the way the screen rotates. Thankfully, most of these issues are usually software related, so can be fixed with very little trouble. Though do take a little bit of time to identify. The issue this article will be addressing is screen rotation on Surface devices not working correctly or as quickly as it should/used to.
Before you start the steps shown below, make sure you have checked your screen rotation settings. To do this swipe from the right edge of the screen to reveal the Action Center, then make sure the Auto Rotation Lock symbol is dimmed. If it is that means it's deactivated. To activate it, tap the lock or use your mouse, and it should be working again. If you have the cover/keyboard attached your surface device it will auto-lock to landscape, so keep this in mind. Once you've done, this Restart your device as well.
Related: How to Screen Share From Facebook Messenger. (Share Your Phone Screen From Facebook Messenger)
How Do You Fix Microsoft Surface Devices Not Rotating Screen Correctly?  
If nothing so far has worked, make sure you are running the latest Windows 10 version (with all minor updates/patches). Then make sure you have the latest firmware updates installed. If you aren't sure how to do this, open Settings go to Updates & Security, then click Windows Update > Check for updates.
Run the Sensors Troubleshooter to Fix Screen Not Rotating on Microsoft Surface Devices.
The final thing you can try before restoring your Surface device to defaults is the Microsoft sensor troubleshooting tool. This tool aims to diagnose all your Surface devices sensors and has a great track record for doing so. 
Restore Your Surface Device to Default Settings.
If nothing so far has worked, the last option you can try is factory resetting your Microsoft Surface device. This should get things working again, however, it does take a hell of a lot of work to get your device back to the way you like it. So use this as a last resort. If after a clean slate/restore your device still doesn't function correctly, you may have to send it in for an RMA or back to the place you purchased it.
On a Side Note…
If you also happen to be using WhatsApp on your Windows device, make sure you check out the following guide which will show you how to take advantage of multiple WhatsApp accounts at the same time. 
How to Use More Than One WhatsApp Account At the Same Time on Windows 10, MacOS, and Linux.