If you don't own a Samsung device and would like to get in on all the early Fortnite Android action. This article will guide you through the process of downloading and installing Fortnite for Android on a range of different non-Samsung Devices.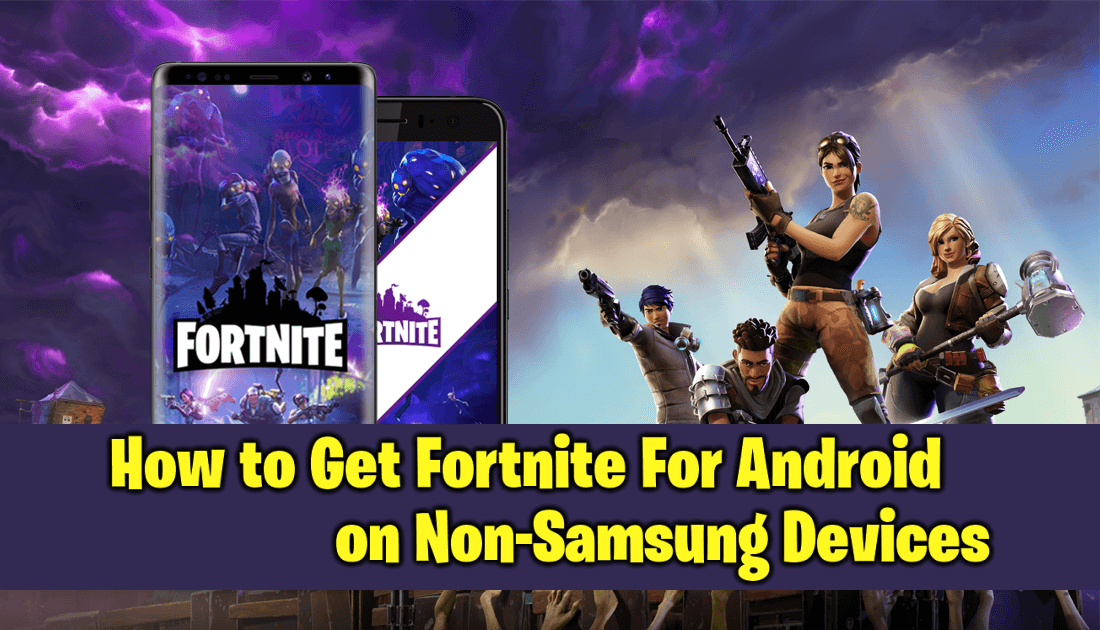 How to Play PUBG Mobile on Android With a Controller.
As all the rumors suggested Epic Games has made the decision to completely skip the Google Play Store and release Fortnite for Android via the Samsung Galaxy App Store. Thankfully this is only for the initial release, with the official worldwide release set to be done via the Epic Games client (still a rumor).  
The simple reason for Epic bypassing the Play Store was to avoid Google's 30% cut of all profits, which is a valid enough reason for any company. Sadly, this has made the installation process for Fortnite a little more complicated for users and also a little more risky, as it opens up an entirely new can of worms for fake Fortnite apps. Especially ones that harvest data and personal information.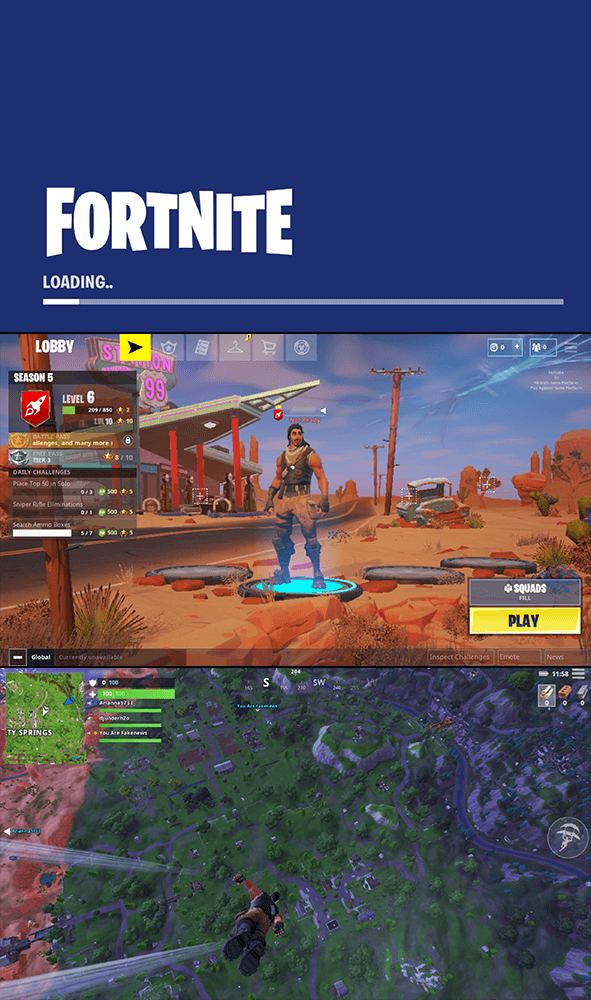 How Do You Register For the Fortnite Beta on Android?
To begin the first thing you need to do is make sure you have a compatible device that is capable of running the Fortnite Android beta. Below is a list of all the currently supported non-Samsung devices.
Google: Pixel / Pixel XL, Pixel 2 / Pixel 2 XL, Asus: ROG Phone, Zenfone 4 Pro, 5Z, V Essential: PH-1 Huawei: Honor 10, Honor Play, Mate 10 / Pro, Mate RS, Nova 3, P20 / Pro, V10 LG: G5, G6, G7 ThinQ, V20, V30 / V30+ Nokia: 8 OnePlus: 5 / 5T, 6 Razer: Phone Xiaomi: Blackshark, Mi 5 / 5S / 5S Plus, 6 / 6 Plus, Mi 8 / 8 Explorer / 8SE, Mi Mix, Mi Mix 2, Mi Mix 2S, Mi Note 2 ZTE: Axon 7 / 7s, Axon M, Nubia / Z17 / Z17s, Nubia Z11.
If you own a Samsung device, check out our Samsung Fortnite Android Installation Guide.
Note: If you follow this guide and install Fortnite on a non-compatible device you will see an error message stating that your device is currently not compatible. Even some newer devices like the HTC U11 aren't compatible., though they are being accommodated for.
Once you have established that your device is compatible with Fortnite Mobile, you will need to do the following. First, visit the page linked below and register your account for the beta program. (This a requirement for this guide, however, it will place you into the queue for the official launch, should the processes detailed in this article fail on your device)
https://www.epicgames.com/fortnite/en-US/mobile/android/sign-up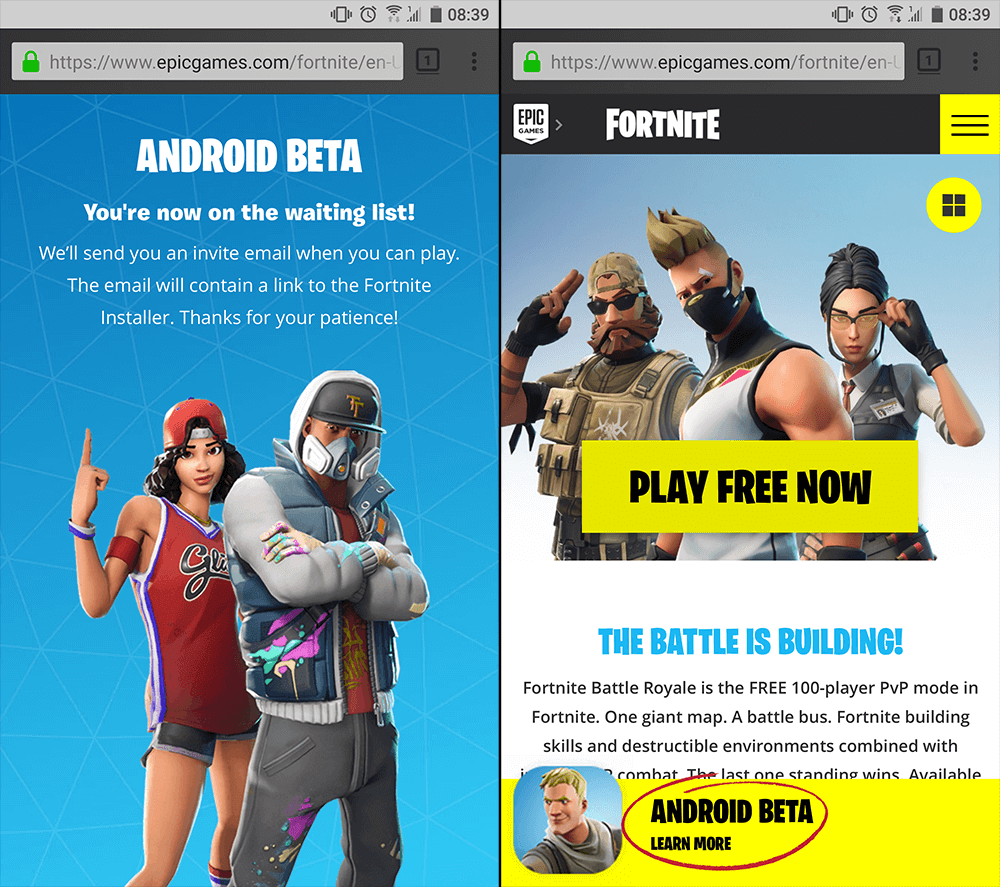 Get Fortnite Now: Install Fortnite on Android Using APK Files From APKMirror.
To get Fortnite on Android the process is quite easy, though will take a little preparation for first time APK installers. If you've never installed an APK file before, check out the following guide: How to Install APK Files on Android Devices. After you have prepared your device for APK file installation you can use the link below to go straight to the APKMirror Fortnite download. I strongly suggest using a secondary account for this as Epic Games is quick with the ban hammer for any sneaky behavior. 
Download Fortnite Android APK.
Note: If the above APK file won't work on your device and shows that your device is not compatible or blocked, check out the method below.
Download and Install the Fortnite APK From XDA Developers. (Device Blocks Removed APK File)
If the above method hasn't worked for you, you can download a different version of the Fortnite APK file which has Device Check disabled. With Device Check removed Fortnite will download and install on just about any device, even if it isn't listed in among the beta devices. For example, this method allowed me to use Fortnite on my HTC U11. You can find the full XDA article below along with the link to their APK download.
If the main link fails to download the file or is removed, check the comments on the thread for new/current downloads.
Note: Make sure you read the disclaimer at XDA properly before using your main Fortnite account. I strongly suggest using a secondary account for this as Epic Games is quick with the ban hammer for any sneaky behavior.