If you are in charge of Managing multiple accounts on multiple websites, whether it's Google Drive, Facebook or Twitter, you'll know that it can be quite a painful experience having to switch between them all. Thankfully with this clever little Chrome extension, you can manage all your social media feeds with a lot less hassle.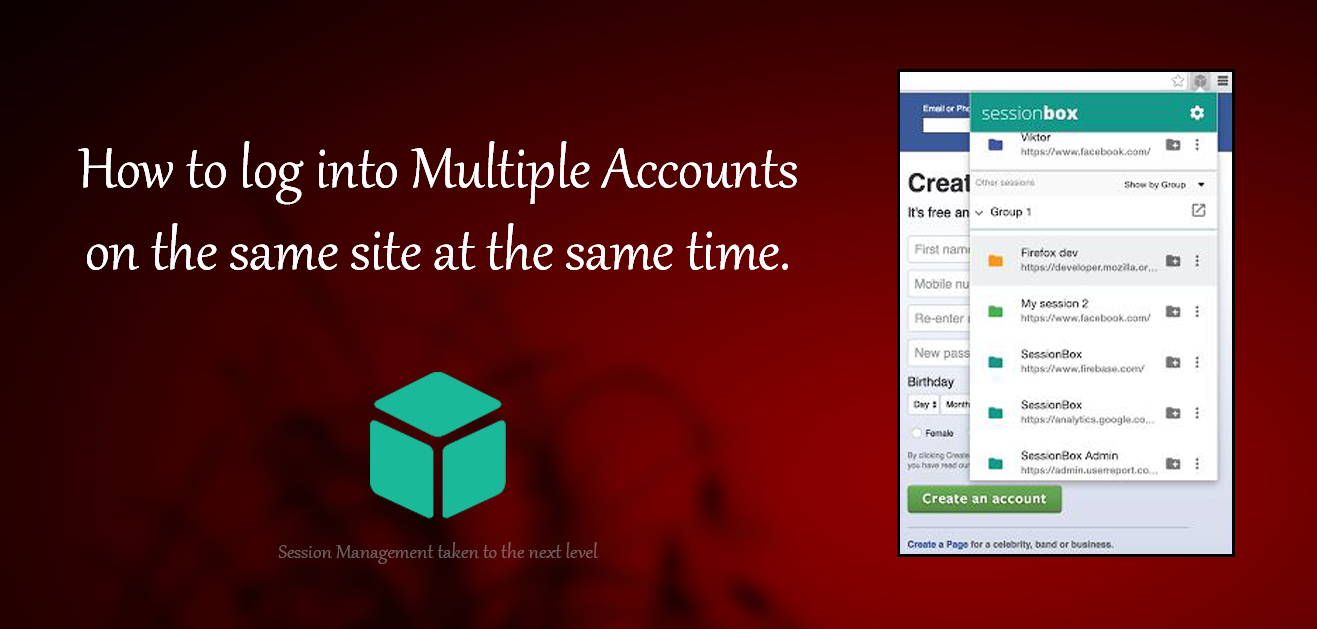 How to Use Facebook Messenger Without a Facebook Account.
Having to open separate browsers and windows to use more than one social media account can be quite annoying and slow down your system. Especially if you are switching browsers to do so. This is where a clever little Google Chrome Extension called SessionBox comes into play. SessionBox allows you to use multiple accounts at the same time with a simple click of a button, you can even save your setup so whenever you click the option all of your accounts will sign in automatically, each displayed in separate tabs. If you would like to read a little more about SessionBox, you can visit Their page: 
Alternatively, you can use: Firefox Quantums Temporary Containers.
Downloading and Using SessionBox For Google Chrome.
To download SessionBox, you simply have to visit the Google Chrome extension site, which can be done in a couple of different ways. Firstly and most easily is to search for Chrome Extensions from Google, specifically SessionBox in this case. Or alternatively, you can access extensions via the Chrome settings menu, selecting Extension, then scrolling to the bottom of the screen and clicking Get more Chrome Extensions. Or even easier grab it from the official link below:
Once you have found SessionBox, click Add to Chrome, it will only take a few moments to install. When it has installed, you will see a short tutorial on what SessionBox does. To start using Session box, make sure you are on the page you wish to sign into multiple accounts on. For example, Twitter, now all you have to do is click on the newly added cube box in the right-hand corner of your Chrome screen (where all your other extensions are Displayed) and click the + next to the address of the website, this will open a new tab with a fresh sign in.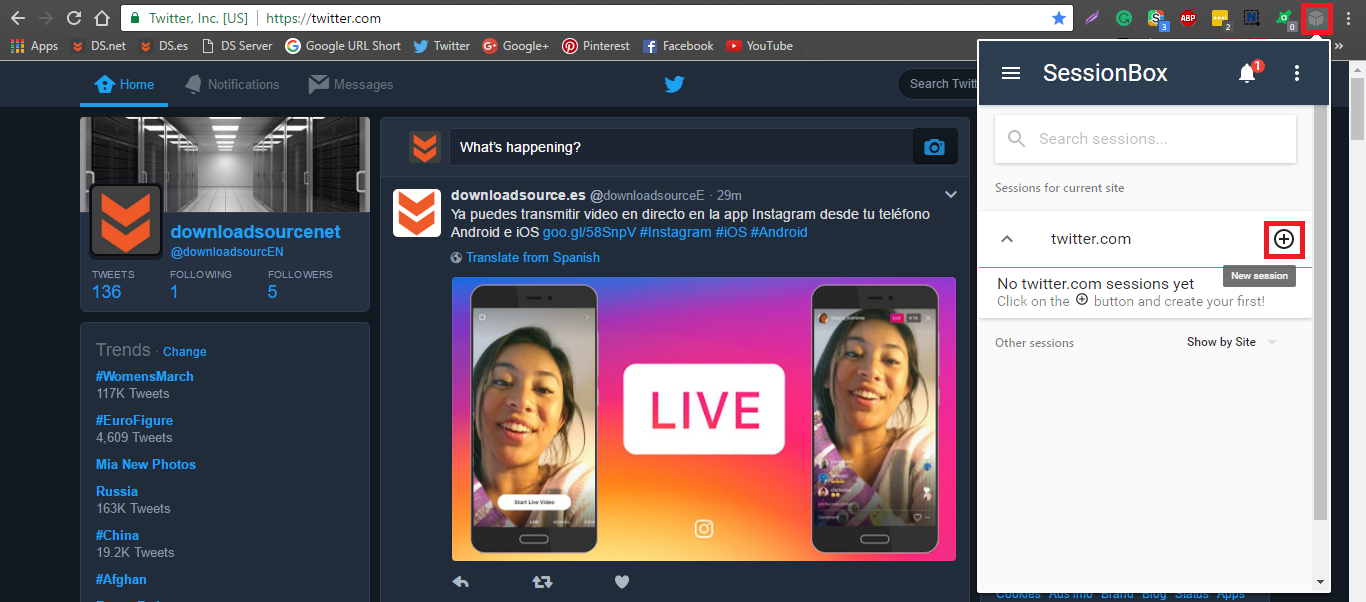 As well as this, you will get a popup displaying your new session which you will be able to name and assign a color to so it can be easily identified. Websites will be grouped automatically by their Domain, so Twitter accounts, for example, will be grouped with each other, Google with Google and Facebook with Facebook.
You can create custom groups by Clicking the Three Dots to the right of the URL and choosing Settings. Once you have saved the links to your accounts in SessionBox, you can open them all by clicking on the SessionBox icon on your browser.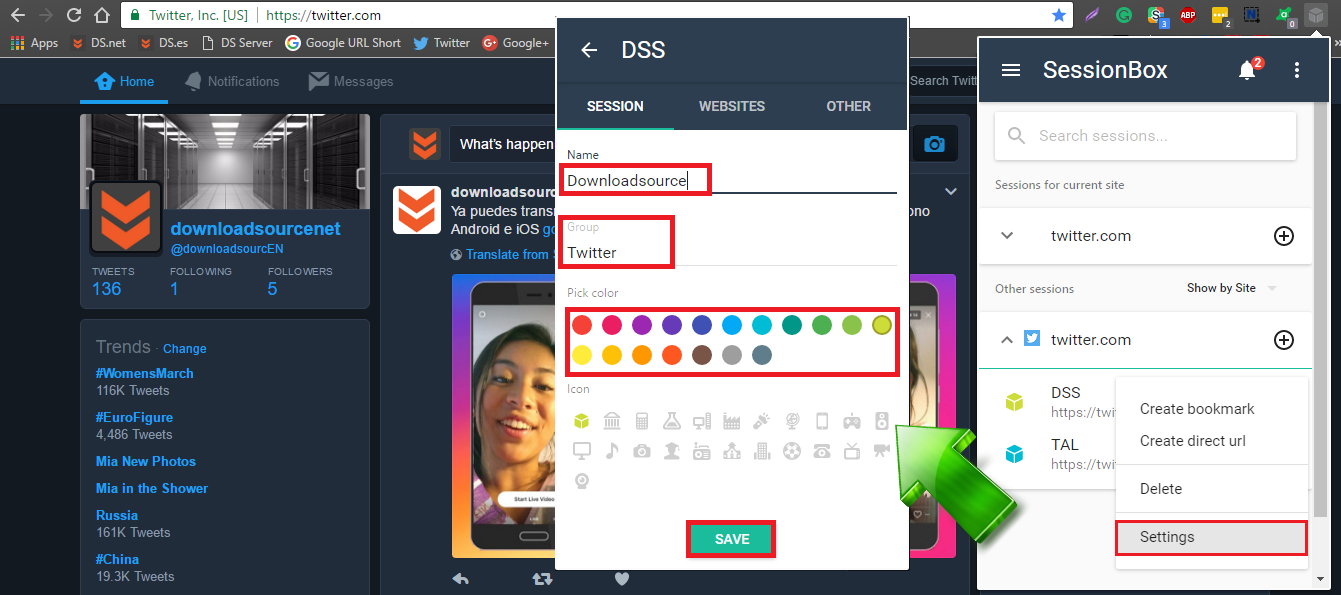 If you are feeling generous or really appreciate the service, you can subscribe to the pro version for 1USD per month. This will give you a few more options, the best of which is having the ability to open all your accounts with one click, rather than having to click them individually. Furthermore, all of your saved sessions and groups can be accessed on other SessionBox-enabled Chrome browsers, as the extension comes with a cloud save feature.
Other small additions that come with the pro version are custom icons, session proxies and the ability to bookmark sessions. If you are someone who manages social media accounts for a living, this little app is going to be revolutionary. For the average Joe or Jane, it will most likely just be a novelty. Below is a comparison of what Free and Pro offer.