If you have recently turned on your Windows 10 computer and noticed that some drives, folders or files now have big red (crosses) on them. This article will show you several different things you can do to fix the issue and remove the red Xs from all of the drive, file, and folder icons on your computer.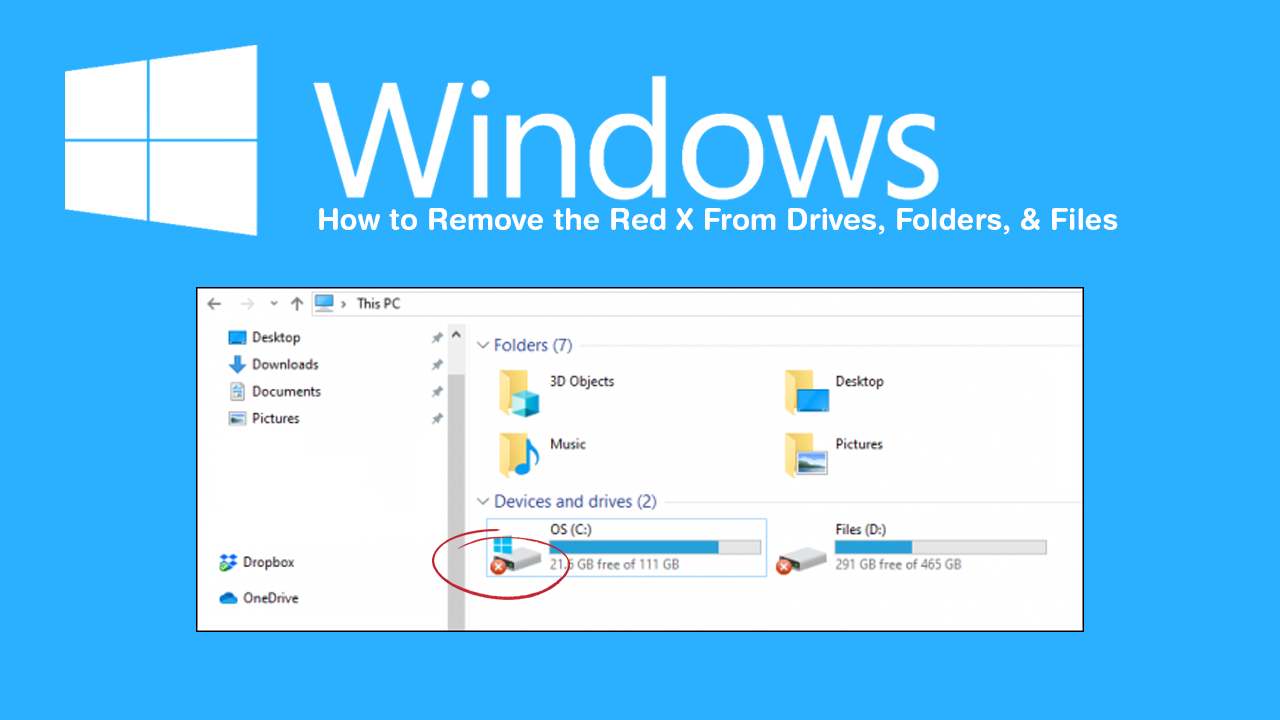 How to Fix Error 0x80070015 on Windows 10. Windows Update, Microsoft Store, Windows Defender.
Windows 10 can be quite a temperamental creation from time to time and has a very solid track record of throwing out some crazy errors, bugs, and glitches. One of the rarer cases placing a red X (cross) in the bottom left-hand corner of drive, folder, and file icons. Although this is similar to the file compress icon situation where Windows 10 places a blue tick over icons, the process for removing the X is quite different. 
For whatever reason, there isn't a lot of information getting around on what causes this issue but there are quite a few potential solutions available. So follow along as this article guides you several of them.  
Related: How to Fix Print Screen Not Registering in Apps on Windows 10. (OneDrive Stopping Print Screen From Working)
How Do You Remove Red Crosses (x) From Folder, File, and Drive Icons on Windows 10?
To begin, the first thing you need to check are your Cloud services (all of them if you have multiple installed) Dropbox, OneDrive, Google Backup, etc. Once you have either updated or uninstalled them from your computer, check to see if the problem has been resolved. If it hasn't, and the red X remains, check the sync settings you are using for OneDrive, Dropbox, etc. You'll need to continue with the other suggested solutions below if none of these suggestions work.
Update Windows 10 and Your BIOS. 
If you haven't already done it or haven't done it in a while, you should make sure you are using the latest version of Windows 10 and have the latest BIOS version installed on your motherboard. Once you have made sure both are 100% up to date, check to see if the problem has been resolved. 
Disconnect Mapped Drives.
If updating or reinstalling a cloud service like OneDrive or Dropbox hasn't removed the red cross from files, folders, and/or drives, you can try Disconnecting Mapped Drives. To do this open Windows File Explorer, click Computer from the top ribbon menu, then click Map Network Drive and select Disconnect Network Drive. This will open a new window which will list all the letters allocated to partitions/drives. Once you click Ok all mapped drives will be disconnected.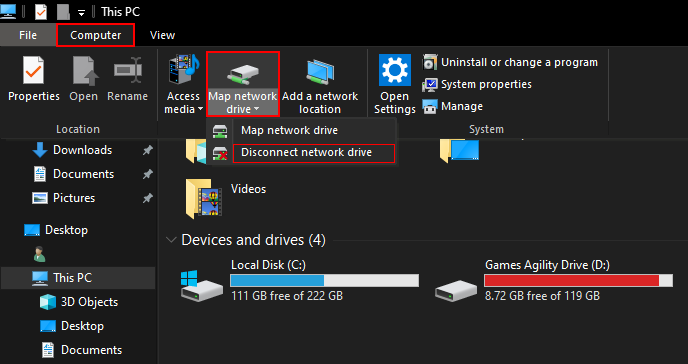 Run CHKDSK to Remove the Red Cross From Files, Folders, and Drives on Windows 10.
If you are getting this error for a particular drive or the content of a particular drive, you can try running the chkdsk command. To do this, open Command Prompt (administrator), then type the following command and press Enter.
chkdsk (Drive Letter): /f /r /x /b

This command will check your drive for any errors and fix them automatically for you (where possible). If you get a message that states "chkdsk cannot run because the volume is in use by another process, Would you like the schedule this volume to be checked the next time the system restarts? (Y/N)" press Y and press Enter to schedule a scan the next time your system restarts. 
Clear the Windows 10 Icon Cache.
To clear the icon cache, open the Windows Task Manager (Ctrl+Alt+Delete) then screen down to Windows Explorer and right-click on the entry and select End Task. Once you have done this open Command Prompt (administrator) and enter the following commands in order: 
cd /d %userprofile%\AppData\Local

After the commands have run all your system icons should be updated.