Gmail enables you to manually send e-mail by default, but if you need your e-mails to be scheduled and sent in a certain period of time, there is an easy way to do it.
We already have addressed the ability to send text messages by setting a certain date or hour for them to be delivered. Now we will show you how to do the same with your e-mails. Just by using a small script, you can queue your e-mails and send them accroding to schedule that you have established.
1. Go here and click 'Yes, make a copy'.


2. You will be moved to the spreadsheet which will enable you to queue your e-mails.
3. Click the 'Gmail Scheduler' button in the toolbar.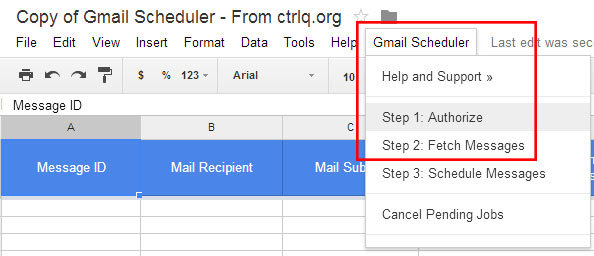 4. First you need to click the 'Step 1: Authorize' button and then the 'Step 2: Fetch Messages' button.
Now you can begin scheduling your e-mails. All of the messages that are stored in the 'Draft' folder in your Gmail will be displayed on the list. Each time you click the 'Gmail Scheduler > Step 2: Fetch Messages' button, the list of saved draft messages will be refreshed.

All you need to do now is type any date and hour into the 'Scheduled Time' column, e.g. 4/01/2015 9:00:00. This will result in Gmail sending this message on the 1st of April of 2015 precisely at 9 AM.