With each and every update, Windows 10 is starting to become the operating system users dreamed of when it first launched back in 2015. Starting from the Spring Creators Update (AKA Redstone 4) It's now possible to set data limits for network adapters, both WiFi and Ethernet, so follow along as this article guides you through the process.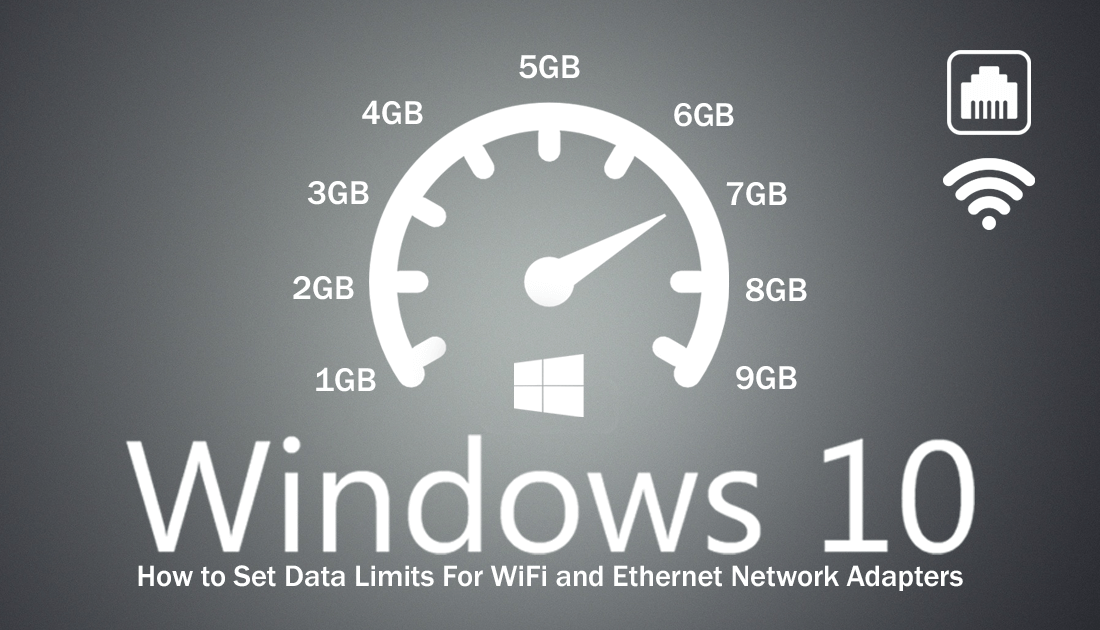 How to Change the Colour of Folders on Windows 10.
Some of the features that Windows 10 has received in the last two updates, Fall Creators and Spring Creators are features most users expected to see in the original launch version of Windows 10 back in 2015. Thankfully, since then, Microsoft has been listening more and more to the Windows user community and begun implementing features that are constantly sort after and requested.
One of the most requested features from the community to be added to Windows version 1803 is the ability to set data limits for network adapters. This gives users who have limited data a chance stop Windows triggering unexpected excess data charges. Something that is all too common now that Windows updates are compulsory and automatic.
How Do You Set Data Limits For WiFi and Ethernet Network Adapters on Windows 10? (Upload and Download Limits)
Before beginning this guide, you need to make sure you have Windows version 1803 or newer if you don't, you won't find the option on your operating system. To find out what version of Windows you have, open Settings scroll to the bottom of the page, click on About, then scroll down again and you'll see the information at the bottom of the screen. When you have established that you have the correct version, do the following.
Open Settings > Network & Internet > Data Usage.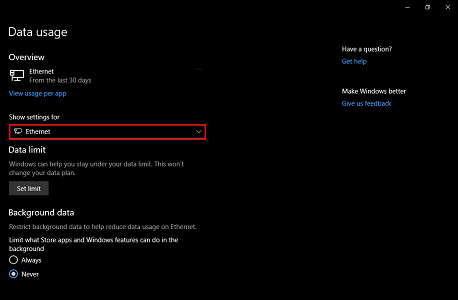 Here you will see all the network adapters installed on your computer, WiFi, Ethernet, etc. If you have more than one adapter, select the one you are using for your Internet connection from the drop-down box at the top of the page. Next, choose a time frame to work with, One-Time, Monthly, Unlimited, then select a reset date and how much data you want to cap your connection at in GB.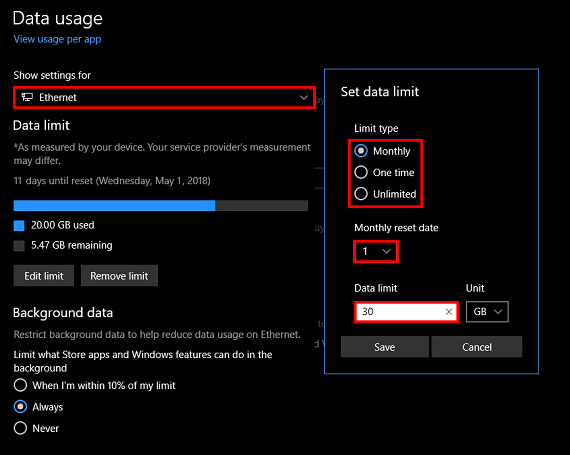 Note: Don't forget to tailor the Background Data settings to better suit your data limits, which can also be found in this menu.
If you are limiting the amount of data you use, you should also consider how much bandwidth is allocated to individual programs and apps. Although this is calculated into the above data limit system, restricting an apps/programs maximum download/upload speed is something you may be able to use to your advantage. If you can't stop an automatic download, the next best thing is to slow it to a trickle.
How to Limit App and Program Bandwidth on Windows 10.
.
Related: Although Microsoft doesn't want you to completely disable Windows updates, it can still be done, without any crazy commands, PowerShell tricks or registry tweaks. How to Disable All Windows 10 Updates.