If you happen to be using Google Chrome to browse a range of different websites that ask for a navigation confirmation, requests such as "This page is asking you to confirm that you want to leave - data you have entered may not be saved." This article will show you how to disable them entirely, so you can navigate away from pages without having to confirm.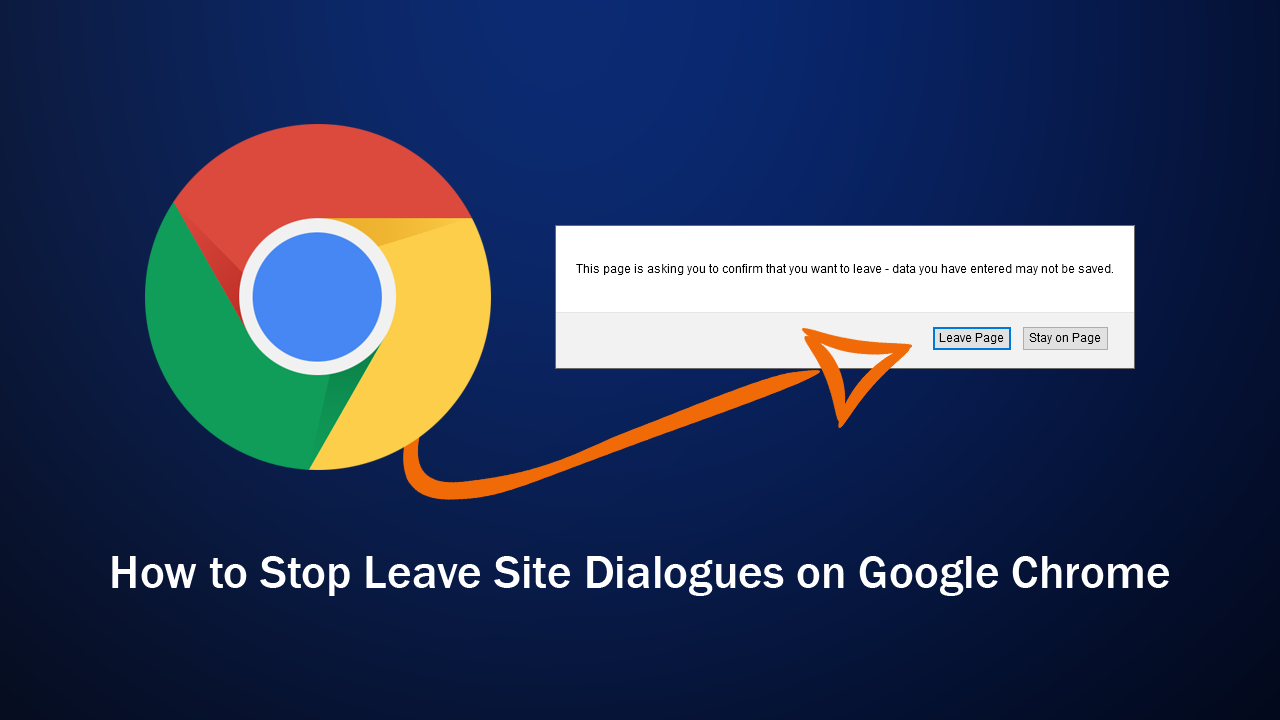 How to Make the Search Box on the New Tab Page in Chrome Work. (Not Redirect to the Address Bar)
Nearly all of us who work in a digital space would have to agree that apps and programs asking for confirmation before closing a project or document is a godsend. Saving potential heartache and double handling in doing so. I'd also be pretty confident in guessing that turning this feature off within programs and apps is something no one would ever consider doing.
When it comes to websites, however, an offer of confirmation isn't always as welcome, though does still have the same benefits on pages that store a lot of data. If you are into cryptocurrency you'll be familiar with TradingView and its constant confirmation requests when moving around the website. You'll also be familiar with Gmail doing the same when you try to navigate away from the page. Even if you don't currently have a new email open.
Related: How to Fix Google Chrome and/or Microsoft Edge Chromium 'Aw, Snap! Something went wrong while displaying this webpage' When Endpoint Protection is Enabled.
How Do You Get Rid of "This page is asking you to confirm that you want to leave - data you have entered may not be saved" Prompts From Websites?
Thankfully this issue can be resolved quickly and easily and doesn't require you to access Google Chrome's advanced options menu. Instead, all you have to do is add an extension from the Chrome Web Store to your browser. The extension is called Navigation Confirmation Blocker and works as soon as it is installed, not requiring any input for it to start working across all websites.
At this stage, the extension is a one size fits all option and doesn't allow you to whitelist websites that you would like to keep the feature active for. That said, this feature is planned for future versions so make sure you keep an eye out for it. Well, that wraps up this guide, we hope it's helped out a little. Just make sure you don't forget you have the extension installed the next time you have an important document open. You don't want to lose hours of work because of a simple mistake. If you are receiving these notifications from websites that don't normally display them, check your extension list for any unwanted extensions that may have installed themselves on the sly. If you find any, make sure you do a full system-wide scan as well. 
On a Side Note…
If you haven't already taken advantage of it, make sure you turn on Password Leak Detection in Google Chrome. A new Chrome feature that has been designed to alert you if the password you are using has been found in a data breach. A quick and easy way to add an extra layer of protection to your Internet browsing experience.