If you have a huge iCloud collection that you want to migrate over to Google Photos, this article will show you how to migrate your entire iCloud account straight over to Google Photos using the official method. Don't bother downloading all your iCloud content, only to re-upload it to Google Photos, let the two tech giants do it for you.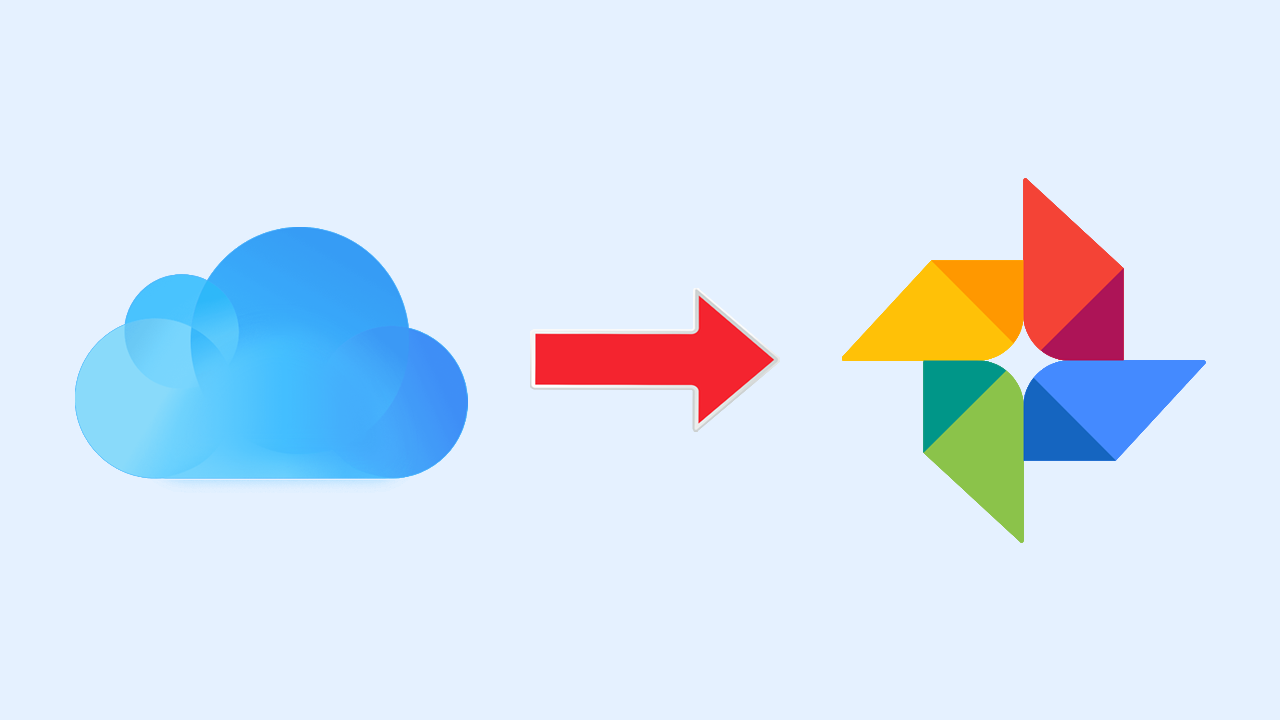 Related: How to use Google Translate instantly from any app.
Moving content between services has become a lot easier than it used to be since most platforms now have systems in place that allow you to export and import content from outside sources. Seeing as people generally have GBs and GBs of stored data, this is the most logical way to transfer content without having to download and reupload everything yourself. It's also the best way to save a lot of your data plan if you don't have an unlimited plan. 
In the past, we have covered quite a few different ways you can move data between services so this guide will specifically focus on the move from iCloud to Google Photos. If you require help with other services, you can check out our guides for them below.

How to transfer photos from Google Photos to OneDrive.
How to transfer photos & videos from Facebook to Google Photos.
Before you get started, there are a few things you need to know about this move. There are some restrictions that will prevent you from making a full transfer. For example, you can't transfer everything in one simple move. This feature can't transfer smart albums, shared albums, live photos, photo stream content, and some metadata.

This feature is also limited to the following locations (for now) Australia, Canada, the EU, Iceland, Liechtenstein, New Zealand, Norway, Switzerland, The United Kingdom, and the United States. If you live outside these countries, you can try to switch your Apple account location and use a VPN. 
How do you transfer from iCloud to Google Photos?
To start transferring content from iCloud to Google Photos, you'll need to head on over to the Data and Privacy page of your Apple account. You can go directly there using the link here. 
Once you are on the page, you'll need to go to Manage your data options under Data and Privacy. 
Here you will see an option to transfer a copy of your data to another participating service. Click Request to transfer a copy of your data to start the process.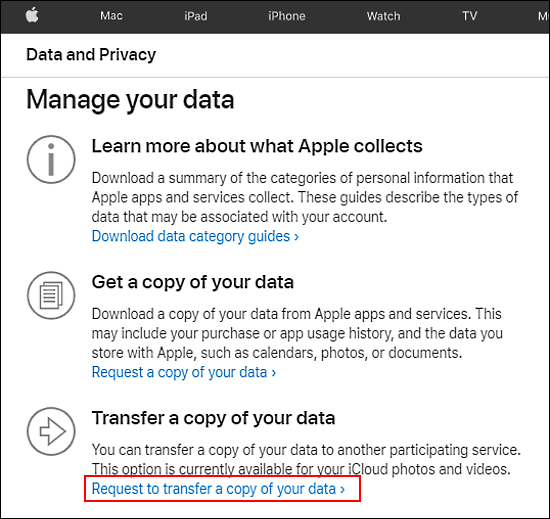 Here you will see the total number of photos and videos in your library and how much space it is using. Now simply choose Google Photos and select the content you wish to move.
Before the transfer starts, you need to confirm that you have enough free space on your Google Photos account, then proceed to sign in with your Google Account.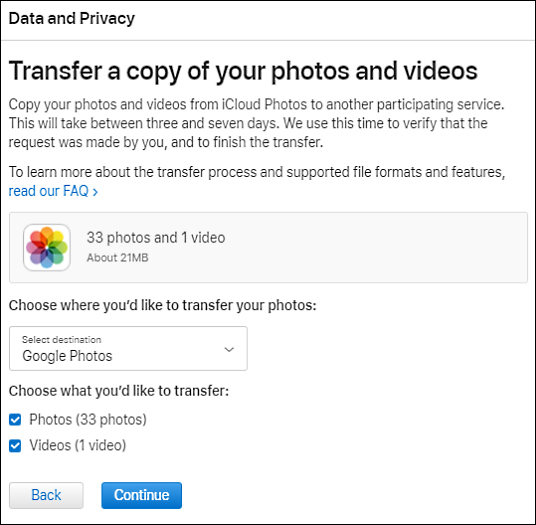 Because this feature is so new it does lack quite a few options, but it should gain more transferable service options in the future. It would also be nice to see the restrictions on what you can move changes as well, letting you move your entire content library. As with everything Apple though, they will probably resist giving up anything to keep their monopoly intact.