Ever wanted to watch or find a video on Facebook but forgot what it was called? So long as you can remember which one of your friends shared or liked it, you can track down the video, as well view any other video a particular Facebook users has liked in the past. In fact, you can find out just about anything, a completely new way to stalk people on Facebook!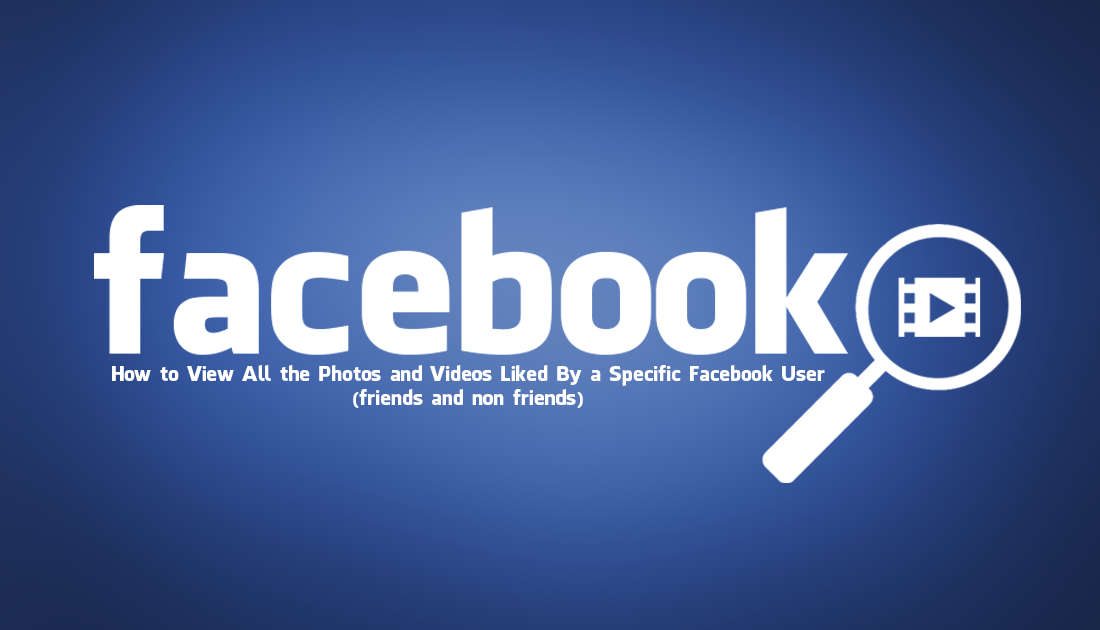 How to Download Anyone's Instagram Stories. Even Users You Don't Follow.
Stalking people on Facebook is quite a popular pastime and an easy way to find out information about a particular person or persons. Even businesses are Facebook stalking potential job candidates. Although Facebook's privacy settings block access to most content there are ways available to increase your chances of finding what you are looking for.
Previously we wrote an article detailing how to use Facebook's search function to its full potential which showed how to drastically increase the chances of finding a particular person or information about them. Expanding on that somewhat, this guide will show you how to view a list of all the photos and videos a Facebook user has liked, both friends and nonfriends, something that Facebook doesn't officially allow. You'll also be able to check a ton of other information that may even surprise you.
Unfortunately, this method does have one slight drawback, the list of liked content is in random order and you won't be able to find out the date and time a particular video or photo was liked by the Facebook user you are 'Researching'. It does seem to prioritize newer content to the top of the list though. Now that we have peaked your curiosity, let's move on to how it all actually works.
How to View Photos and Videos Liked By Any Facebook User.
To start, you will need to make sure you have Google Chrome installed on your computer. You will then need to download a free extension called Advanced Search For Facebook. This extension is what will grant you extra search powers, allowing you to view far more content than Facebook natively allows. Once installed, the extension icon will be displayed in the top right corner of your Chrome browser.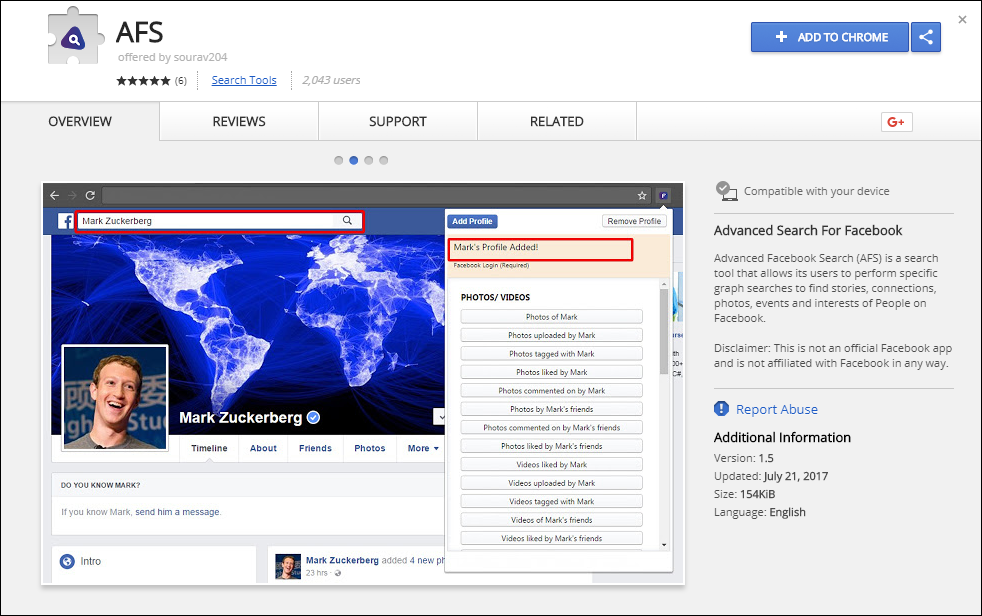 With the Advanced Search for Facebook extension installed, sign into your Facebook account normally then go to the timeline or profile of the Facebook user you want to search. Now, click on the extension, then click Add Profile which is located in the center of the tab.

Note: It will take a few moments for the profile to be added and you can only add one profile at a time. You need to remove the already added Facebook profile to add another profile or view videos liked by another Facebook user.
Now that the profile has been added, re-click on the extension icon, this time you will be able to view all the different options at your disposal. Check out the below image for the full list of options at your disposal. This list is extremely detailed and will make for very, very efficient Facebook stalking.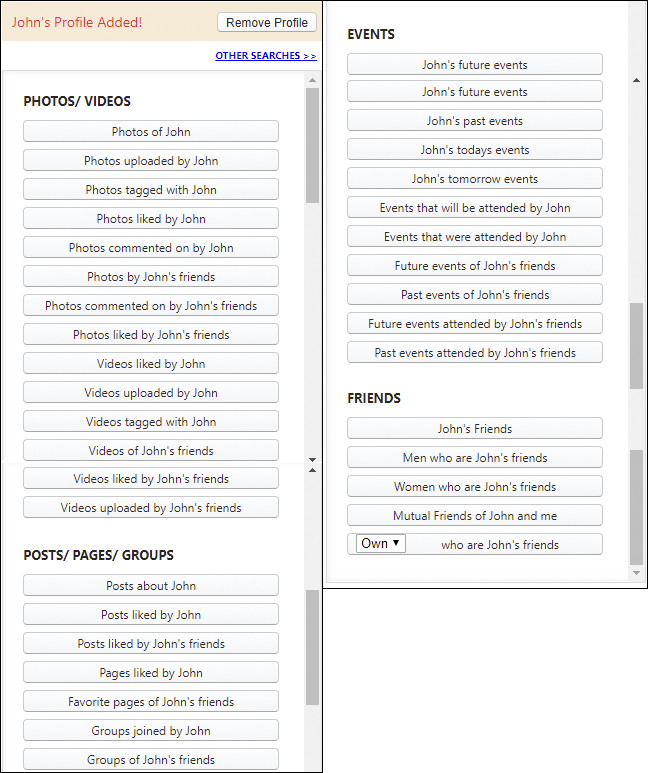 The option we are going to use though is called Videos liked by user. (user being the name of the person you searched, in our case John)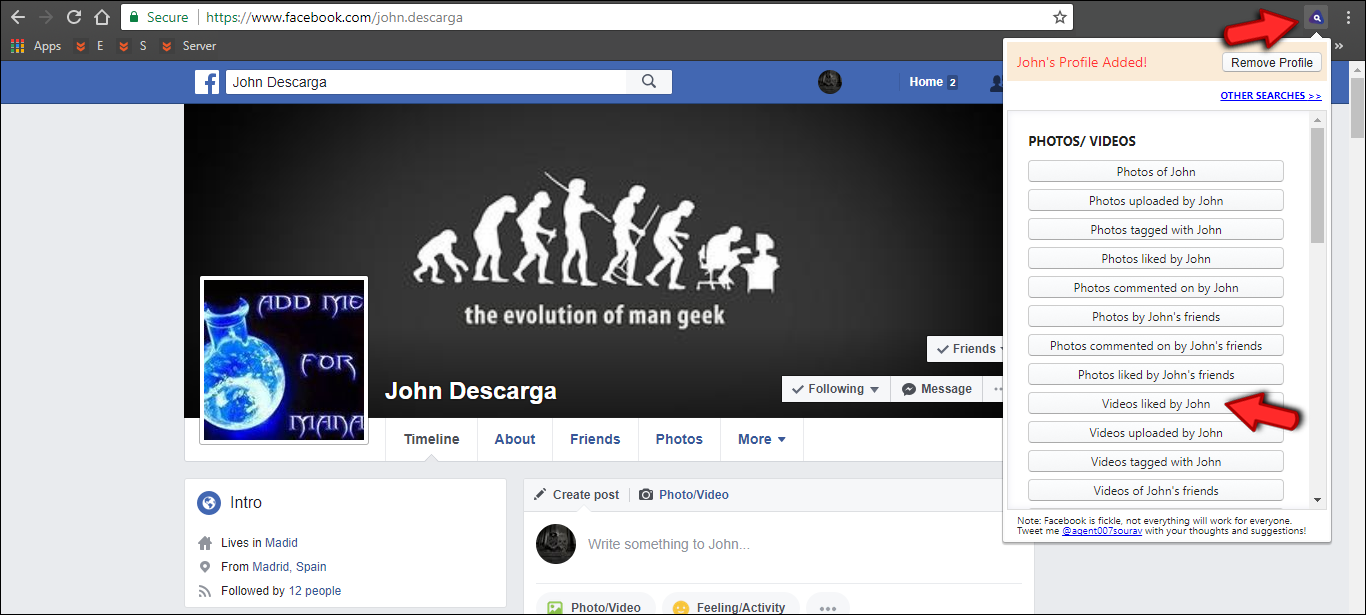 Click this once and a Facebook page will load a page showing a list of all the videos that user has liked.

Alternatively, if there is something else you would like to check say Favourite Pages of users friends click on that option and a Facebook page will load with that information instead. It's also good to know that the person/persons you are researching/stalking won't be notified about your activity.