If you use Google Chrome, Mozilla Firefox or Microsoft Edge you'll more than likely see the New Tab page of your browser more than once or twice a day. So why not make it a lot more useful, add to-do lists, notes or even a calendar to one of the most view locations on your computer.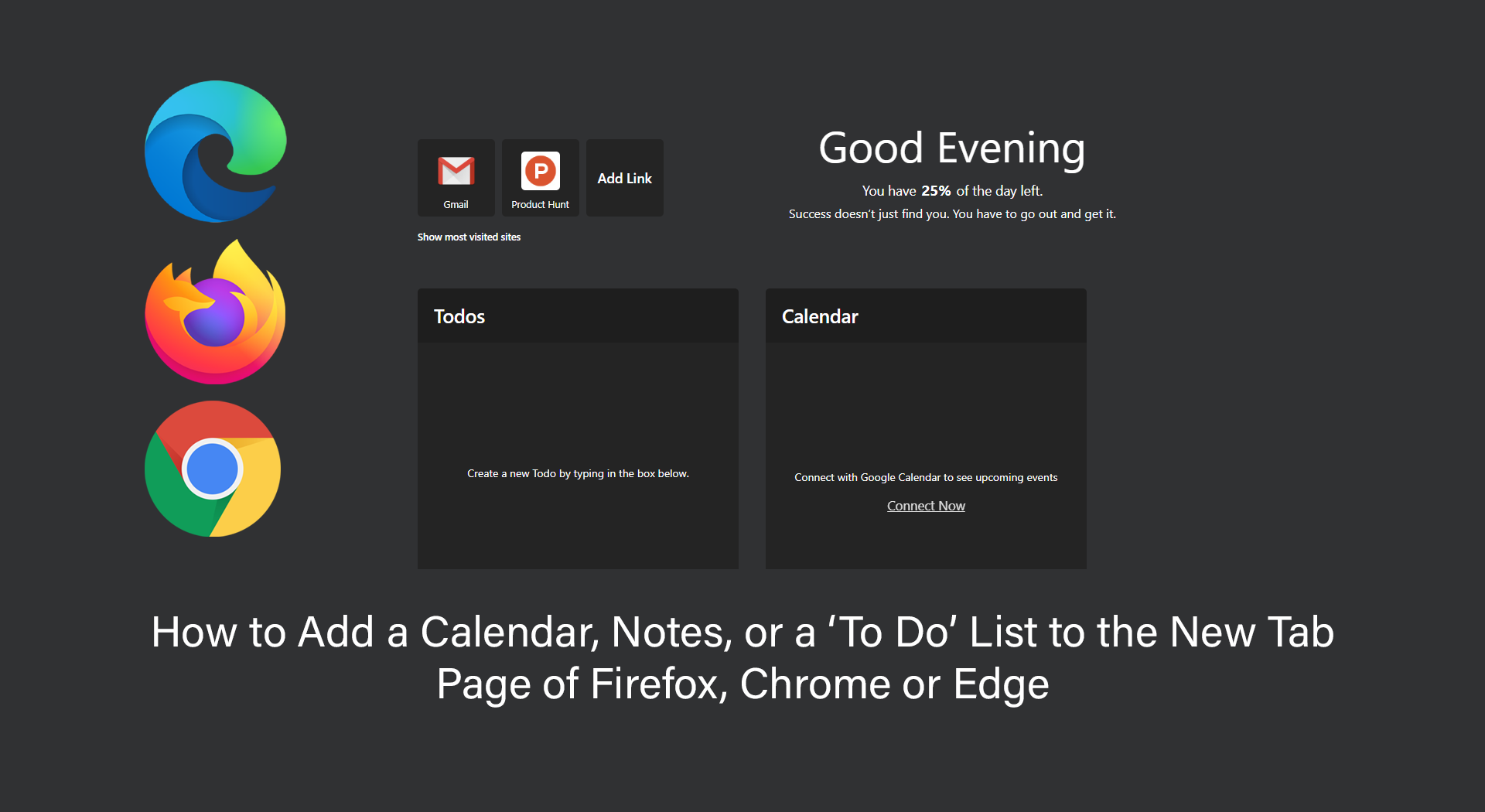 How to Fix All System Fans & AIO Water Cooler Stopping After Signing into Windows 10. All System Fans & AIO Cooler Stopping Randomly on Windows 10.
For most people, Google Chrome, Mozilla Firefox, or Microsoft Edge are probably the most used piece/s of software installed on their computers. As a result, it's probably also pretty safe to assume that the New Tab page of any of these said browsers is also the most visited page. Getting even more cocky one can assume that this is more than likely the most under-used and under-rated spaces you come across in your daily travels. 
Thankfully there is a way to make use of this space in a way doesn't include a wallpaper/theme or weather information for your area. It's now possible to take over the new tab page of Firefox, Chrome, and Edge, adding widgets such as notes, to-do list's, and of course a calendar. With all of these added or even just a selection, every time you open a new tab you'll be reminded of things you need to get done ASAP.
Related: How to Enable Quieter Notification Permission Prompts in Google Chrome. (Quieter Messaging)
Can You Add Notes, To-Do List, Calendar to the New Tab Page of Your Browser?
To begin, the first thing you are obviously going to need to do is add an extension (add-on for Firefox) to your browser. The extension (add-on) is called PepperTab and can be downloaded below. Just make sure you follow the correct link for your browser. If you are using Microsoft Edge you can follow the Chrome link, just make sure you can use extensions from another store.

PepperTab Website here
PepperTab for Chrome here
PepperTab for Firefox here
Once you have added PepperTab to your browser, using it is relatively simple, though there is one change you will probably want to make as soon as you install it. That change is to bring the To-dos and Calendar to the top of the page where it is most visible and most useful. To do this, visit the New Tab page, then click the Focus icon in the bottom left-hand corner. This will switch the page layout. 
Adding content to any of the boxes is pretty self-explanatory and can be done quickly and easily. If you use Google Calendar or Gmail you can also import calendar info using the sign-in option. If you need to enable sync across devices, browser, etc, you can do so by creating or signing into a Blockstack account.

PepperTab Features. 
Add to-do list to the New Tab page.
Add Notes on the New Tab page.
Sync Google Calendar events on the New Tab page.
Add background images that change.
Login with Blockstack to access list and notes anywhere.
Get inspirational quotes every day.
See weather updates on the New Tab page.
Add quick links to your favourite websites.
On a Side Note…
If you're also a big Windows 10 user, make sure you take the time to check out the newly designed File Explorer. More than likely it's going to take a fair bit of getting used to, but it does fit with the current material design of Windows 10 very well. It's also a work in progress, so it's best to take it with a grain of salt as it still has a lot of work to go.