If you are looking for a quick and easy way to create highlights from your game streams and recordings, but don't want to spend ages putting them together. This article will show you how to get to automate the entire process. Simple upload or import your footage and all the action will be pulled and sorted into amazing highlight clips and reels.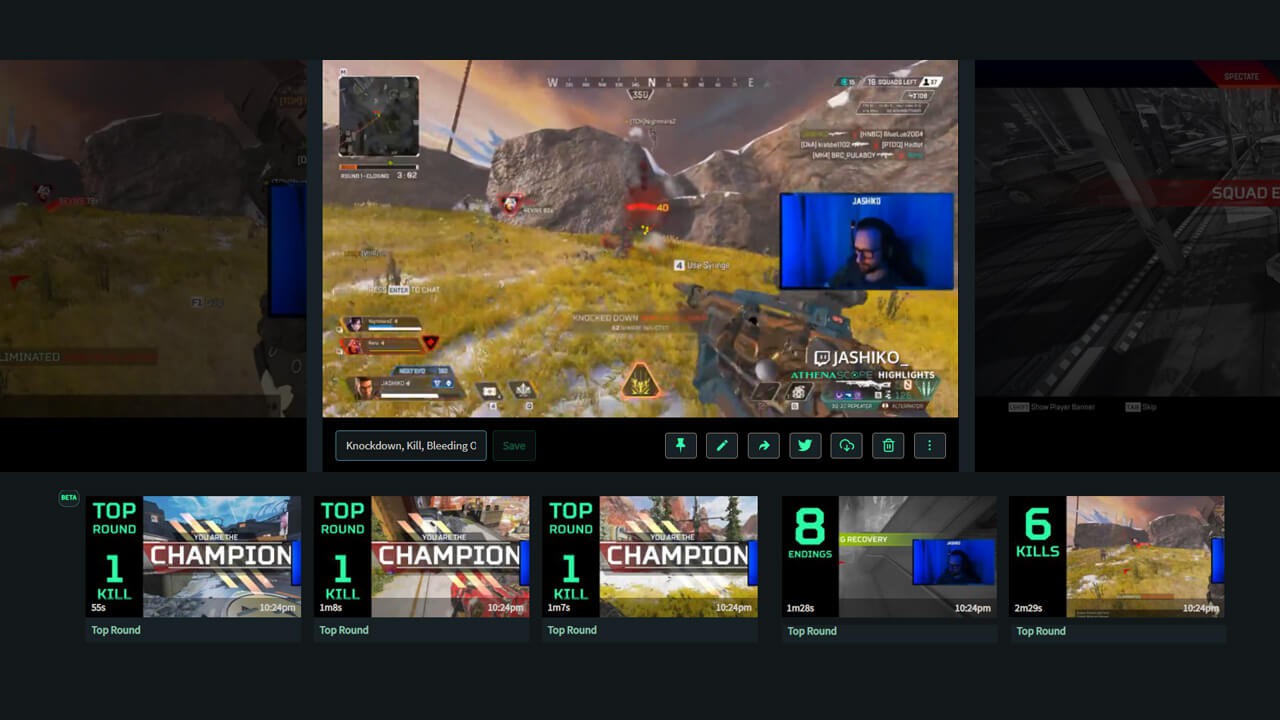 Related: How to stream to multiple services at the same time: Twitch, YouTube, Facebook, Steam, etc.
If you are someone who spends a considerable amount of time playing and streaming games to Twitch and YouTube. You've probably amassed a huge collection of impressive footage you'll almost never get around to doing anything with, even though you have big plans to make an epic YouTube highlights video at some stage. I know I've spent hours putting together content from my games over the last few months and it's a tiresome process.
Thankfully, there is now an absolutely game-changing service that can do the entire job for you, absolutely free! It's called Athenascope and is one of the most impressive things I've seen in a long, long time. Athenascope uses artificial intelligence and machine learning to find, sort, and clip the best parts of your games.
For example, if you're playing Apex Legends Athenascope will analyse your games and pull highlights for kills, kill assists, knocks, deaths, victories and losses. It will then compile them into short clips from a few seconds to a minute long. Once it has enough data it will then create montages with music that is fully copyright-free and can be used anyway. Sounds good right? If you aren't quite convinced here's a quick example of one of my Twitch streams in Apex Legends that has run through Athenascope.
Currently, Athenacope is available for the following games, Apex Legends, Call of Duty MW/ Warzone, Fortnight, Valorant, League of Legends, Call of Duty Cold War, NBA 2k, Rocket League, Minecraft, PUBG, Overwatch, Rainbow Six Seige, Fall Guys, Destiny 2, and Knockout City.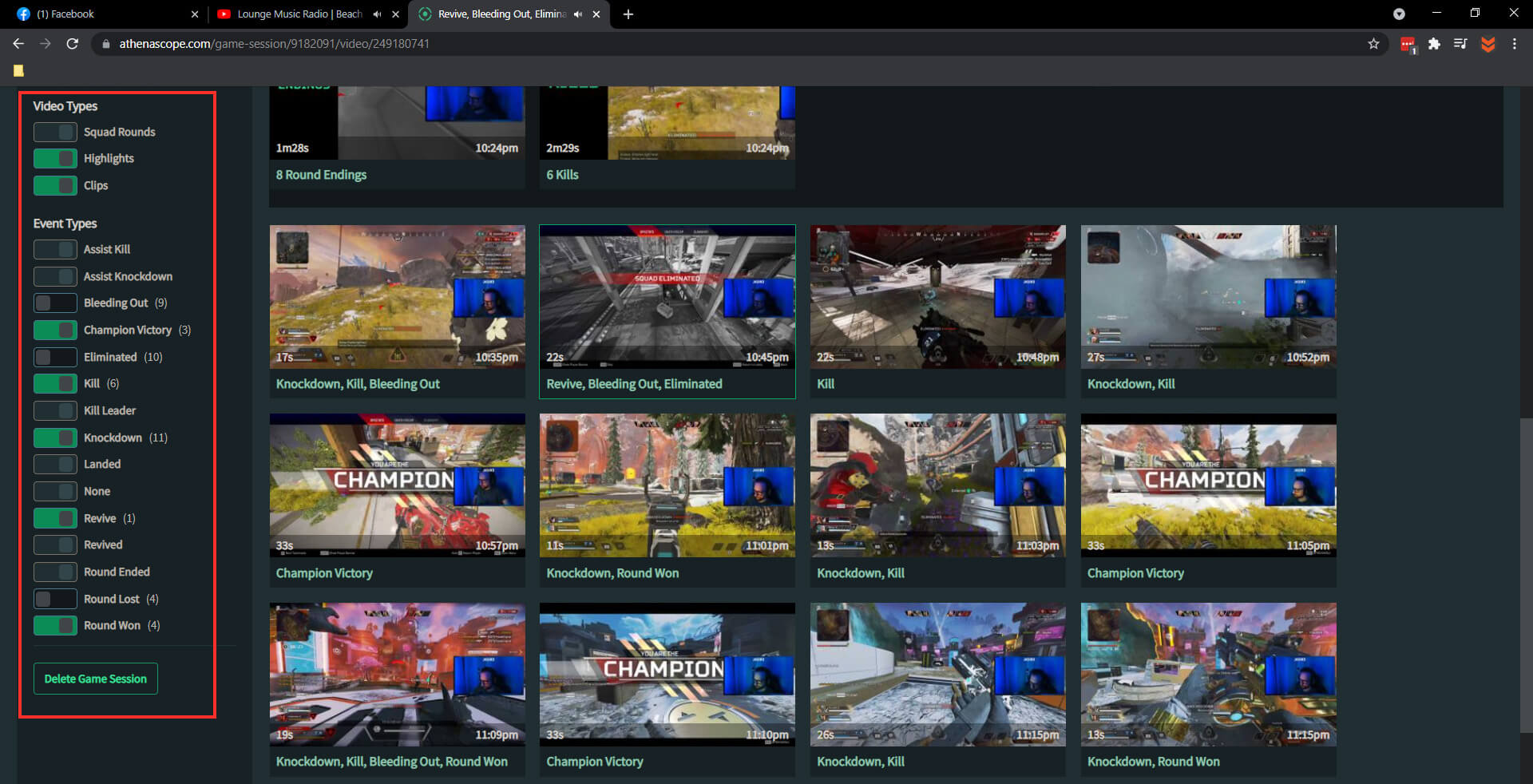 How do you start using Anthenascope to automatically create game highlights and montages?
As is always the case, you'll need to head on over to the AthenaScope website and create an account. Once you've set up an account, you have a couple of different options. I've used both and each works well, however it really depends on your personal scenario. Option one is to link your Twitch or Facebook Gaming accounts/profiles. The second is to download the Windows Athenascope client.
Option 1: Linking your Twitch or Facebook Gaming to AnthenaScope.
This is the best option if you don't want to put extra strain on your system, for example, if you are already streaming to Twitch or YouTube, etc using OBS or SLOBs. Once your accounts are linked you simple have to switch to the Import video option using the left-hand pane, then select the footage you want to import for processing.
By default it will automatically import new footage as you create it, however, if you want to process old footage you'll need to click the create highlights option to get it started. If you're a Twitch partner there's also an option to put a 24hr delay on the process so you don't get a contract strike on your channel.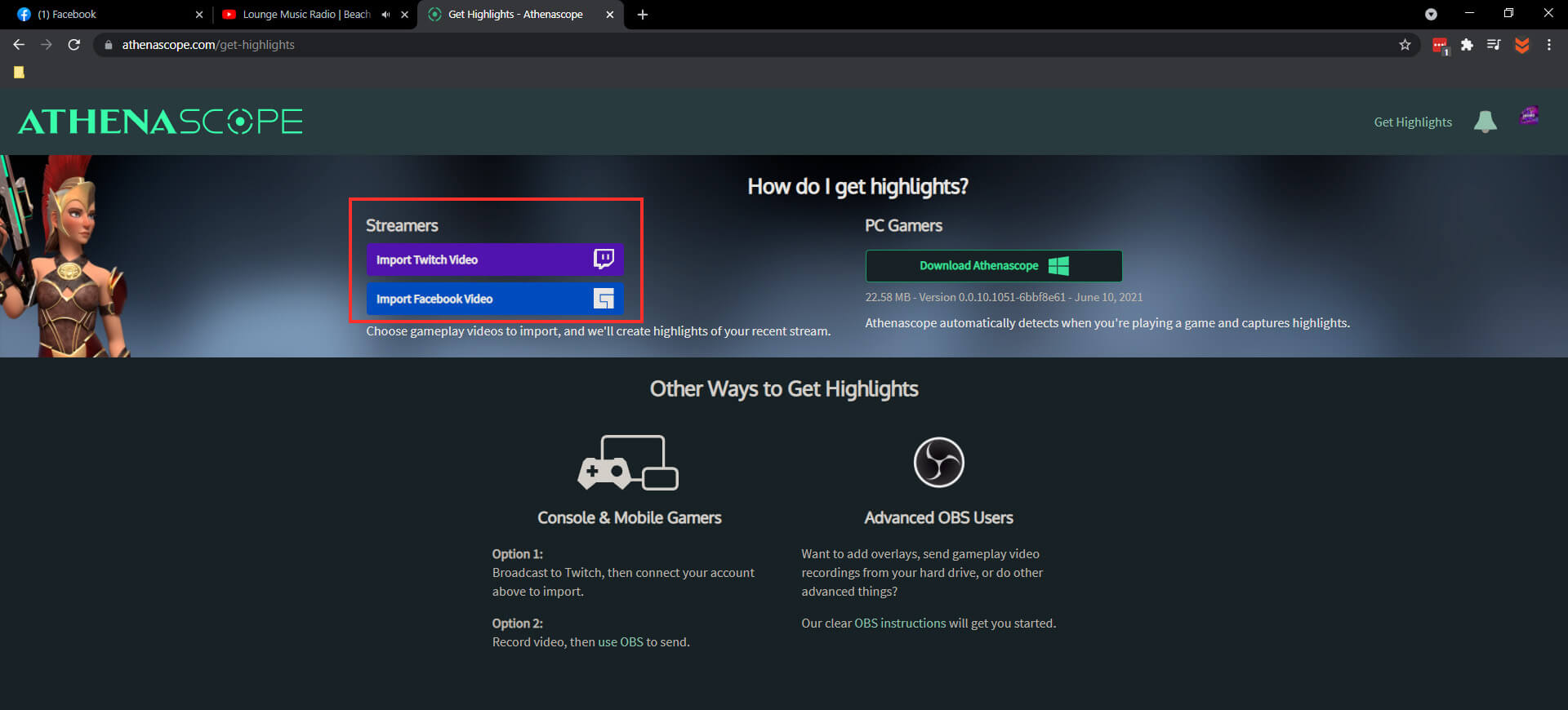 Option 2: Using the AthenaScope Windows app.
If you don't stream to Twitch or Facebook and would still like to create footage of your gameplay you can download the Windows 10 app and use it to record and upload content straight to AthenaScope. Simply download the client, install it, then sign in to your account. Once you are signed in, you simply have to configure your options and all your footage will up uploaded to AthenaScope and processed. Just remember to choose your settings to correctly match your system hardware and your internet speed. If you go too high you'll get very pixelated footage.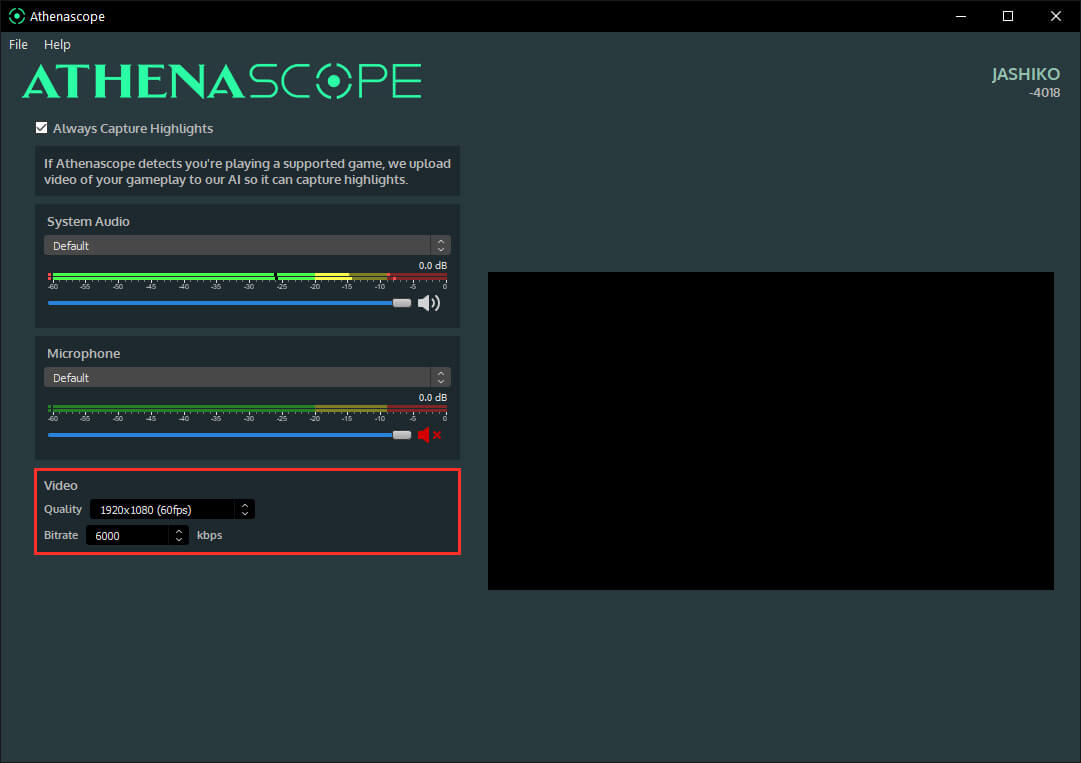 How do you optimize your AnthenaScope weekly Showcase?
At the end of each week, AnthenaScope will put together a music-synced montage of clips you're uploaded during the 7 days. With any clips you've pinned getting priority so make sure you have reviewed your sessions and pinned all of the best moments, otherwise it's a random collection. Here is an example of my first showcase video from Athenascope. There's an annoying glitch in the middle.... But it's pretty impressive otherwise.
You'll also need to meet some other basic requirements to get an AthenaScope music-synced montage, though they are usually really easy to complete.
Can you use Athenascope Highlights, Clips, and Montages for Stream BRB and Starting Now screens? You Sure Can!
Once you have got yourself a nice little collection of content in Athenascope, you can create playlists to use as compilation videos for your "Be Right Back" (BRB) and "Starting Now" screens. It's not the most straightforward process if you're new to this kinda thing. But as always! We've got you covered with a full guide on the process: How to create a BRB or Starting Now screen with Athenascope highlights and montages.