If you are looking for a cool new way to grow your stream while you're on a short break, one of the best ways is to use your "Be right back" BRB screen to play your game best gaming highlights. If that sounds like a lot of work, you haven't yet been introduced to Athenascope have you?! Using Athenascope you can quickly and easily automate the entire process from creating clips setting them as a brb video!.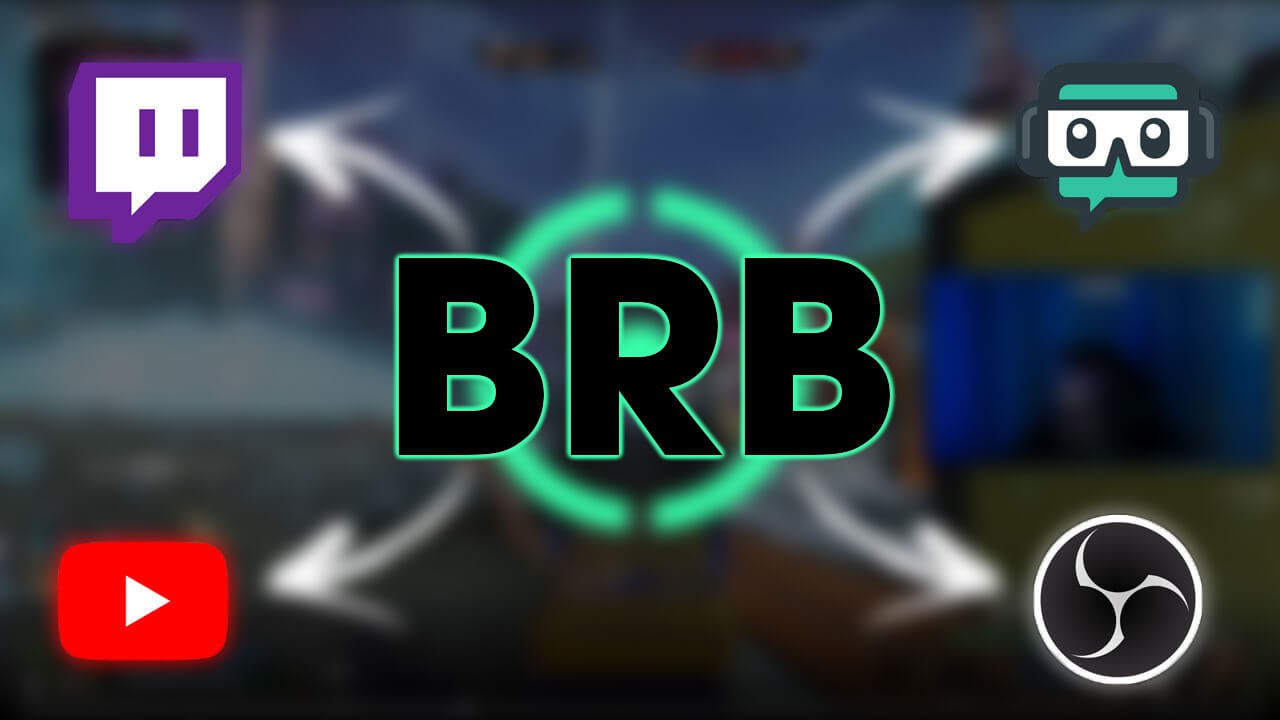 Related: How to play Darksiders Genesis local split-screen coop.
If you haven't already heard of it, Athenascope is one of the best ideas to come to the gaming world in a very long time. Why? Well, it kinda depends on the games you play, but if you're a first-person shooter fan Antenascope allows you to record and upload all your gameplay to be converted into highlights and montages automatically! That's right! 100% automatically! I've been using it for a while now and can say it's a game-changer!
For anyone completely new to Athenascope make sure you check out our introductory guide here before you continue with this article. Now that you're all caught up and understand exactly what Athenascope does and how it works, you'll be keen to start putting your captured footage to work! Although YouTube is the most obvious place to drop your best moments, you shouldn't overlook the chance to use Athenascopes built-in BRB and Starting screen browser plugins.
These allow you to create playlists in Athenascope that will play on your Twitch or YouTube stream whenever you switch your starting soon scene or your BRB scene. Though in reality you can/could just stream an entire session as a montage to your gameplay. Here's an example of what I mean. It's a way to upload your content to Twitch (primarily) that isn't live footage but something more akin to a YouTube video.

So how do you use playlists from Athenascope for your 'BRB' or 'Starting Now' screen in OBS, SLOBS, etc.
Before you can start the steps shown below, you'll first need to make sure that you have a collection of clips saved to your Anthenascope profile. I'd be trying for no less than 10, though you can use one if you really, really want to get this done.
Once you have some clips ready, go to them and click the 3 dots next to the delete icon. Next select Add to Playlist.
Next, create or choose a playlist from the options. Then repeat this process for all the clips you want to be added to your future BRB/Starting Now screen.
Now that you have a playlist full of content. Click the Profile icon in the top right-hand corner and select My playlists.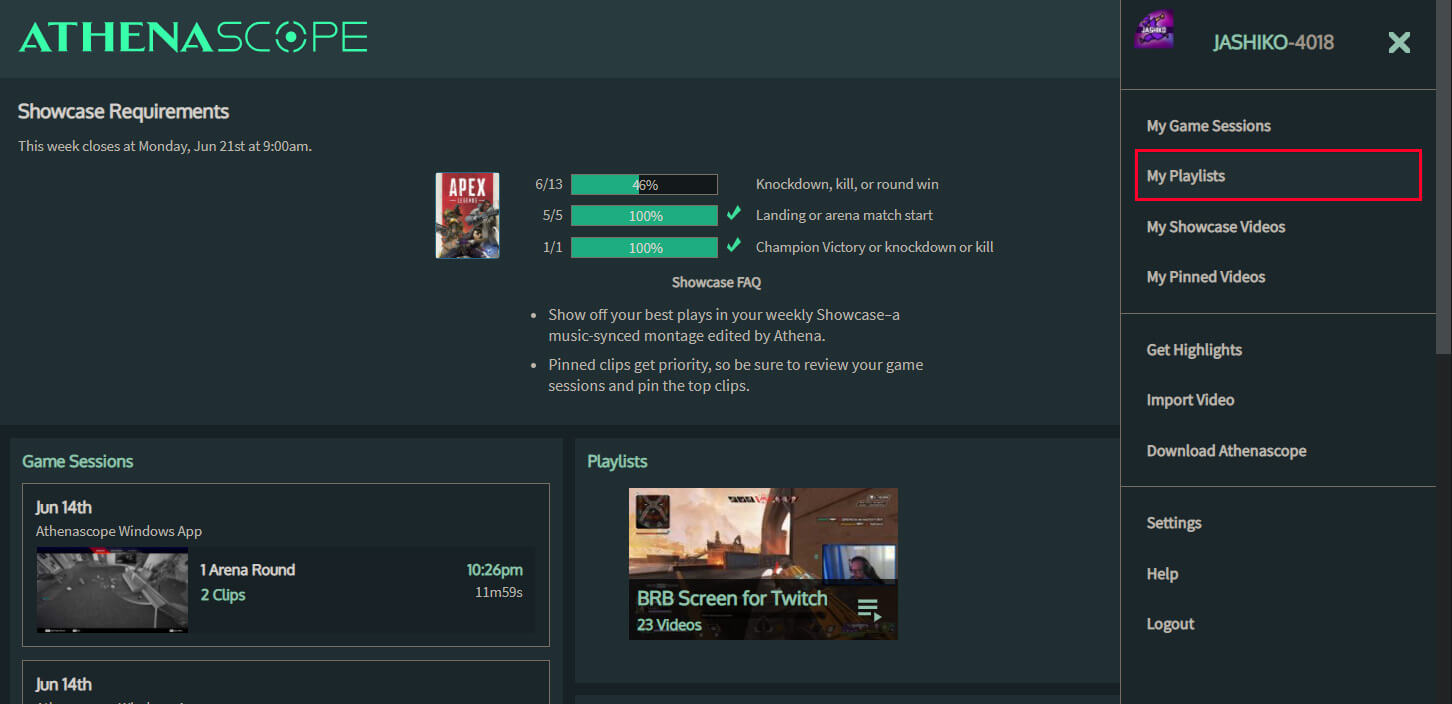 On the new screen click the playlist you created, then click the Edit icon just above the thumbnail (not the top one).
This will open up a new menu where you need to tick the Use as BRB box. I also suggest using the Shuffle play box as well to make make your content less repetitive. Finally, click Save.
Now click your Profile picture again and select Settings from the list of options. Here scroll down and copy the link under BRB (Be Right Back) or Starting Now, depending on which one you're setting up.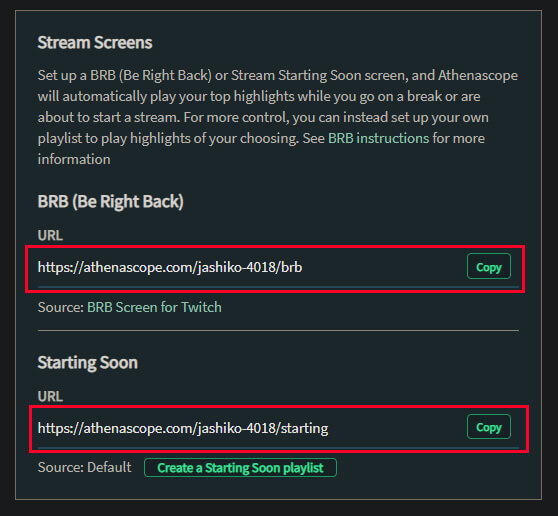 Now that you have Athenascope set up open your streaming program. For this guide, I'm using Streamlabs OBS but you can use whatever you like.
For the final step go to your "Be Right Back" Scene and Add a new Browser Source. Now simply paste in the link you copied from Athenascope and adjust the rest of the options how you see fit.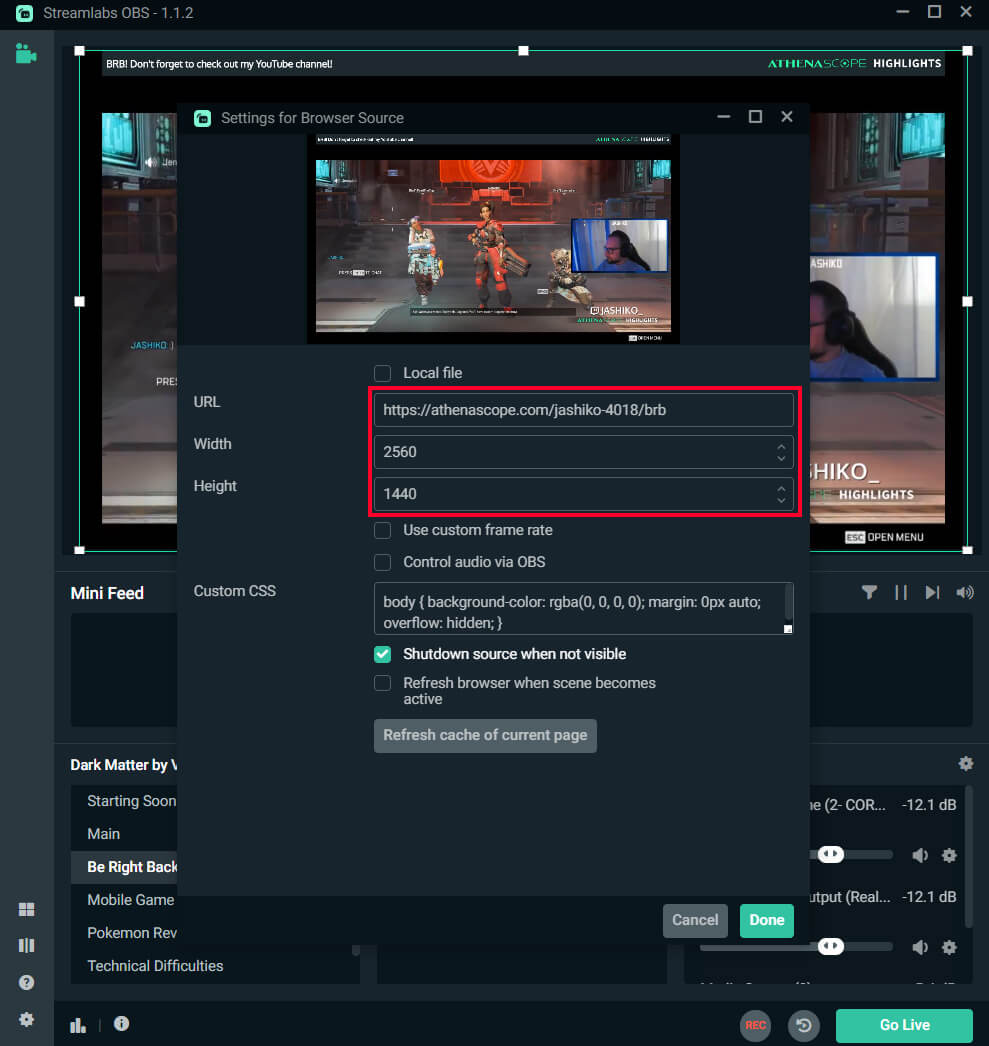 That's it! You're done, from now on whenever you switch to your BRB or Starting Now screens your streaming software will start playing the content from your Athenascope playlist. Just remember that you're probably going to want to refresh the videos from time to time to keep people entertained, otherwise, it'll get repetitive pretty quick.