If you are someone who likes to get their hands on new options and features first, this article will show you how to trial/test Google Chrome's new dark mode. An option recently added to Google Chrome Canary, Google's beta/test build of Chrome.   
How to Add Show/Hide File Extensions to the Context Menu on Windows 10. (Right-Click Menu).
In an effort to prolong battery life and reduce user eye fatigue, Google recently announced that it would be persuading app developers who use their platforms to include dark mode/themes as a standard feature. A feature that is becoming more and more sort after on tech devices. Around the same time as this announcement, Google also began working on their own official dark mode/theme for Chrome to prove they are committed to the task. 
Although Dark Mode on Chrome is still highly experimental at the moment and can't be activated from the settings menu, it can be enabled using a slightly different approach. Which does differ between Windows and macOS devices. For the time being the feature will be permanently enabled on Windows, however, it has been planned to follow system UI theme settings just like Firefox's dark mode. (On macOS, this auto-switching has already been enabled).
Related: How to Set Video Wallpapers on Windows 10. (Live Wallpapers on Windows 10)
How Do You Enable Dark Mode in Google Chrome on Windows?
If you would like to enable Dark Mode in Chrome on Windows 10, the process is a little different to the process you'd normally use. At least at the time of writing. Instead of using the about:flags menu, you'll need to add some text to your Chrome Canary shortcut. (Remember you need version 73 or later)
To begin, first find and right-click on the Chrome Canary shortcut you'd like to change, then select Properties. Next, add the following text to the end of the text in the Target box: --force-dark-mode.
Update: You now need to add --enable-features=WebUIDarkMode --force-dark-mode to the end of the target box text.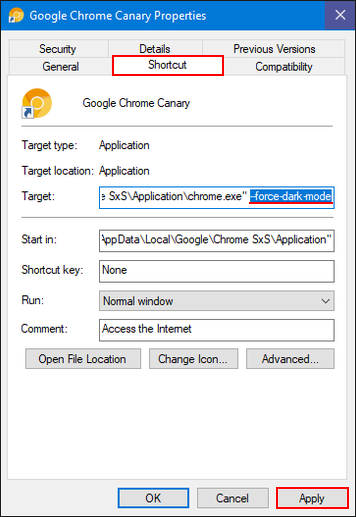 Once you have made the change, click Apply, then Ok for the change to save, then Restart the browser. Just remember that dark mode will only be enabled when using this shortcut. If you use another shortcut that hasn't been edited, Chrome will open in its default state. 
How Do You Enable Dark Mode in Google Chrome on macOS?
If you are using Google Chrome Canary version 73 or later on Mac, you can enable dark mode from the Chrome Flags menu. To do this open the browser, then type about:flags into the address bar and press Enter. Once you are on the flags page use the search box to search: --force-dark-mode, then use the drop-down menu to select Enable. This will enable dark mode on Chrome permanently. If however, you wish Chrome to follow your system UI theme, enable the following Flag: --enable-feature=DarkMode.
Once you have made either of the above changes, Restart Chrome and the change will take effect. It's pretty basic at the moment and doesn't really do anything a standard theme can't already do.
Do Any Other Browsers Have Full/Better Dark Mode/Themes?
If you are looking for a browser that has far better dark mode/theme support, check out Mozilla Firefox and the following three articles. These will guide you through the process of creating your own full Firefox dark mode/theme, just like the screenshot shows below.
How to Create Your Own Custom Firefox Themes.
How to Change the Firefox 'New Tab' and 'about:blank' Page Color.
How to Make Firefox Match Your Windows Theme Settings Automatically. (Dark or Light Themes)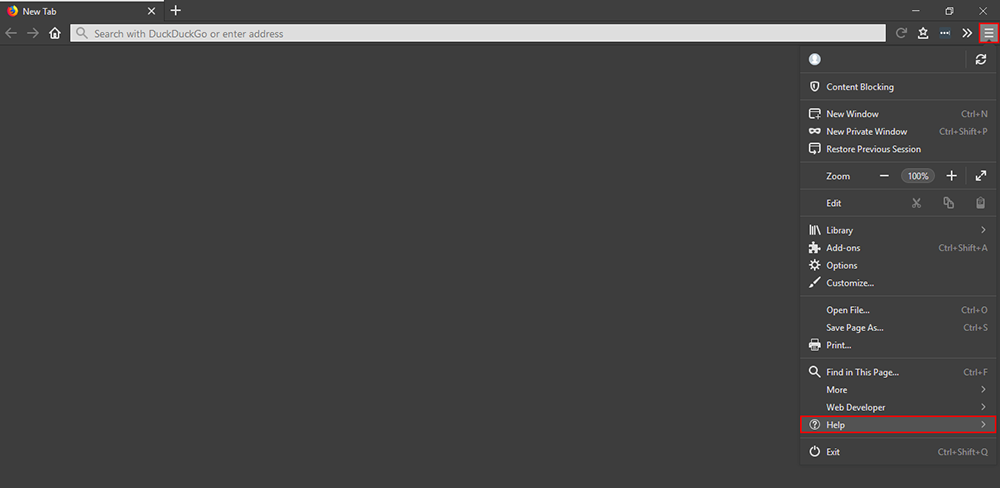 .