If you have the feeling Snapchat adds a new feature every few weeks, you're not wrong, especially at the moment. It has only been a couple of weeks since the release of Snap Maps and now Snapchat has released new voice filters and backgrounds. This guide will show you where to find the newly added features and how to use them.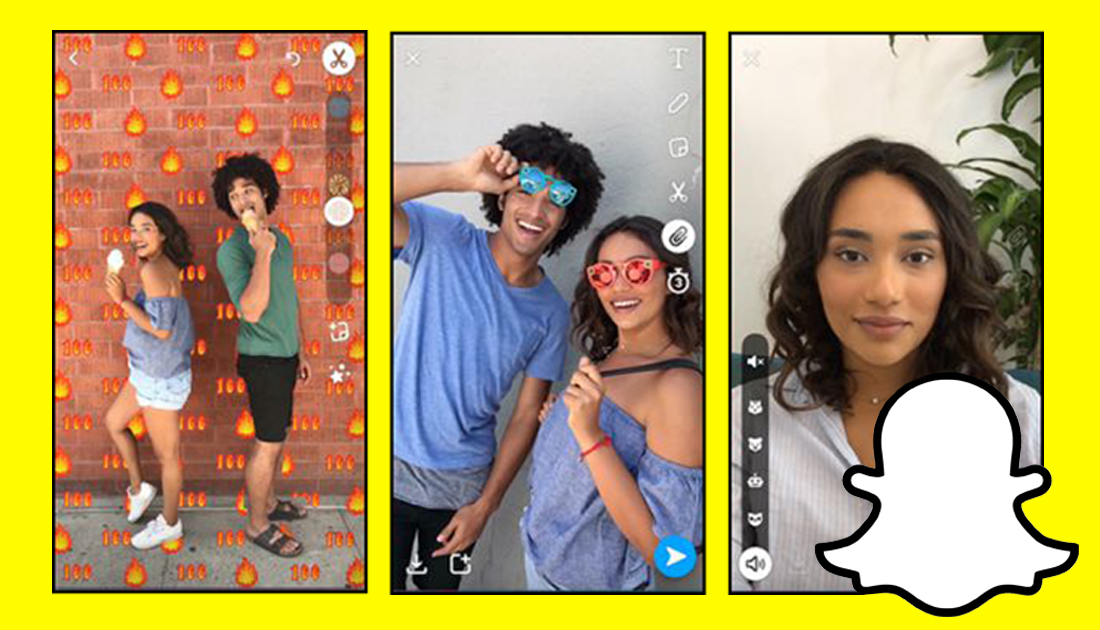 How to Find and Use Snapchats Snap Map. 
Snapchat always seems to be a step ahead of the curb when it comes to new features and innovation, leaving Facebook and Instagram scrambling to implement an almost clone like feature at a later date. With the dust only just settling on the last big Snapchat feature Snap Maps, it's quite surprising to see another feature added so quickly. Perhaps this is a strategy to overwhelm Facebook and Instagram with clone projects…. Whatever Snapchats reason for this, it's always a great outcome for users, new features usually means more fun, so let's find out a little more about Snapchat Backgrounds and Voice Filters.
Before we begin showing you how to use the new features, you will need to make sure you have the latest version of Snapchat installed on your mobile device, version 10.12.0.0. If you don't, you won't be able to use voice filters or backgrounds. To get the latest version, simply open your phone or tablet's app store and check for updates. Once you have Snapchat version 10.12.0.0 you'll have full access to all the features, regardless of whereabouts in the world you live.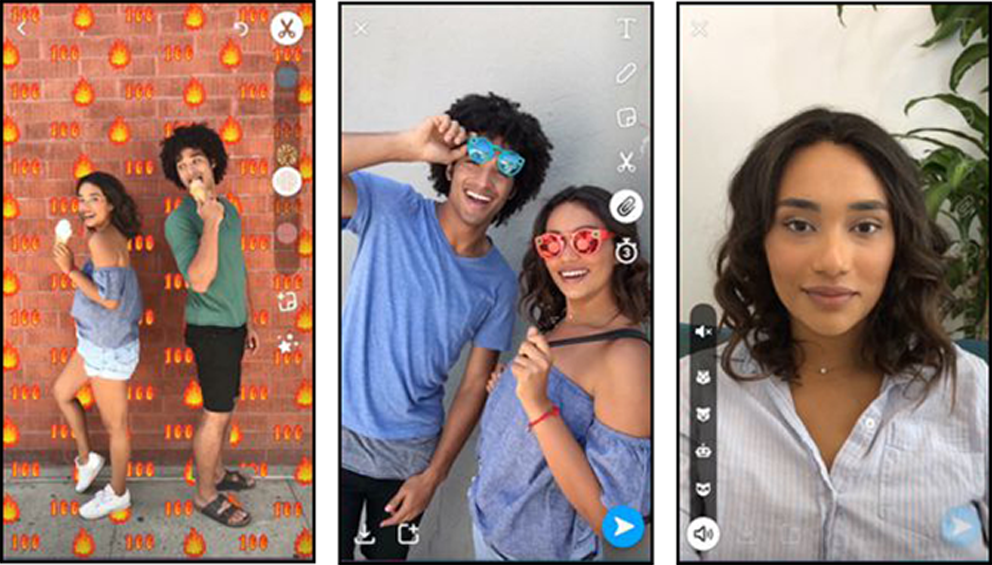 The Other Feature we Didn't Mention in the Title. (Snap Links)
As well as adding backgrounds and voice filters, Snapchat has also added the ability to share links with friends in Snaps. This is probably the most useful feature included in the recent update, however, it is more a utility than a fun feature, never the less, it's a handy option to have. To Share a link in a Snap, tap the new Paperclip icon in the vertical toolkit menu (the same toolbar that allows you to add text to snaps)
Once you've tapped the paperclip icon, you will need to give Snapchat permission to use the clipboard, after you have approved access, you can manually type a URL or more easily paste one into the box. When you have finished putting together your link inclusive snap, you can send it in the same manner as you would any other snap.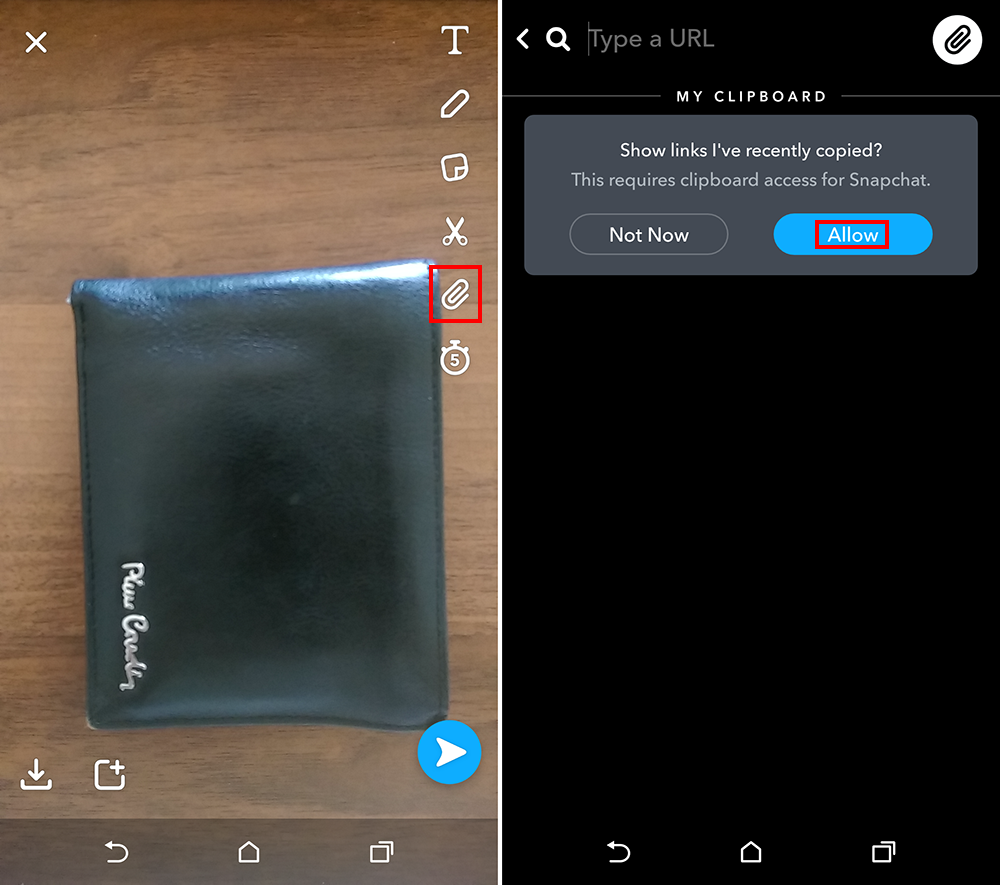 Finding and Using Snapchat Backgrounds.
Each time Snapchat's features list grows, the user interface usually become slightly more crowded, making some features near impossible to find. Unless you know exactly where you're looking or more likely if you stumble on to them! The first feature we will be locating, is the Snap Backgrounds feature, which allows you to add custom backgrounds to your snaps.
To find Snapchat backgrounds you will need to take a snap, then tap the Scissors icon in the vertical toolkit menu (the same toolbar that allows you to add text to snaps) on this submenu look for the newly added backdrop icon, it looks like a square with slanted lines through it. Now, all you have to do is choose a background you think works with your image, once that's done you can send your snap. For now though, the background options are pretty boring, however, Snapchat will no doubt add more as time goes on.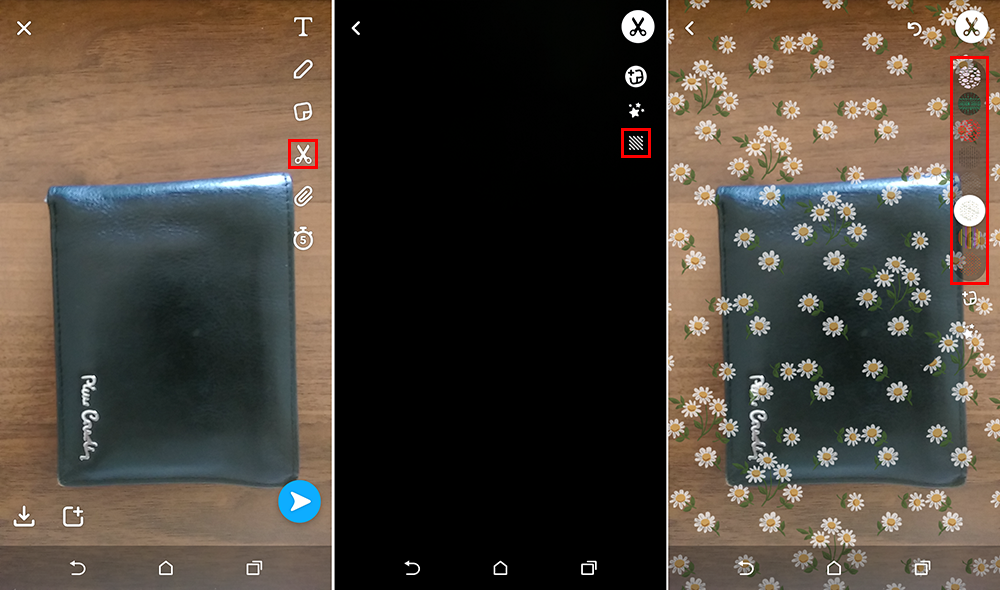 Finding and Using Snapchat Voice Filters. 
The last feature and the most interesting are the newly added Snapchat Voice Filters, which allow you to change your voice to a variety of crazy sounding novelty characters. One of the more notable and highly annoying options is the Chipmunk voice, which will no doubt be a fantastic way to drive your friends mad. There are a few others you can choose from, including a sci-fi robot.
To use the new Snapchat Voice filters you will need to record a Snap, (with voice included obviously) then tap the speaker icon at the bottom of the screen. Finally, all you need to do is choose the effect you like and you are done, you can now send the snap to all your friends or post it to your Snap following.