If you are trying to fix Adobe Illustrator error Loading Plugins Error - Unable to Load Required Component. Which shows a huge list of random .aip files that are missing or can't be found. This article will show you how to easily fix the problem allowing you to get Adobe Illustrator working again without the Loading Plugins Error - Unable to Load Required Component.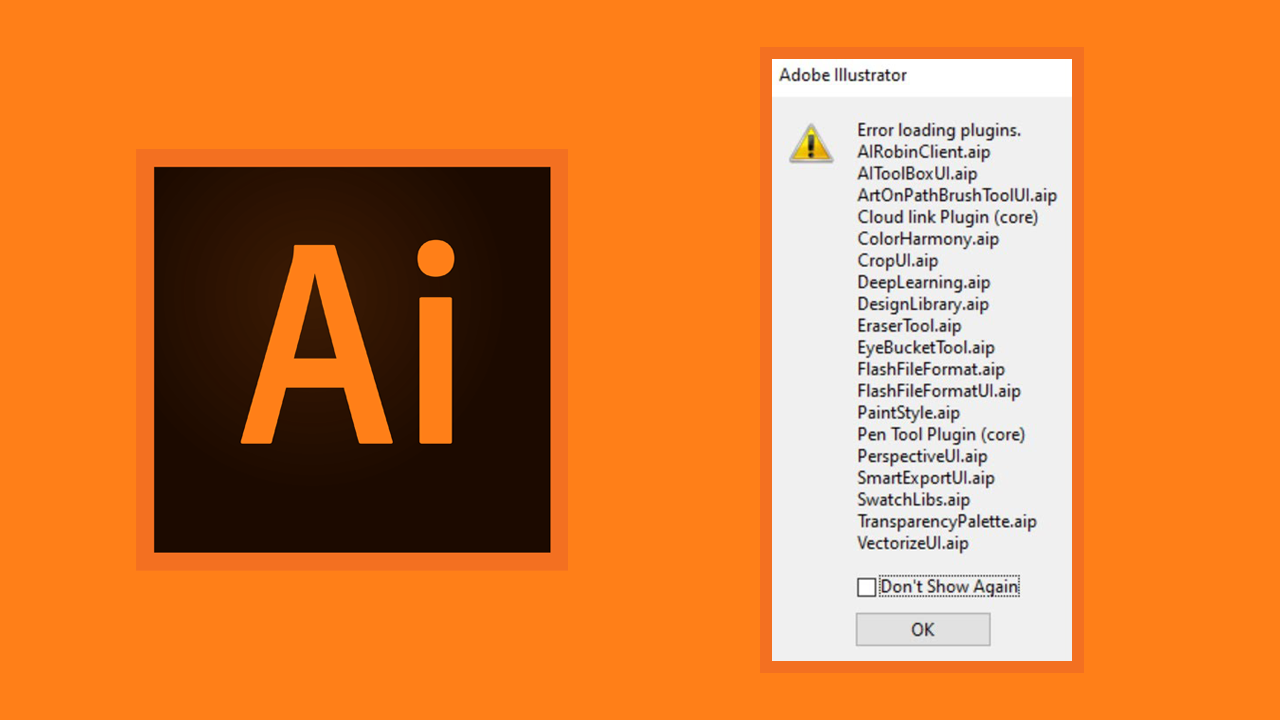 Related: Fix Adobe Illustrator MSVCP110.dll, MSVCR110.dll, MSVCR100.dll was not found on Windows 10 & 11.
Illustrator is one of Adobe's most popular and widely used programs it allows anyone to create amazing vector art and specialises in SVG file formats. It also has a huge range of features, including creative cloud, plugins, fonts, and a lot of adobe community support features. It's also available on desktop and as an app. While it is a fairly stable piece of software and runs on Microsoft Windows 10, 11 and other operating systems it does occasionally have errors. Even older versions may have some issues with plug-ins and other add-ons.
The good news is that the plugin problem in Illustrator that causes the missing plugins error can be fixed using a simple process that you may have already used in the past in a different version of Illustrator. So follow along as we show you how to fix this issue and get Illustrator working properly on your computer again.
How do you Fix Adobe Illustrator error Loading Plugins Error - Unable to Load Required Component?
If you do get this error in the desktop app (program) with Illustrator cc, or even the standard version, you will need to follow the steps shown below. While you have probably already tried to uninstall, and then reinstall everything, along with deleting preferences and a quick restart, you will need to install something extra that should already be installed but may be bugged or corrupted from a previous Windows update.
When the error message appears, click ok to acknowledge the issue. Now close Adobe Illustrator.
More than likely you will see another message asking if you would like to report the issue. Feel free to click Send or Don't send. This doesn't really matter.
Next download Visual C++ Redistributable Runtimes All-in-One. We will be using this to reinstall and repair all of the missing components that need to be fixed. Alternatively, you could get them all of the Microsoft Visual c ++ files individually but that is a lot more work.
When you have the file on your computer, open the folder where the file was downloaded and extract the contents of the downloaded file using your preferred extraction tool. If you don't have one WinRAR is a great option.
Now navigate into the extracted folder and right-click on the "install_all" file select "Run as administrator"
It will probably take a little while for all of the files to be installed as the software will install all of them. There is a lot more than you are probably even aware of.
When the process completes, restart your computer for good measure and you should now be able to open Illustrator without getting the error message again. If the error is still present after following all of these steps, it's time to reinstall the program and start from scratch, then hopefully you won't get an error again. You can find more information about this error message over on the Adobe Community Support Forum as well.