If you are trying to open, render or export a project in Davinci Resolve but can't because you keep getting Error GPU Initialization Failed. This article will show you how to fix the problem by manually configuring Davinci Resolve whilst also making sure that Windows 10 or 11 is set up correctly. Both aspects play a role in causing this error to appear.
Related: How to fix Ad blockers not working in Chrome - Ad blockers not working for videos.
A lot of amateur and pro video editors have been making the switch from Premiere Pro and other video editing tools to Davinci Resolve. While it's this is primarily from a cost perspective (no subscription), Davinci Resolve is also a super feature-rich editing tool with unmatched colour correction options. It also runs like a well-oiled machine utilizing raw GPU power better than Premiere Pro and other tools. If you have a PC with a better CPU than GPU though, Premiere Pro might still be the better option.

This leads us to the issue we are currently dealing with in this article. Davinci Resolve Error GPU Initialization Failed. As we mentioned earlier, this error can occur when you try to open Davinci Resolve or when you try to edit or render/export your project. While this error probably seems like a major issue, it's one of the easier Davinci Resolve errors to solve, so follow along as we guide you through the process. If you have an Intel GPU you may need to try some different steps as well but there is a full guide for Intel users at the end of this guide.
How do you fix Davinci Resolve Error GPU Initialization Failed?
In order to fix GPU Initialization Failed error in Davinci Resolve you will need to follow the steps shown below. Oddly enough these are all done in Windows settings which might be a surprise for you.
Open Windows Settings by pressing Windows Key + I.
Next, go to Display > Graphics.
On this page click the Add Desktop App button and select the Resolve.exe file inside the Davinci Resolve installation folder.
Once you have done this use the drop-down arrow next to Davinci Resolve to expand more options.
Here change the GPU preference option from Let Windows Decide to High Performance.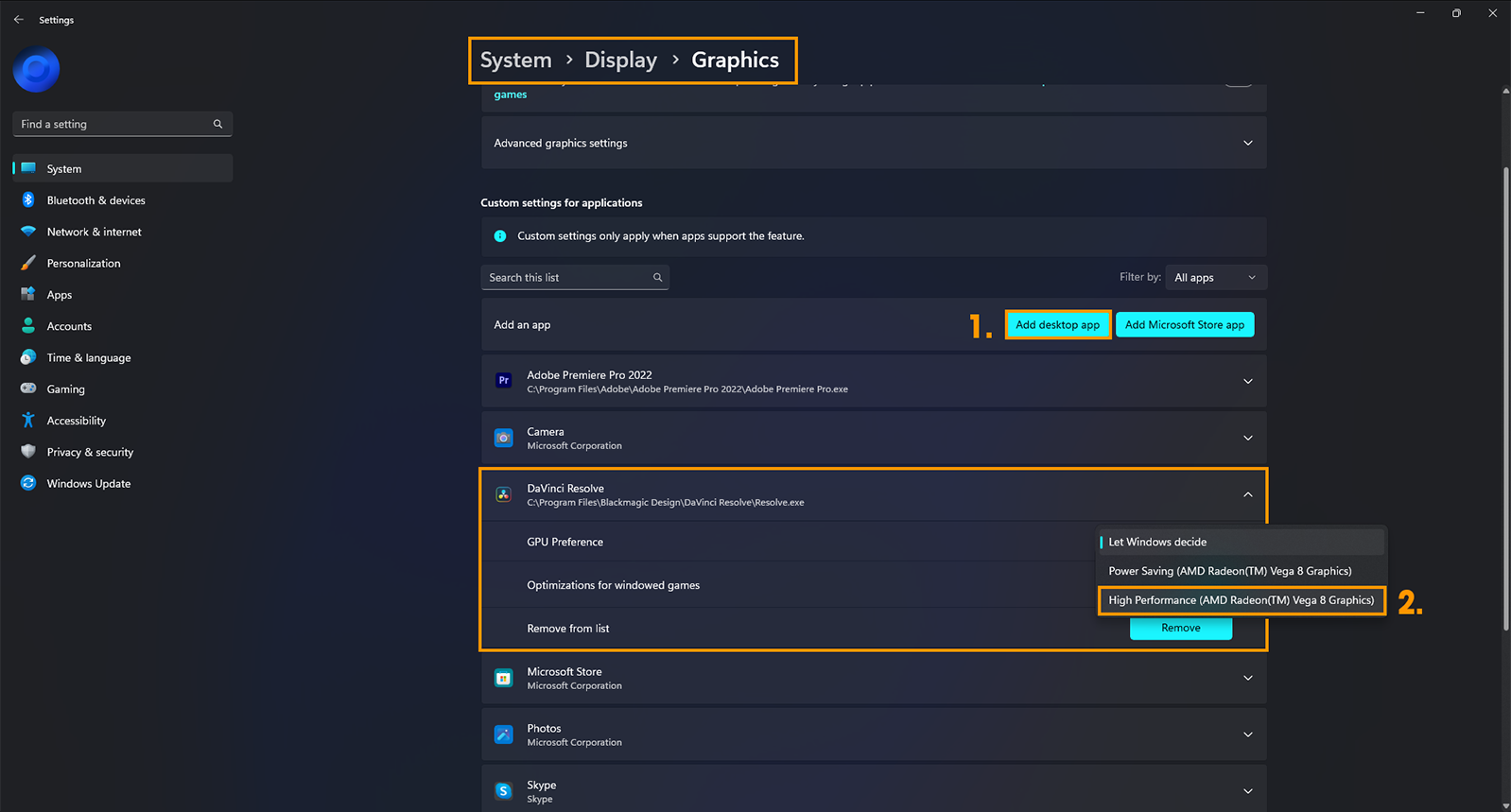 After you have made this change you can go back into Davinci Resolve and use it as you normally would.
What about solving Intel Hardware Acceleration Error? Or similar Davinci Resolve Inel hardware errors?
If you have an Intel GPU and are getting this error message or a similar one and the steps in this guide didn't work for you. Check out the following guide. It's specifically for Davinci Resolve users with Intel hardware.

How to Fix Davinci Resolve Intel Hardware Acceleration Error.
If you are still having problems with Davinci Resolve follow the steps below.
Make sure that you have tried using the latest drivers available for your GPU.
If you recently updated to newer drivers and the issue started, go back to the old ones for a while.
Uninstall your GPU drivers using Display Driver Uninstaller (DDU)
Check that your GPU is supported. There are some GPUs (Intel) that aren't supported by Davinci Resolve.
If an update is available Update Davinci Resolve as well.
You can find more guides over on YouTube as well if you would prefer to watch the process rather than read about it.