If you are trying to convert Windows drive from MBR to GPT to install Windows 11 but keep getting the following error message: "MBR2GPT Disk layout failed for disk 0" halfway through the process. This article will guide you through the commands you can use to solve the problem and convert your drive from MBR to GPT successfully.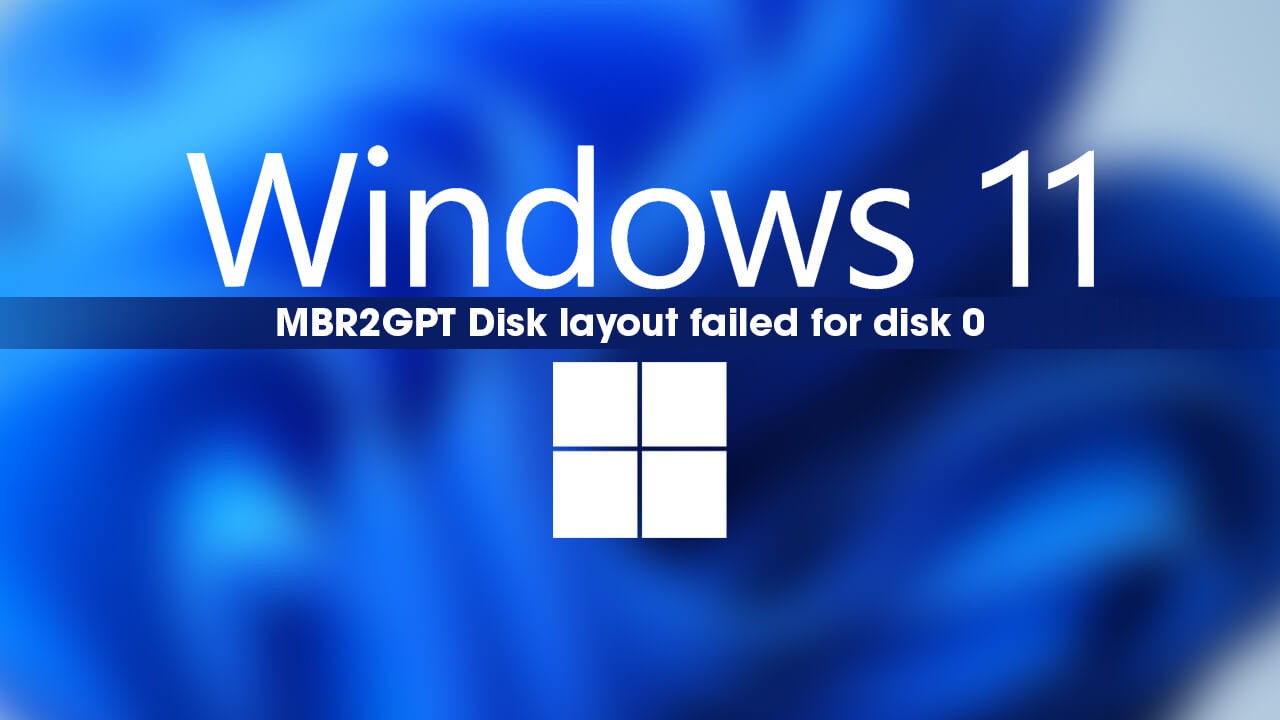 Related: How to fix Windows Media Creation Tool error 0x80070003 - 0xA001B.
Now that Windows 11 has been released to the general public for download and upgrade, a lot of people have jumped on board and started the update process. Unsurprisingly, most people have skipped the system requirements entirely and come across a range of different issues. Updating from Windows 10 to 11 isn't as straightforward of a process as most people assume, especially if you are coming from older hardware. In some cases, hardware that isn't really even that old.
One of the main issues users are having is converting their current drives from MBR to GPT format, which can easily be done following some simple steps, however, there are a few different error messages you may encounter during this process. Previously we covered How to fix error "MBR2GPT cannot find OS partition(s) for disk 0" When converting a drive from MBR to GPT so this guide will be focusing on its sister error "MBR2GPT Disk layout failed for disk 0". Below you will find all the steps you need to follow to successfully complete the MBR to GPT conversion.
If you haven't updated your computer's BIOS before updating to Windows 11 I strongly suggest that you stop everything and install the latest BIOS update on your system before continuing with anything else. Most manufacturers have released new BIOS versions that make updating to Windows 11 far easier. They will configure your device to match the requirements asked for by Windows 11. Once you are on the latest BIO version you should have less trouble updating to Windows 11 and have a far more stable experience.
How do you fix "MBR2GPT Disk layout failed for disk 0"? Can't convert from MBR to GPT to update to Windows 11.
Error "Disk layout failed for disk 0" during the conversion from MBR to GPT usually occurs because a hard drive has more than 3 partitions. This means you'll need to merge partitions down to no more than 3. If you aren't sure how to join partitions, check out the following guide: How to Create, Extend, Shrink, or Merge Partitions on Windows.
Once your hard drive has 3 or fewer partitions, open Command Prompt as administrator and run the following command:
MBR2GPT. EXE /convert /allowFullOS
Now you can go back to the original process and complete it without any issues.
What if you don't like Windows 11? Can you easily go back to Windows 10?
If you aren't a big fan of Windows 11 after going through all the trouble to update, you can quickly and easily go back to Windows 10 without losing any of your data. However, you only have 9 days to perform a rollback before the option is removed and you have to do a clean installation. Check out our guide to rolling back to Windows 10 below.
How to go back to Windows 10 from Windows 11. (Windows 11 Rollback)