If you are currently looking for a way to share a group of tabs in Microsoft Edge. This article will guide you through the process of added the feature to the browser. By default, Edge doesn't have the ability to share a group of tabs, though it can thankfully be added.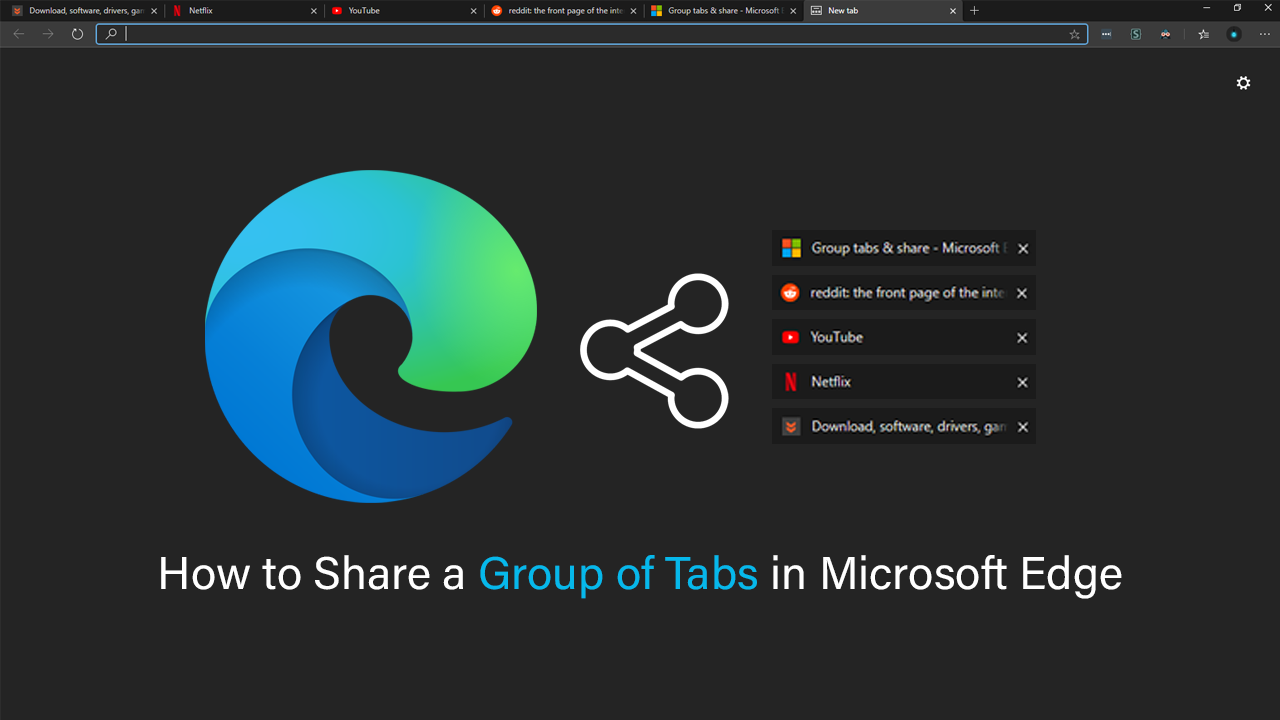 How to Configure Microsoft Edge to Switch User Profiles Automatically.
The new version of Microsoft Edge running on the Chromium engine has been around for a decent amount of time now and is starting to see some really important features become available. Just this week full extension sync support was added to the stable release, allowing users who use an account to quickly and easily install a fresh version of Edge without having to manually download their extension library. 
Another feature worth adding to the browser, which isn't yet a default is the ability to share a Group of Tabs with other people. With the addition, you'll save yourself a ton of time as groups and links can be sent in bulk letting you quickly share them through email, social media, or using the built-in options (WhatsApp, LinkedIn, or Microsoft Teams). It also has customization giving you the ability to download the content in HTML, CSV, and JSON.
Related: How to Remove Things From the Continue Watching List on Netflix? Clear the Netflix Continue Watching List.
How Do You Share a Group of Tabs in Microsoft Edge?
To begin, you'll need to fire up Microsoft Edge, then visit the Edge Extensions page. Once you have added the Group Tabs & Share extension to your browser, using it is really, really easy. Simply click the Group Tabs & Share extension icon in the top right-hand corner of the browser window, then use the checkboxes next to each link to make a selection of links to share.

Next, configure the rest of the settings to best suit your needs and you are ready to send them. Seeing as the app is relatively new it doesn't yet have full support for Facebook, Facebook Messenger, Instagram, Line or Twitter. However, it can probably be expected to gain support as time goes by.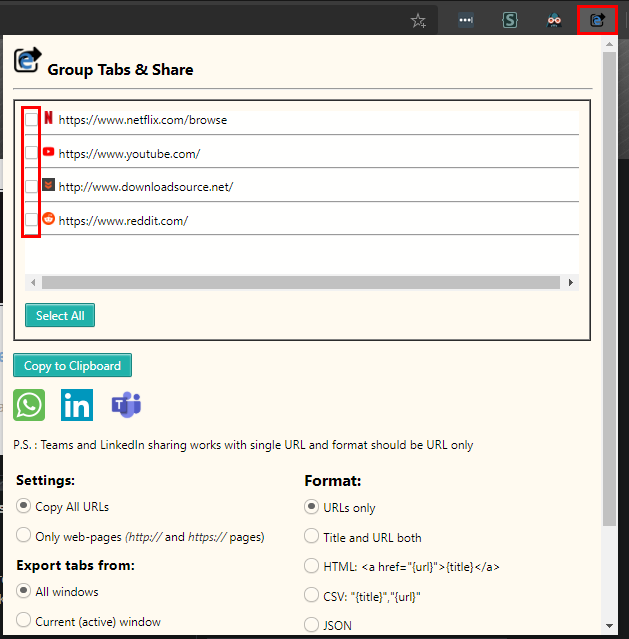 Alternatively, you can also use the extension to copy all your open tabs (or a few) by marking them, then clicking Copy to Clipboard. Once done, you can simply paste the contents to any location that allows it. The link will all appear segregated and in an ordered fashion allowing for you to move, tweak or copy them on further. Although this extension is relatively new and doesn't yet support the full range of social media sharing options it's certainly an extension to watch as it is one that has the potential to become an officially adopted feature of Microsoft Edge. 
On a Side Note…
If you are also looking for a quicker way to interact with Bluetooth devices on Windows 10. You may wish to look into enabling Bluetooth Swift Pairing. An intriguing new feature of Windows 10 that allows you to quickly connect to Bluetooth devices that come within range of your PC.
How to Enable Bluetooth Swift Pair on Windows 10. (Enable Quicker Bluetooth Pairing on Windows 10)