If you have a few Facebook Messenger group chats going and often get lost in the jumble of text. This article will show you how to use the new Quoted Replies feature of Facebook Messenger, allowing you to quickly and easily single out a message you wish to reply to.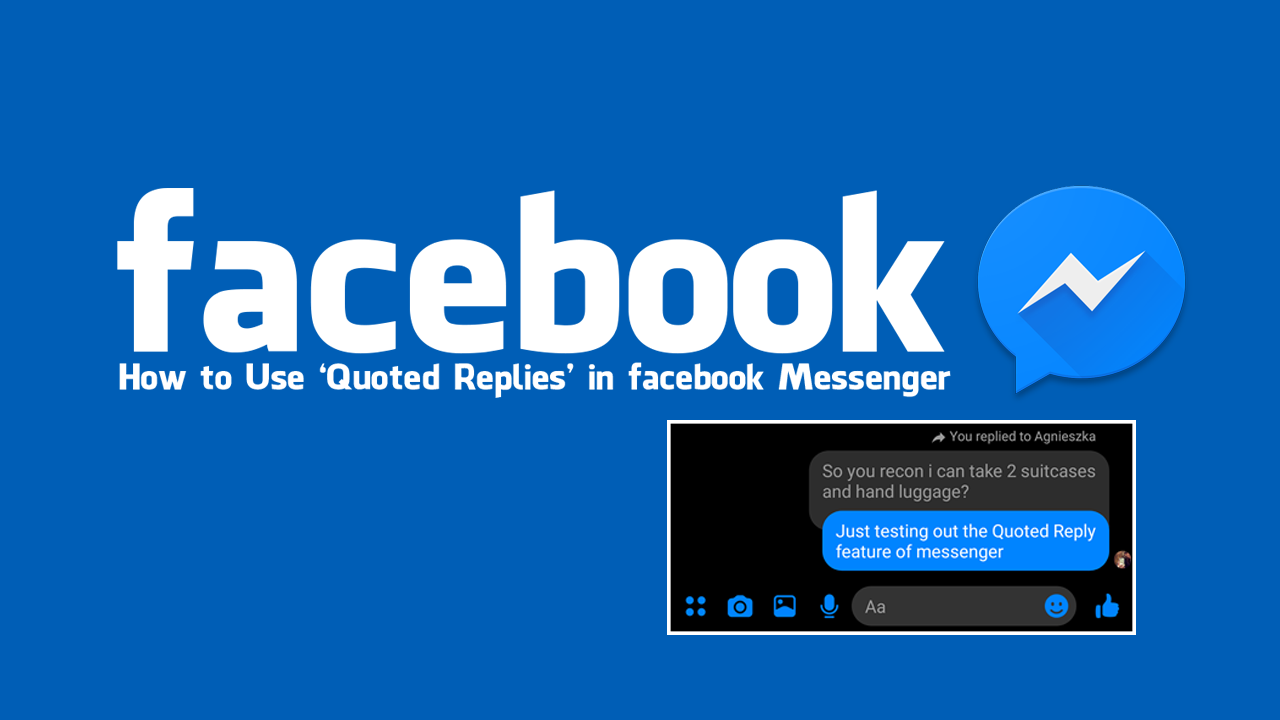 How to Register For Call of Duty Mobile. (Call of Duty Mobile Beta Sign-up)
Until recently Facebook Messenger hadn't seen a decent update add anything new to the app. That all changed three months ago however when Facebook rolled out the new Messenger interface, which completely overhauled the app. Although some Messenger users find the new change a little too minimalistic, the majority of users have welcomed the UI (user interface) refresh.
The interface change isn't the only major change to take place in Messenger though. Facebook has also (finally) added dark mode to Messenger which can be enabled now through a bizarre process. If you haven't tried it yet, it's quite good and a great way to save a little extra battery life, especially if your device has an OLED screen. Apart from these two major changes to Messenger, one last feature has also been added that a lot of users may have missed in the UI and dark mode hype. "Quoted Replies".
Quoted Replies is a simple feature that allows you to link a new message to a previously posted message so that the recipient knows exactly what part of the conversation you are responding to. If you have a group chat that moves quite quickly, Quoted Replies are going to become your new best friend.
Related: How to Sign up For Twttr. (Twitter's New Beta App) #LetsHaveAConvo.
How Do You Use Quoted Replies in Facebook Messenger on Android and iOS?
At the moment Quoted Replies hasn't been fully rolled out internationally, so you may or may not have it in your region (but it is coming to everyone). To start using Quote Replies in Messenger, you'll need to make sure you have updated Messenger to the latest version available to you, then do the following.
Open a chat, any chat will do, then long press a message within a conversation (even your own). After a couple of seconds, you will see a new Reply icon, tap this, then proceed to type your response. Once done your message will appear like so, linked to the message you wanted to reply to. You can also reply to messages using GIFS and images should you choose to.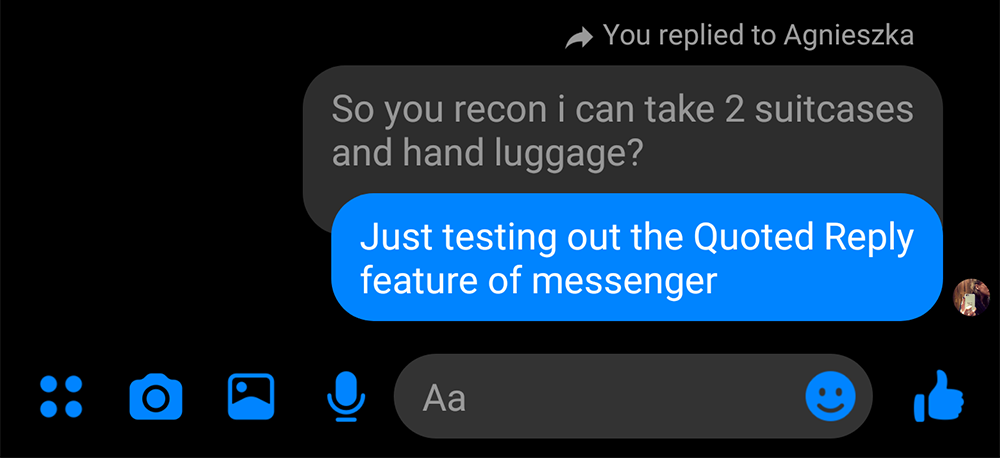 Note: If you don't see the reply option when you long press, you may have to wait a little longer for the feature to be rolled out to your region. However, the web version seems to be available to everyone already so feel free to use it instead if you really need to use a Quoted Reply.
How Do You Use Quoted Replies in Facebook Messenger From the Web?
If you are using Messenger from the web the process is just as easy, first head on over to the Facebook Messenger page and open a message you wish to use Quoted Replies in. Once you have the thread open you'll see a little Reply Arrow next to any message you hover over (even your own).
Note: If you don't see it, you can check within the 3 dots menu to see if it's there.
Now simply click the Reply Arrow, type your message, then send it.

Again you can attach GIFS and images should you not only wish to send text. Although this feature probably isn't all that useful in one vs one conversation, it's super useful for group chats.

.
.