If you are looking for a way to either view or hide 'Adult Only' games on Steam, this article will show you how to do both. Adult Only games are a new category of games recently added to Steam that consists of games with a large focus on nudity, sex, and violence. A category of games that Steam has long been avoiding.
How to Share Your Steam Games Library With Friends and Family.
Although it has taken a considerably long time, Valve/Steam now allows games with Adult only sexual content on the Steam store. By default these games are hidden and don't appear in searches, however, it is possible to change this setting and make Steam show you everything related to your search query, including adult only games.
If you don't change this setting and try to search adult content, your search query will display the following message "Some titles have been excluded based on your preferences." Thankfully if you want to view all content on Steam, including these extra categories, below you will find a full list of instructions showing you how to enable Steam's Adult Only content.
Related: How to Get the Official Tor Browser App on Android Devices.
How Do You View All of Steam's Adult Only - Sexual Games and Content?
To force Steam to show you all games content, including adult content and sexually explicit content, you'll need to make the following change to your store preferences. To do this sign into your Steam account, then click on your Profile name in the upper right-hand corner. This will open a new drop-down menu where you will need to click Store Preferences. 

On the new page that displays, you will see a full list of Store related options, most of which will be enabled by default. However, there is one option under the Mature Content heading called Adult Only Sexual Content that is unticked. Tick this box if you are okay seeing games that contain sexual content that is explicit or graphic and is intended for adults only.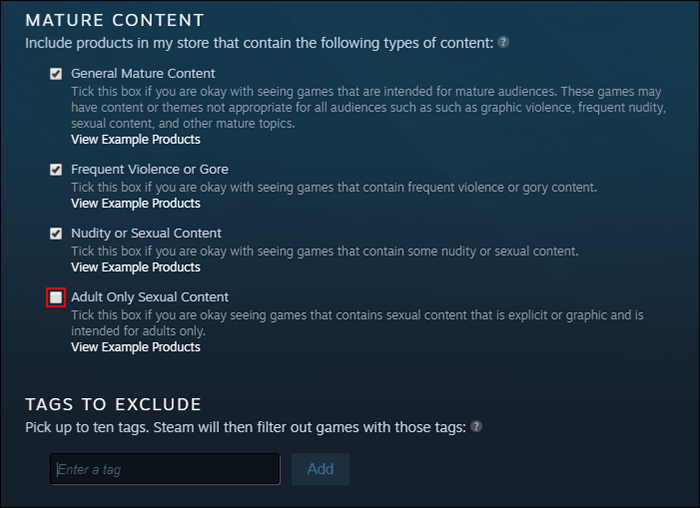 While you have store preferences open, make sure you scroll down a little further and check the following setting as well: COMMUNITY CONTENT PREFERENCES. Which blocks user-generated content that may not be appropriate for all audiences. If you want a fully uncensored Steam, you'll need to make sure both of these boxes are also unticked.

After you have made the changes, you can exit store preferences and start searching Steam for adult only content. If at any stage you need to hide adult content again, simply return to the same place and untick the boxes. You can also use the Ignored Products and Tags to Exclude options to block any content or content types you don't want to see on Steam. While you have Steam open, make sure you check out the following article if you are having any issues with slow Steam cloud sync. How to Fix a Slow Steam Cloud Sync.