With Windows 8.1, Microsoft has added a new useful feature giving users the option to use their current desktop wallpaper as their Start screen background. Once applied, it eases the transition between the two environments, thus making it more user friendly. Here you can find out how to enable this useful feature.
To enable this option, right-click on the taskbar and select Properties. Next, in the Taskbar and Navigation properties window that displays, open the Navigation properties dialog.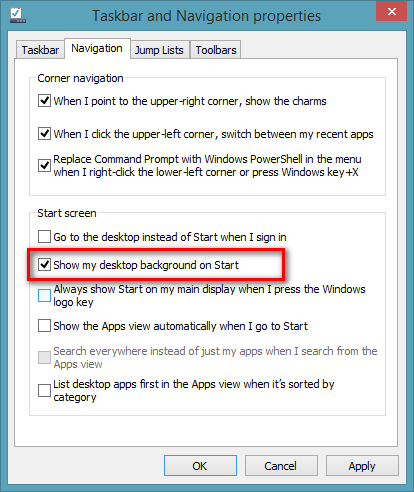 Here you are going to select "Show my desktop background on Start" setting. Apply the changes and now whenever you'll go to Start Screen, it'll have the same Desktop wallpaper even under tiles of Modern / Metro interface.
This change makes you feel like you are still on Desktop. It allows you to adjust the appearance of the home screen to suit your needs and to provide a smooth transition between the screen and the desktop. During the transition between the two components, the background will be the same.