If you are an avid Pokemon Go player who's been playing for a considerable amount of time, there's a good chance you've probably wanted to change teams at some stage. Although this wasn't possible in the past, it can now be done quickly and easy, using a couple of different methods, either paid or free.
How to Enable Dark Mode For Websites & Content in Google Chrome. (Chrome Canary Mobile)
As summer fast approaches the northern hemisphere the team at Niantic has been working hard on having Pokemon Go ready for all the players coming out of hibernation. Recently the in-game camera was upgraded and renamed (GOsnapshot) and now has AR and AR+ support for taking pictures of Pokemon you've already captured. You can check out our comprehensive guide on using the GOSnapshot Camera here.
As awesome as the GOsnapshot camera is, its launch has been overshadowed by an even more impressive feature of the game that a lot of users have been waiting for since Pokemon Gos original release back in 2016. Team Changing, 'aka' Team Switching'. Although the process for switching teams in Pokemon Go is pretty straight forward, there are some things to consider when doing so, so follow along as this article guides you through the process.
Related: How to Get the Apex Legends Twitch Prime Pack For Free Without a Twitch Prime Subscription. (No Ban Risk)
How Do You Change Teams in Pokemon Go? (Switch Teams in Pokemon Go)
Changing Teams in Pokemon Go is super simple and only takes a couple of minutes to do. First of all, the change will cost 1000 Pokecoins which works out to about $16 if you are purchasing two 550 Pokecoin packs from the Store. However, as these coins are relatively easy to earn now, you should be able to earn yourself enough for a team change by battling at and defending gyms regularly. Theoretically, you can get up to 50 coins a day so in 20 days you can get a free team change. If you have been playing and earning coins regularly, you've probably already got a decent stash.
Important: The biggest thing you need to be aware of when changing teams in Pokemon Go is that you can only switch once every 365 days (1 year) so choose wisely when you make the switch. After you have switched teams, you will also be kicked out of any gyms you may be defending, if you aren't in a rush, you might as well just wait for your Pokemon to be knocked out of the gym, then change.
Once you have 1000 Pokecoins, open the Shop in Pokemon Go, then scroll down and grab the Team Medallion.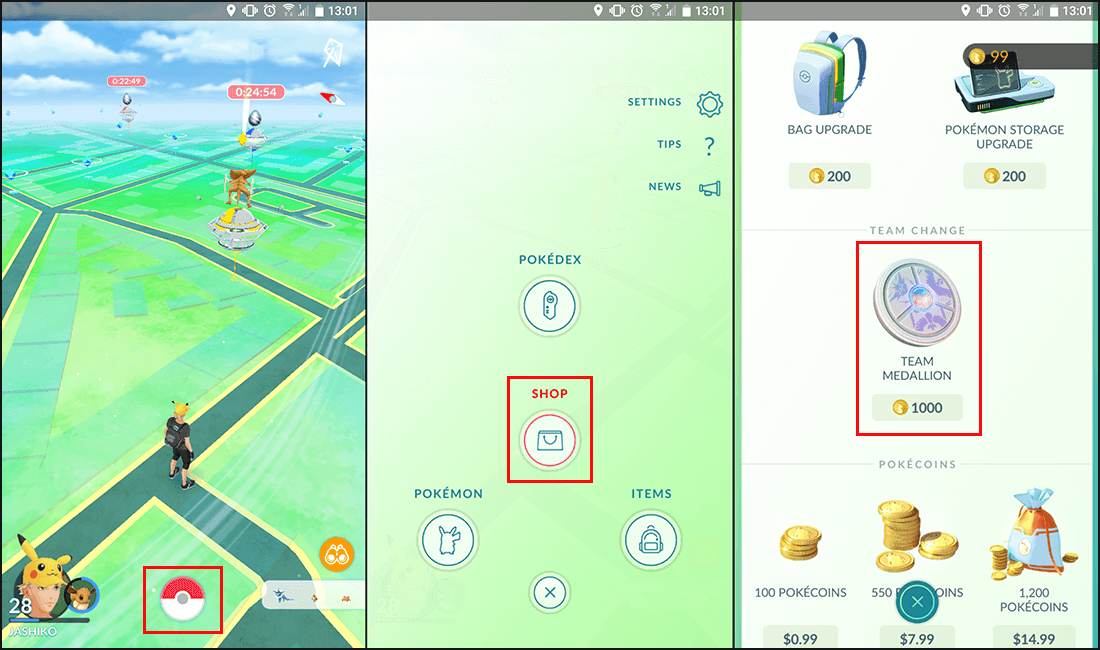 Once you have the Team Medallion, open your bag then use it. Make sure you read through the information properly, then select the team you wish to change to from the list. Make sure you are 100% certain you wish to change to this team as you will have to wait an entire year before you can change again.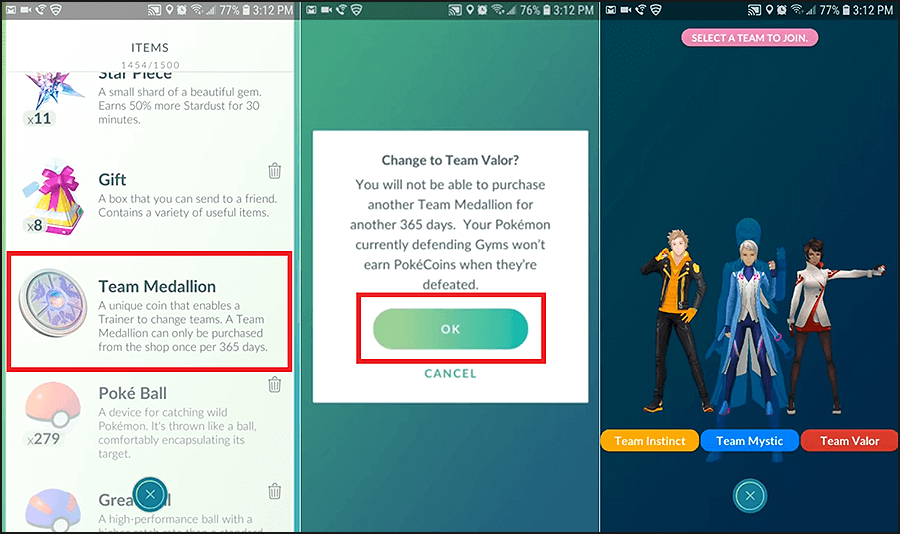 Although it has taken three years for the change to be implemented, it's nice to see that Niantic finally got around to it. Such a simple change will finally allow Pokemon Go players who've become friends because of the game to switch to the same team. Just remember one team change per year, so don't waste it!