If you are currently trying to watch tv shows or movies on Netflix but can't because you keep getting Netflix error NW-2-5. This article will take you through several different troubleshooting methods you can use to get rid of error NW-2-5 on Netflix.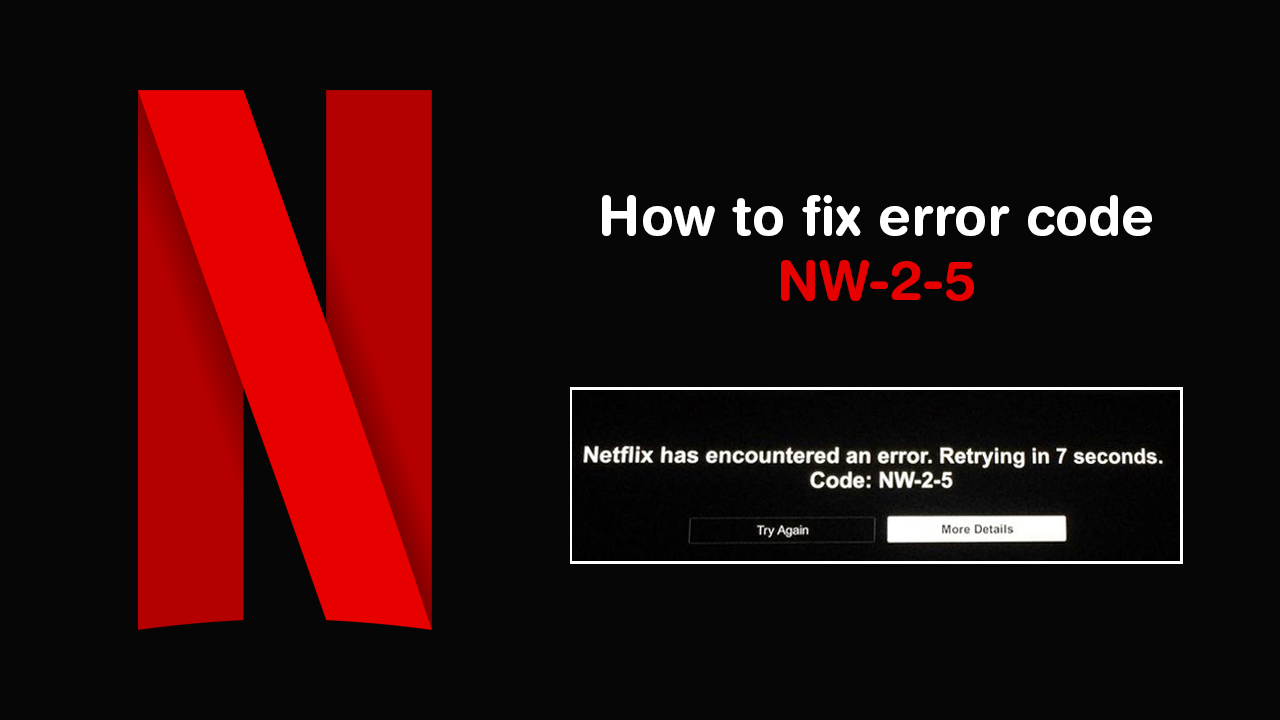 How to Remove Things From the Continue Watching List on Netflix? Clear the Netflix Continue Watching List.
Netflix is by far the largest entertainment streaming service available, streaming millions of hours of content around the globe each and every day. Netflix is cheap, easy to set up and even easier to use. It's also available on just about any device with an Internet connection and a screen. Although Netflix is reliable for the most part, it isn't without its problems, from time to time Netflix can and will through an error message your way. 
In the past, we have covered quite a few different Netflix issues including the two most common Netflix issues: audio and video sync and Netflix Error U7353. Todays, guide will focus on tackling the most recent Netflix error code. Code: NW-2-5. Generally, this error message is connection related, however, can occur for a range of different reasons, so make sure you flow through each and all of the solutions shown below. That said, this error message is by far the hardest one to diagnose and fix.
Before you get started with all of the solutions below, make sure you have clicked or tapped or selected the Retry option several times before proceeding with the more advanced steps shown below. I would also suggest making sure you have restarted your Internet connection as well as the device you are browsing from. It's also a good idea to make sure you actually have a working connection, you don't want to go through all this trouble just to find out that there has been a temporary Internet outage in your area. 
How do you fix Netflix error code NW-2-5? Fixing Netflix error: NW-2-5. 
Now that you have cleared most of the simple causes of Netflix error NW-2-5, you'll need to work on a couple of the more complex ones. Starting with a DNS flush and Reset your connections. If you've never done this before, you can find all the instructions and steps below. 
How to flush your DNS and reset your connections. 
What if nothing so far has fixed Netflix Error NW-2-5?
If nothing so far has worked and you are using Netflix from an app, the next best option you have is to uninstall and reinstall the app on your device. This will work on Android, iOS, Windows, macOS and (most) Smart TVs. Some smart TVs may only allow you to uninstall the latest updates, however, this will generally be enough to fix the issue. 
On a side note…
Slightly off-topic, however, something very important to look into is our guide on deleting your Off Facebook Activity. This is all the information that is shared between Facebook and your device, apps, websites, etc. Just about everything you do on your phone can be sent back to Facebook in a log, so make sure you find out how to limit and reduce what information is used and how it can be reduced. 
How to delete your Off-Facebook Activity. (Information shared between Facebook and businesses)