If you are trying to use NVIDIA GeForce Now but are getting the following error message: The game quit unexpectedly. Try playing it again. ERROR CODE: 0x8003001F. This article will guide you through several different steps you can take to solve the problem and get the NVIDIA Geforce Now streaming service working again.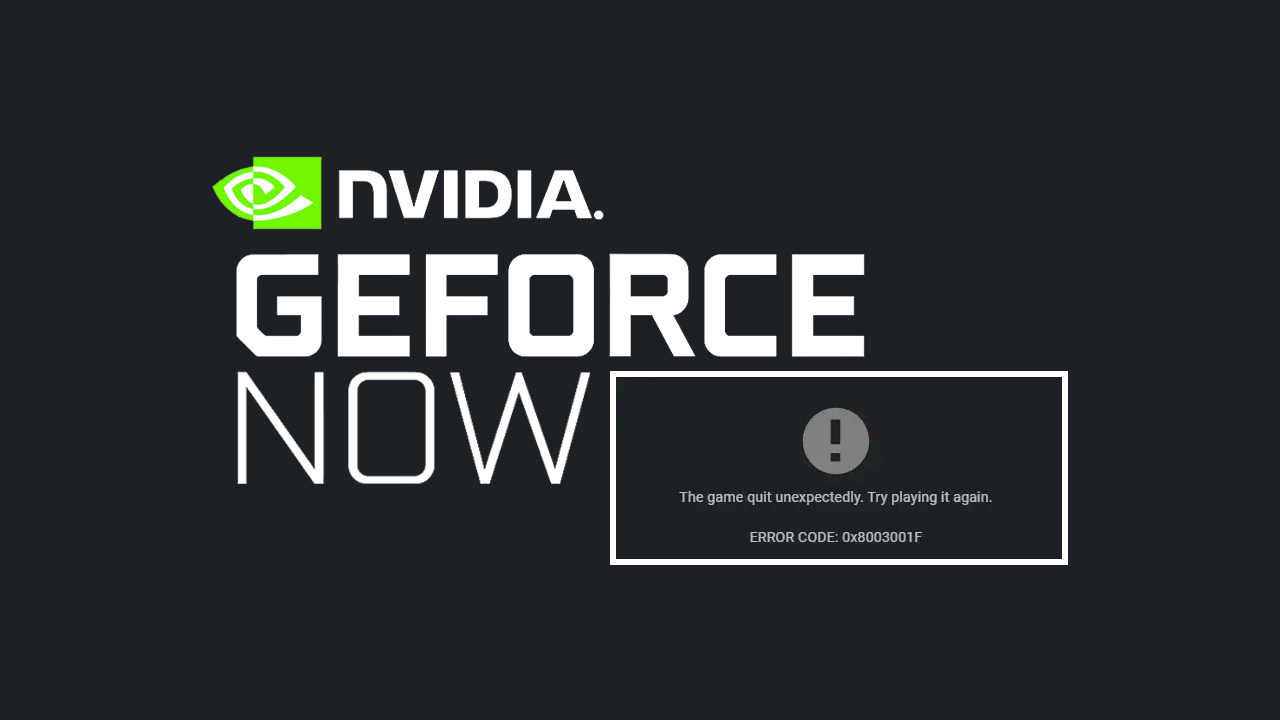 Related: How to Get NVIDIA Broadcast inside OBS.
NVIDIA GeForce Now is NVIDIA's premium cloud gaming service that allows you to stream games directly from NVIDIA in the highest possible quality. The only problem with it is that you need a super powerful Internet connection to be able to pull it off without any lag. Especially if you are playing FPS games. If you do meet all the requirements to use NVIDIA GeForce NOW but are having some problems with error 0x8003001F here are some solutions.
The game quit unexpectedly. Try playing it again.
ERROR CODE: 0x8003001F
Quick Fixes and Checks to Make to fix GeForce Now error: 0x8003001F
In ninety-nine percent of cases, this issue is entirely an Internet connection one, so make sure that you have checked all of the basic stuff before jumping into any of the other solutions found below. Restart your modem/router, and of course your computer. If for some strange reason, you are also using a VPN or Proxy make sure you disable it then check to see if everything is working. VPNs are great for certain things but using them for cloud gaming is not one of them!
Check NVIDIA GeForce Now Server Status.
If you have checked all the basics the next thing to check is the GeForce Now Server status, as the servers may be under maintenance or facing downtime. It's also a good idea to follow @NVIDIAGFN on X/Twitter to check if they've posted about ongoing maintenance. It's usually the first place that news goes out, even faster than the server status pages.
Clear the GeForce Now Cache to Fix GeForce Now ERROR: 0x8003001F.
GeForce Now can malfunction if its cache data gets corrupted. If that's the case, clear the cache data and see if it helps.
Press Windows + E to open the File Explorer.
Navigate to the following path:
%LocalAppData%\NVIDIA Corporation\GeForceNOW
Here, search for the Cache folder and delete it.
Restart your PC once done and see if the error's fixed.
Update NVIDIA Graphics Drivers with a clean install using DDU. Display Driver Uninstaller.
Download the latest graphics drivers from your computer or graphics card manufacturer's website.
Use Display Driver Uninstaller (DDU) to completely uninstall your current graphics drivers.
After uninstallation, install the new drivers you downloaded.
This ensures a clean installation and helps prevent generic driver issues.
Once you start your computer again you should be able to use NVIDIA GeForce Now without any issues. So long as the servers are all up and working.