If you are anything like a good portion of Amazon Kindle users, you probably have phases when you use it all the time and phases when you would prefer to just use a good old-fashioned book. So if it has been a while since you last dragged out your Kindle and have missed some of the important updates. Don't stress it is still possible to download and install all the updates you missed manually.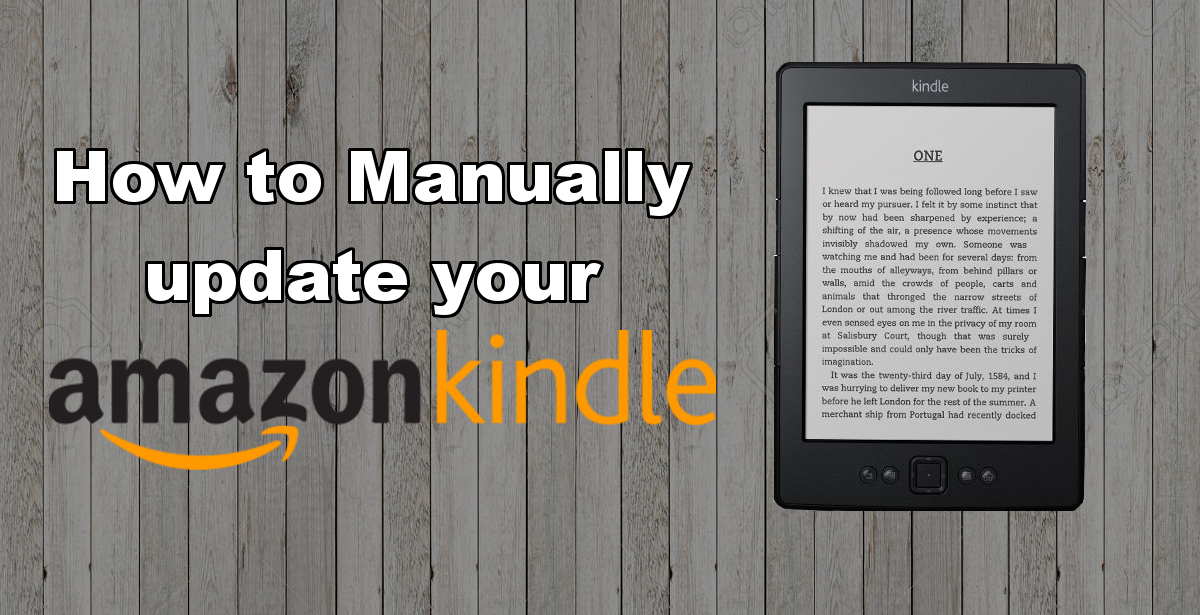 How to Recover a Windows Product Key From a Damaged System or Hard Drive.
If you generally leave your kindle's WiFi connected, there is a good chance you probably have the latest updates installed, if not and it's been laying around dead flat, you can still check to see which version you have installed, once you charge it of course. To do this, go to Menu > Settings, then at the bottom of the screen, you will be able to see the version number of your device.
Note: Another way you will know your Kindle is out of date is if you turn on the Wi-fi and you are greeted with a really subtle messages stating the following:
"Your Kindle is unable to connect at this time. Please make sure you are within wireless range and try again. If the problem persists, please restart your Kindle from the Menu in Settings and try again."
Use the Model Number and Serial Number of Your Amazon Kindle to get the Correct Update.
In order to start the process of manually updating a Kindle, you first need to identify which Kindle model it is, to make sure you download the right software version. to do this, you can check the back of your Kindle, or if it is linked to your Amazon account, you can log in and go to the Amazon Content and Devices dashboard, click on the Your Devices tab, pick your Kindle out and check the number associated with it.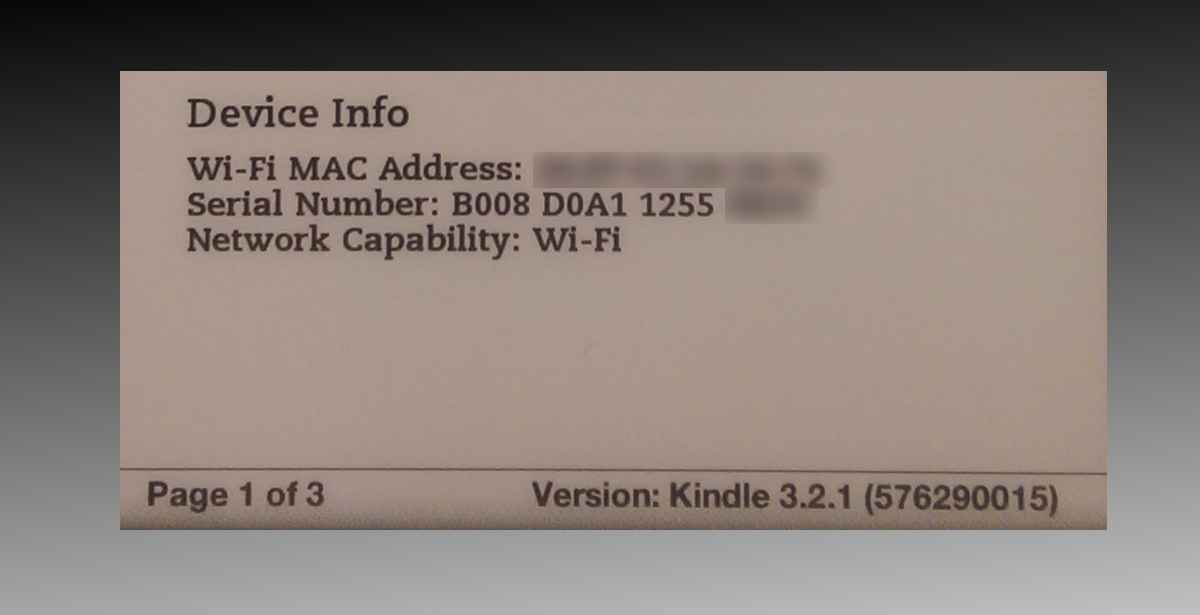 For this guide, I will be updating a Dinosaur model of the Kindle family, a Kindle Keyboard 2010 with factory firmware.
Below is a list of all current Kindle models (as of November 2016) simply match the first 4 digits of your Serial number to find the correct model. As you can see above the first 4 digits of mine are B008, which coincides with the Kindle Keyboard 2010.
Kindle 1 (2007): B000
Kindle 2 (2009): B002, B003
Kindle DX (2010: B004, B005, B009
Kindle Keyboard (2010): B006, B008, B00A
Kindle 4 (2011): B00E, B023, 9023
Kindle Touch (2012): B00F, B010, B011, B012
Kindle Paperwhite 1 (2012): B024, B01B, B01C, B01D, B01F, B020
Kindle Paperwhite 2 (2013): B0D4, 90D4, B0D5, 90D5, B0D6, 90D6, B0D7, 90D7, B0D8, 90D8, B0F2, 90F2, B017, 9017, B060, 9060, B062, 9062, B05F, 905F
Kindle 7 (2014): B001, B0C6, 90C6, B0DD, 90DD
Kindle Voyage (2014): B00I, B013, B053, B054
Kindle Paperwhite 3 (2015): G090
Kindle Oasis (2016): G0B0
Kindle 8 (2016): B018
When you have figured out which model of Kindle you have, head on over to the Amazon Kindle update page:
When you are on the page, scroll down until you get to the Kindle area, then find the Kindle model you have. 
Note: If your current version is really old as mine was (3.2.1) you may have to download more than one update.To double check on your Kindle, go to Menu > Settings > Menu > Device Info
Once you have downloaded the correct file and double checked all the versions. Copy and paste it onto your Kindle, to the very base folder: F:\Kindle
Now the file is on your Kindle, to install it, press Menu then Settings, then tap the Menu button again. inside this menu select Update Your Kindle, then press Ok and wait. If the Update Your Kindle option is not accessible, it means you have placed the update file in the wrong folder or the version you downloaded was incorrect.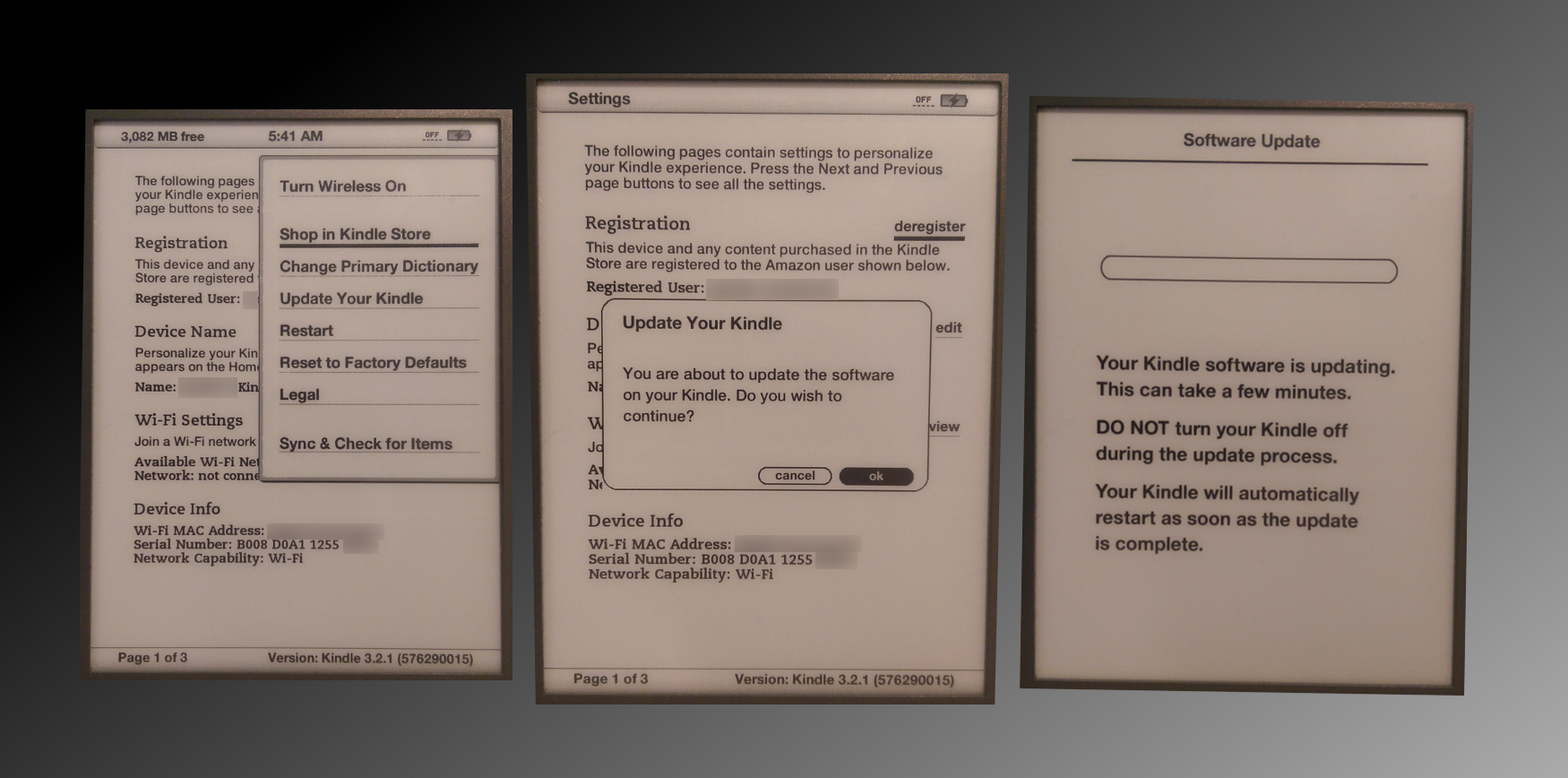 You may need to do this several times depending on how old your initial version was. For the model I updated there were 3 patches required, meaning I had to install them all separately. Don't stress if the updates take a while to install, and be aware your device will restart several times during this process, so make sure you have plenty of battery life available.