If you are getting a lot of junk, spam and subscription emails going to your Gmail email account and would like to bulk unsubscribe from them all. Follow along as this article guide you through a simple process to unsub from any and all emails that find their way into your Gmail inbox.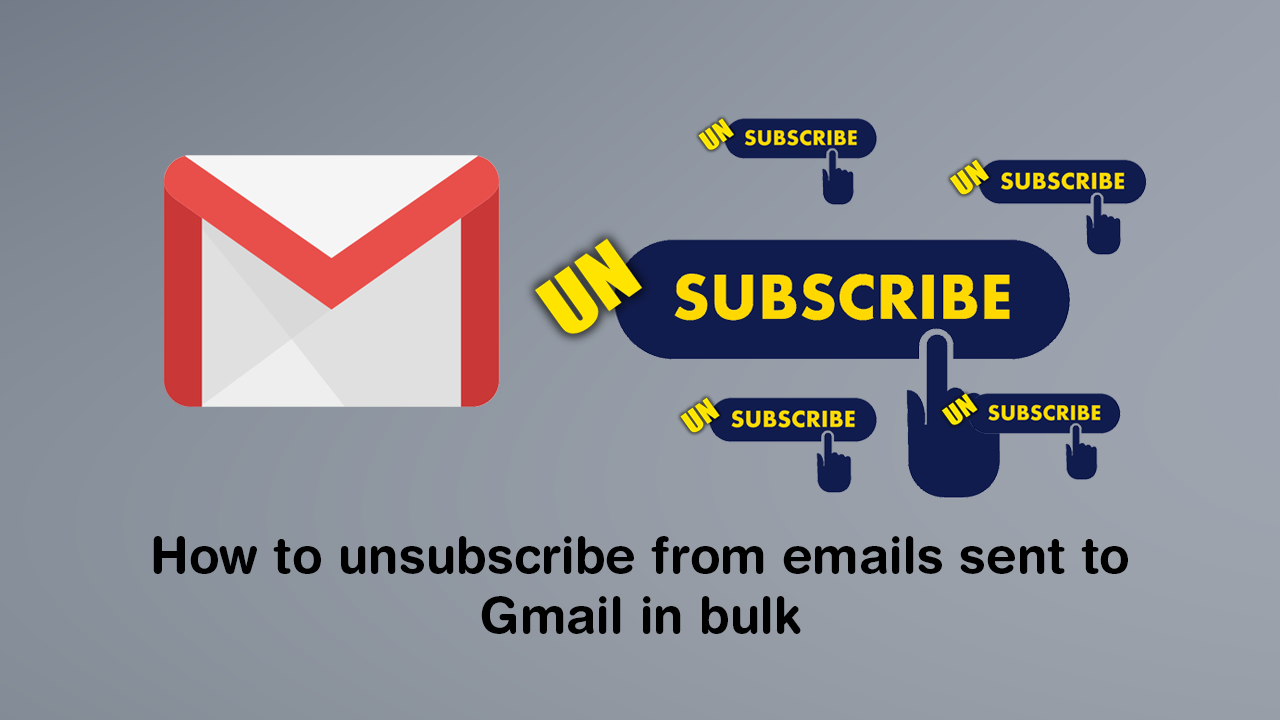 How to fix 'The publisher of this app doesn't allow it to be moved to a different location' on Windows 10. (error code 0x80073d21)
Junk emails have been around for almost as long as email has been in existence and are one of the most annoying aspects of online communication. They clog up your inbox and take a considerable amount of time to sort and remove. Junk and spam aren't the only types of garbage mail you may come across with subscriptions now taking up just as much of an inbox footprint. 
Thankfully, there is a way to bulk unsubscribe from junk mail that may be finding it's way to your Gmail inbox. Even if you don't personally subscribe to mailing lists and mailing services, leaked data happens often enough for companies to sign you up without your express permission. Whenever you supply your email publicly or online, there's a chance it will be exploited. 
Related: How to stop 'Search Indexer' wasting resources and affecting performance on Windows 10.
Can you unsubscribe from email in bulk? Bulk unsubscribe from emails from Gmail account?
To begin, you'll need to make sure you are using Chromium based browser like Google Chrome, Opera or Microsoft Edge. Once you have your browser open, head on over to the Chrome Webstore and add the Unsubscribe by HelpNinja extension to your browser. After you have added it, the rest of the process is pretty straight forward, however, we'll take you through it anyway. 
Note: You'll have to accept the permissions of the extension in order to use it. If it doesn't have access to the right areas of Gmail, it won't be able to function.
To unsubscribe from a group of emails at once simply select them as you normally would to bulk delete them, then click the newly added Unsubscribe button at the top of the Gmail page. After a couple of seconds, the emails will be removed from your Gmail inbox and you will be unsubscribed. Just note that this won't stop a junk/spam issue unless it is from an unwanted/accidental signup. Seeing as this is kind of a one time or maybe a few times a year extension, I'd just use it once then uninstall it from my browser. There's no point having an extension chewing up resources when it doesn't really get used regularly. Anyway, that wraps up another guide, we hope you've found it useful, thanks again, see you next time.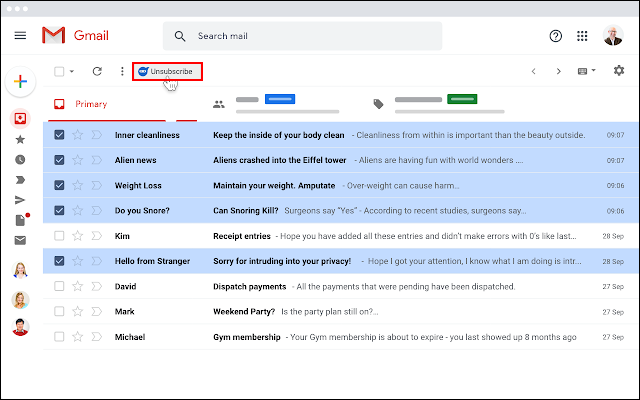 On a side note…
If you also use Facebook Messenger Rooms from time to time, you'll more than likely be looking for a way to blur backgrounds during video calls. Although Facebook Messenger Rooms isn't focused on a professional user base you never know when this feature may come in handy. This guide will also show you how to get custom backgrounds for Facebook Messenger Rooms.