Don't you like default full-screen display in Windows 8? There is a method for changing it - read this article and learn how to do it!
Modern Mix is a lightweight program just released by Stardock. This application allows its users to launch Windows 8's full screen-dedicated programs in a window mode. What's more, since applications are displayer on the task bar, they can be pinned there by users. Now you don't have to enter the start screen every time you want to launch e.g. an Internet browser.
Configuring the program
By clicking ModernMix application in "tiles", users can make their choice among a variety of options. First of all, users have to decide in what mode do they want to display programs as default: full screen, maximized screen or window mode. You can also pick different options, according to how you launch an application so you can have, for example, window mode for pinned programs and full screen mode for apps launched from the start screen.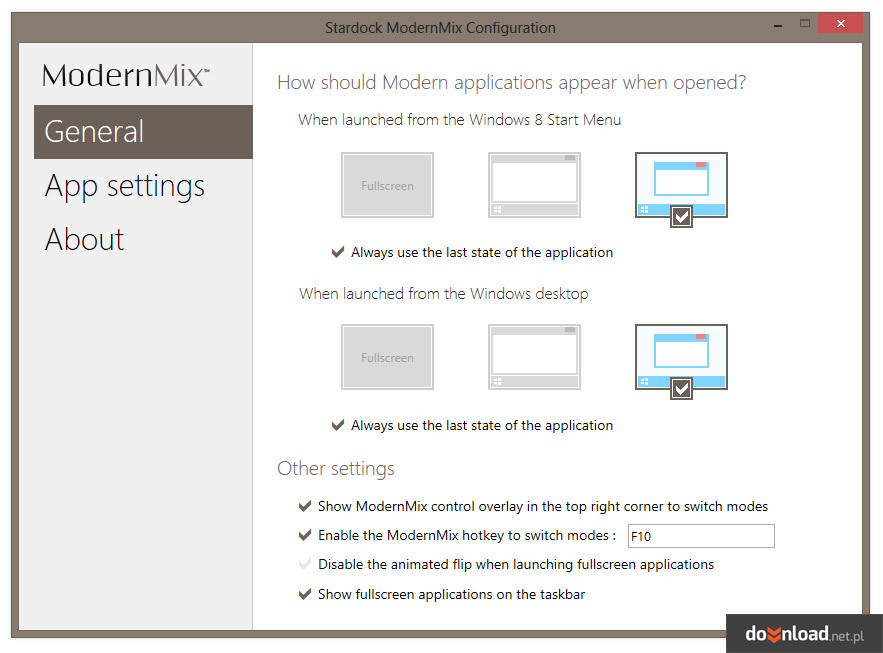 Users can also tick the "Always use the last state of the application" option so the program will rememer your last choice. If we decide to keep some programs in full screen mode, "Show fullcreen applications on the taskbar" option.
Personal settings
By chosing "App settings" it is possible to personalize our choices even more, making exceptions for some programs, and so on.
Our opinion
This program is a very useful tool for all the users of Windows 8 who are somehow tired with default fullscreen display. Programs work very smoothly and Modern Mix itself is so intuitive an application that all the users should be capable of setting the system according to their tastes. Though it is only a 30-day trial version, there are no advertisements or aggressive messages cajoling us into buying a full version.