Microsoft tries its best to make all Windows 8 users become friends with the new Start screen and Modern interface. The elements of this new style mingle with the classic desktop, but some users don't like Modern and would love to say goodbye to it; here's a couple of tips.
Get back the classic Start Menu
New Start screen and lack of the good old Start Menu is the most visible difference between Windows 8 and previous Microsoft's operating systems. There is, however, a bunch of programs that allow you to get the Start Menu back.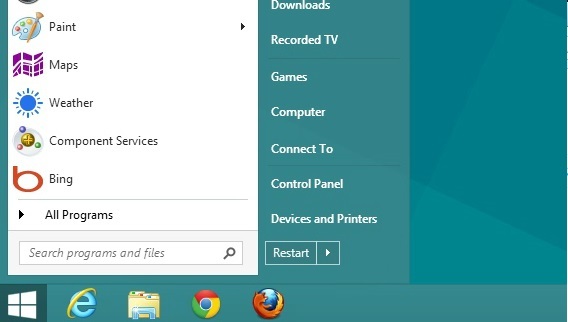 The most popular application - Start8 - provides you with a Start Menu identical to that known from Windows 7. There is also Start Menu Reviver - a program that takes the best of both worlds, mixing the classic Start Menu with the best features of Windows 8. Pokki is also worth mentioning - this application, apart from the Start Menu allows you to browse its store with freeware apps.
Log in directly to your desktop
After turning on the computer, Windows 8 by default loads its Start screen. Howeverm once you've installed one of the applications that bring back the Start Menu you can also find a feature which allows to automatically log directly to the desktop. All you need to do is to search the options of your program for a feature such as "Load desktop on Startup"; the majority of the Stary Menu-retrieving applications has such a feature.
You can also use mentioned below Skip Metro Suite to load directly onto your desktop.
Disable Hot Corners
Hot corners - all the side panels that appear after you move the cursor to the edge of the screen - can be disabled. You only have to use Skip Metro Suite - which can be downloaded from our website. The program lets you disable Hot corners and log users directly onto the Desktop.
You can read more about disabling hot corners and bypassing the Startup screen here.
Hide the Lock screen
A new Lock screen is a feature useful for touchscreen devices, not for standard PCs and laptops. However, it can be removed by applying a modification to the system registry. You don't even have to modify it manually - use a pre-prepared file to do it safely and effectively.
All you need to do is to download DisableLockScreen.zip, unpack it and run DisableLockScreen.reg. An entry will be made in the system registry, and Windows will automatically take you to the Desktop everytime it turns on.
Shut the system without using Charms
Shutting the system down or restarting it proves annoying in Windows 8, at least in a long run, especially the fact that you have to wiggle the cursor on the edge and wait for the charm to appear. Fortunately, you can shut your Windows 8 down in a less irritating manner.
This window can be brought by Alt+F4 hotkey. This command works from the desktop level - it will close any program that is currently running, and this may sometimes wreck havoc - not all the programs are OK with being closed unexpectedly. Therefore you should first left-click on empty space on the toolbar. This way, desktop will become the active feature for the system and Alt+F4 combination will allow to close or restart the system.
Set default programs
By default Windows associates the extensions of images, video files, music and PDF format docs with full-screen Modern apps. Fortunately, you can change it quite easily.
All you need to do is to right-click on a chosen file (for example a PDF document) and then go fpr "Open with..." option. Choose "Set your default programs" and a list of available applications will be displayed. Choose a program and confirm your choice with OK.
Are there any other problems you experienced with Windows 8? Ask for help in the comments below!