Social media platforms are constantly changing the way their services look and function. Most of time these changes are for the better and make things easier to use or add more features. Unfortunately in the case of Snapchats most recent change, things got a whole lot worse. The good news is if you hate the new update and want to change back to the old one it can be done very easily, so find out how.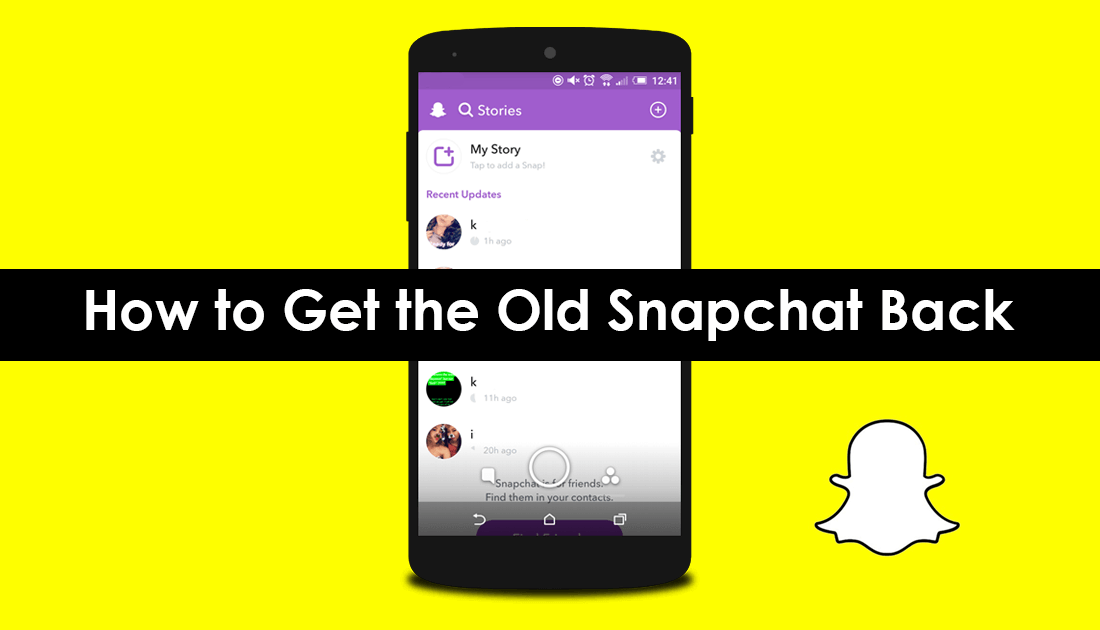 How to Create and Use Bitmoji Deluxe Avatars on Snapchat.
Snapchats recent updated, changed the layout and function of one of its core features, completely ruining and complicating everything. As always the first place to be hit with feedback regarding the update and change was the app stores, with users on both smashing Snapchat with 1-star reviews. If you haven't had a look yet, it's quite impressive. Even Facebook Messengers 'My Day' feature didn't get this much of a hiding.
An even more impressive thing to happen was the creation of a petition at Change.org requesting Snapchat roll back the update. So far, as of 19 Feb 2018 the petition has a staggering 1.2 million (and climbing) signatures. Whether this petition is successful remains unknown, with the devs at Snapchat still reluctant to remove the change.
If you want to sign the petition, you can do so here.
As we mentioned above it is possible to go back to an older version of Snapchat, though it can only be done on Android devices and simply requires you to manually install an older version of the app. If you've never done this before, below you can find all the information you need. There are options available for iOS devices, however, most of them require Jailbreaks or some less than ideal (dodgy) third-party apps that may get your account banned, so it's best to avoid them.
Note: You won't lose any of your content or be banned using this technique as the apps are the official releases. You are just reinstalling an older official version.
How to Get the Old Snapchat Back. (Remove Snapchat Update)
To begin, the first thing you need to do is Uninstall the current version of Snapchat you have installed on your device. If you don't know how to do this, simply hold down on the Snapchat icon, either in your app drawer or on your home screen and select Uninstall when it appears.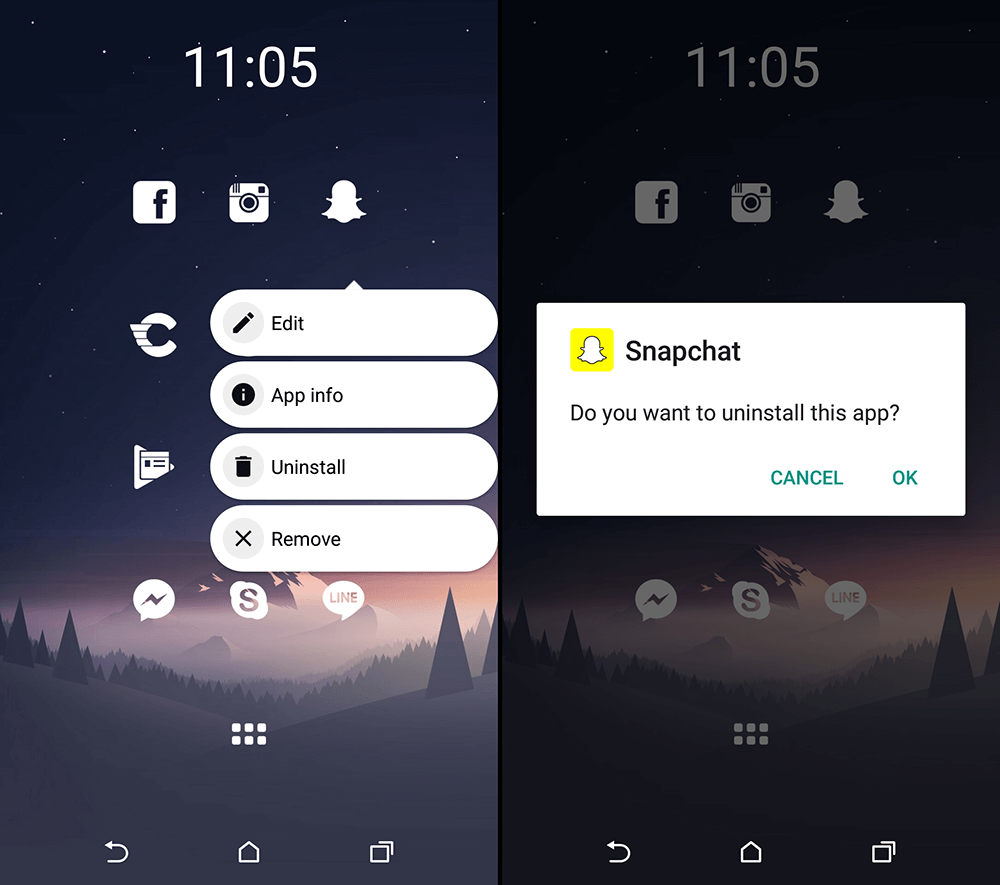 Once Snapchat is uninstalled, you will need to download a previous version. To find one, you will need to visit APK Mirror and download an APK file (the Android equivalent of a windows .exe file)
Download Snapchat Versions From APK Mirror.
The above link will take you to the Snapchat APK download page where you can find all the current and previous version of Snapchat. Although you can choose any version on the list to download, you will need to find something prior to the update. I grabbed the following version which works well.
Download Snapchat Version 10.19.0
Note: I tested every major version from 10.25.0 back and version 10.19.0 was the best one to use. Feel free to try other slightly newer versions if you like. I tested on a HTC M8 (4ish years old) and a HTC U11 (new).
If you are downloading the file directly to your phone, all you have to do to install Snapchat is tap the file in the downloads folder and follow the prompts. Once the APK file is installed, you can use the app as you normally would. If your phone blocks the installation, you may need to enable developer options, which can easy by found by Googling your device and developer mode.
Note: If you can't find the file in the downloads folder try using your phone's file explorer to find it. If that doesn't work download Es File Explorer and use it to find your downloads folder.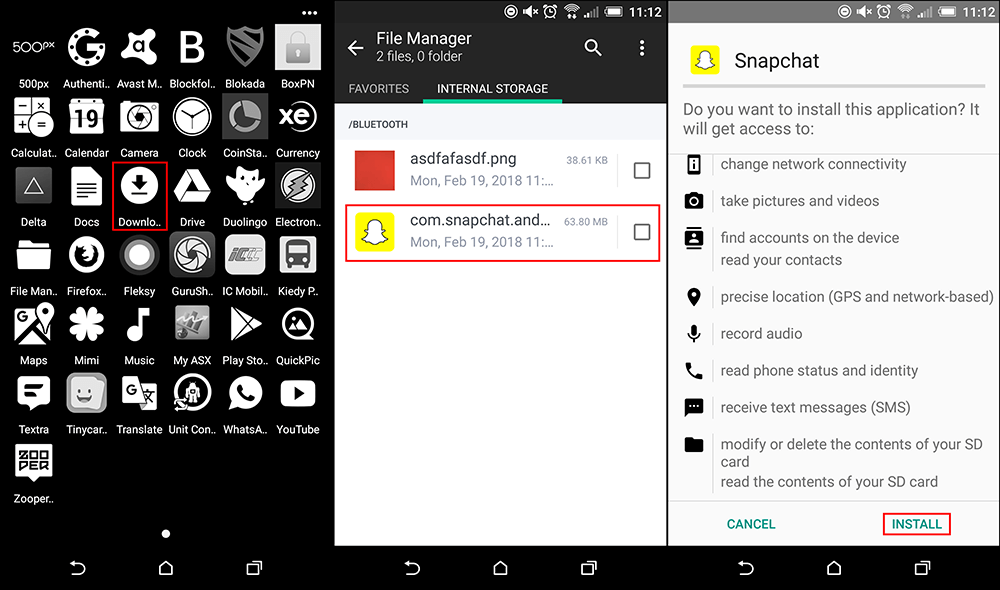 If you are downloading the APK file from a computer the process is pretty much the same, all you have to do is copy the APK onto your phone, ideally placing it into the Downloads folder for easy access. Once the file is on your phone simply tap it once to start the installation. Once the APK file is installed, you can use the app as you normally would.
The last thing you need to do is make sure you disable automatic updates on your device. If you don't Snapchat will automatically update and you will have to redo the entire process. On Samsung phones, you may need to disable automatic updates from your phone's settings and your Google Account. On most other Android phones you should only have to disable automatic updates from your Google Account.