How to Email Photos Straight From Adobe Lightroom.
Author

Publication date

13.06.2018

Ilość komentarzy
Although emailing photos from your standard email account or mail app isn't the most difficult of tasks, it can be time-consuming. What a lot of people don't know though is that you can actually email photos straight from Lightroom, bypassing an entire set of steps, saving you a ton of time. If the idea is completely new to you, this article will show you how to set it up.
How to Fix the Windows 10 Mail App Not Printing Content.
Even though it has been a feature of Lightroom Classic CC for a while, most users still don't know that you can email photos and content straight from Lightroom. In fact, you can send single photos or batches of photos straight from the client. All things considered, using a standard Gmail account or mail app to send photos you've created in Lightroom isn't much more difficult, but it does take more time than sending content straight from Lightroom. So why not simplify things even more?
How Do You Set Up Emailing in Adobe Lightroom CC?
To begin the process of settings up email within Lightroom CC, you'll first need to open Lightroom and select an image or multiple images using the module at the bottom of the screen. Once you have some images selected, go to File > Email Photo or use the appropriate hotkey for your operating system. (Command + Shift + M  on MAC or Control + Shift + M on Windows.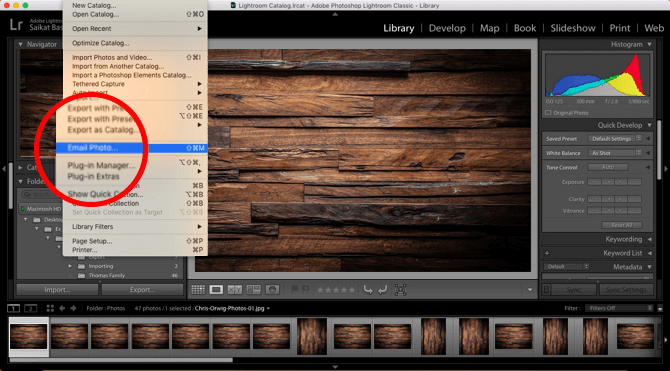 As this is the first time you have used the feature, you'll have to set up your email first. Click From at the top, then choose Go To Email Account Manager. This will open the Lightroom email account manager window where you will need to enter all the information required for your email account and service.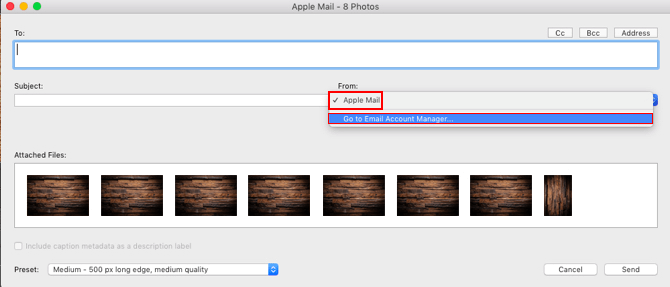 Note: If you are using a popular service like Gmail or outlook, Google search should be able to get you the information you need. If are using email from an ISP, you'll need to ask them for the info.
Note: If you choose an online email service like Gmail, the photos are directly shared as embeds with the email.
Once you have entered all the information correctly, click Validate and Lightroom Classic CC will connect with the outgoing mail server you specified. If you wish to add another email account, click the Add button in the bottom right section of the box, then follow the same steps as before to set up another account.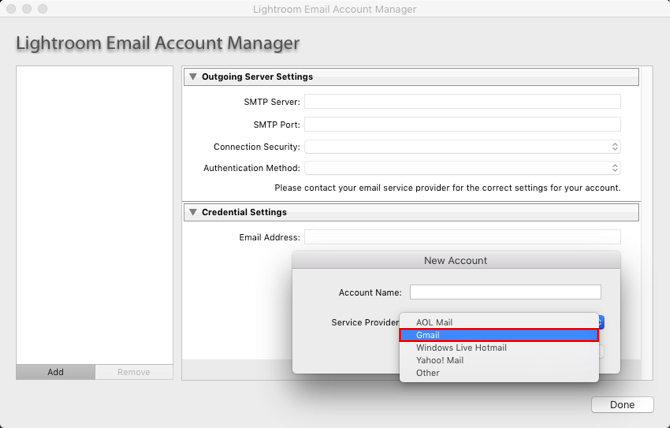 Now that your account/s are set up and ready to use, all you have to do is add the recipient/s address/s and any other information you require. All the stuff you'd add to a standard email. For the last step, choose the quality level of the photos you'd like like to use and Lightroom will convert them to JPEG at that quality level. Now all you have to do is click Send and you're done. The process does take a few extra minutes to setup but in the long run will save you a ton of time, especially if you are someone who is constantly sending photos and projects off to a specific list of clients.
Related: If you are a Gmail user, you'll find the following article on how to prevent email recipients from forwarding, copying, downloading, and printing emails extremely useful. How to Stop Gmail Emails Being Forwarded. (Prevent Your Emails Being Forwarded, Copied, Downloaded & Printed)